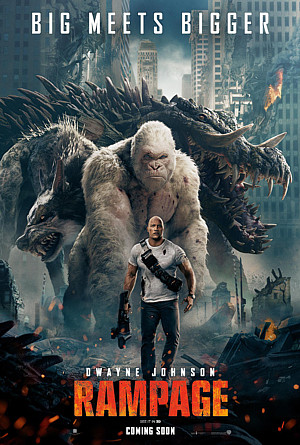 APRIL 16
YOU DUG IT - YOU BURIED IT
By E.C. McMullen Jr.
YOU DUG IT
RAMPAGE
The arcade video game of the 1990s early 2000s becomes a movie and, because it stars Dwayne Johnson, it has some heat. That said, RAMPAGE grabbed the #1 spot by shear force of theater screens alone (4,101). Jury is out over whether or not you are Digging it, but it's still Number 1 at $35.7 million in its opening weekend.
RAMPAGE was written by Ryan Engle, Carlton Cuse, Ryan J. Condal, Adam Sztykiel. It's Directed by DJ's GoTo guy, Brad Peyton (INCARNATE) and stars Dwayne Johnson (THE MUMMY RETURNS, THE SCORPION KING, DOOM),
Naomie Harris (28 DAYS LATER, TRAUMA, PIRATES OF THE CARIBBEAN: DEAD MAN'S CHEST, PIRATES OF THE CARIBBEAN: AT WORLD'S END, FRANKENSTEIN [2011]),
Malin Akerman (THE FRATERNITY, WATCHMEN),
Jeffrey Dean Morgan (WATCHMEN, THE RESIDENT, THE POSSESSION, THE WALKING DEAD [TV])

A QUIET PLACE
Slipped to #2 in its second weekend, but that's not because fans aren't digging it. With over 500 fewer screens than RAMPAGE, A QUIET PLACE at 3,589 screens still pulled in nearly $33 million. That means A QUIET PLACE made more ticket sales per screen than RAMPAGE. You are definitley Digging John Krasinski's Horror Thriller debut, which in only a single week has made more than 5 times its budget at the box office.
A QUIET PLACE is by the writing/producing team of Bryan Woods and Scott Beck and stars John Krasinski (MONSTERS VS ALIENS), Emily Blunt (THE WOLFMAN, THE ADJUSTMENT BUREAU), Millicent Simmonds, Noah Jupe, and Leon Russom.
Produced by Michael Bay and Andrew Form (THE TEXAS CHAINSAW MASSACRE [2003], THE AMITYVILLE HORROR [2005], THE ISLAND, TRANSFORMERS [2007], THE UNBORN [2009]).
TRUTH OR DARE
Opened at #3 this weekend. With a $3.5 million budget and 3,000 plus screens, this latest Blumhouse entry's $18 million opening weekend is all good.
TRUTH OR DARE was Written, Directed, and Executive Produced by Jeff Wadlow (CRY WOLF, PREY, KICK-ASS 2, BATES MOTEL [TV], NON-STOP, THE STRAIN [TV]), Co-Wrote and Co-Executive Produced with Christopher Roach (NON-STOP), additional writers are Jillian Jacobs and Michael Reisz (also story pitch). and stars,
Lucy Hale (FEAR ISLAND, SCREAM 4), Tyler Posey (INSIDE OUT, SCARY MOVIE 5, TEEN WOLF [TV], SCREAM: THE TV SERIES [TV]), Violett Beane (THE LEFTOVERS, FLAY).
READY PLAYER ONE
In its third weekend, Steven Spielberg's latest, based on the NYT bestseller by Ernest Cline, slips to #4 bringing in an $11.5. You are digging READY PLAYER ONE, but not by much.
Co-wrote by Zak Penn (X-MEN 2, X-MEN: THE LAST STAND), READY PLAYER ONE is directed by Steven Spielberg (JAWS, POLTERGIEST, MINORITY REPORT, WAR OF THE WORLDS) and stars Tye Sheridan (X-MEN: APOCALYPSE), Olivia Cooke (THOROUGHBREDS) and features fan favorites like Simon Pegg (SHAUN OF THE DEAD, LAND OF THE DEAD, HOT FUZZ, STAR TREK [2009]), Ben Mendelsohn (THE DARK KNIGHT RISES) and T.J. Miller (CLOVERFIELD).
BLACK PANTHER
In its 9th week, BLACK PANTHER steps from #4 to #6 with a world-wide cume of $1.315 billion dollars, making it one of the biggest grossing movies of all time.
BLACK PANTHER is Co-Wrote and Directed by Micheal B. Jordan's GoTo Guy, Ryan Coogler, with co-writing by Joe Robert Cole and Stars Chadwick Boseman (CAPTAIN AMERICA: CIVIL WAR), Michael B. Jordan (FANTASTIC FOUR), Martin Freeman (SHAUN OF THE DEAD, HOT FUZZ, THE HOBBIT [2012 - all]), Angela Bassett (INNOCENT BLOOD, SUPERNOVA), Forest Whitaker (BODY SNATCHERS, SPECIES, BATTLEFIELD EARTH, PANIC ROOM, PHONE BOOTH, REPO MEN), and Andy Serkis (Peter Jackson's THE LORD OF THE RINGS [all], KING KONG [2005], THE PRESTIGE, RISE OF THE PLANET OF THE APES [2011 - all], THE HOBBIT [2012 - all]).
YOU BURIED IT
PACIFIC RIM: UPRISING
In its 4th week of freefall since its release, PACIFIC RIM: UPRISING drops from #9 to #14.
Written by Steven S. DeKnight, Emily Carmichael, Kira Snyder, and T.S. Nowlin.
Directed by Steven S. DeKnight, and
Produced by John Boyega, Cale Boyter, Guillermo del Toro, Jon Jashni, Femi Oguns, Mary Parent, and Thomas Tull,
PCU stars John Boyega (ATTACK THE BLOCK).
TOMB RAIDER (2018)
This week, TOMB RAIDER (2018) went into freefall at the box office, falling from #7 to #14 right off the Top Ten. Warner Bros. posted the budget for TOMB RAIDER at $94 million, so it went into profit and sequels may follow depending on home video performance.
Stars Alicia Vikander (EX MACHINA). Dominic West (THE FORGOTTEN, 300, CENTURION, JOHN CARTER), Daniel Wu (2000 AD, EUROPA REPORT, GEOSTORM), Derek Jacobi (UNDERWORLD: EVOLUTION). Directed by Roar Uthaug (COLD PREY, THE WAVE).
DIG IT UP
THE ENDLESS
added 2 extra screens for a total of 3 screens this weekend. This brought it up from its opening at 65 to 63. It has a long hard climb ahead of it, but its per screen average remains quite high. WHerever it's playing, the people are Digging it.
References:
BoxOfficeMojo -
IMDb -
IMPAwards -