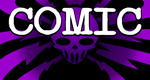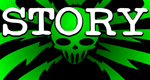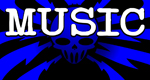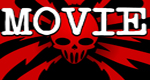 You Support This Site
When You Buy My Books
E.C. McMullen Jr.
PERPETUAL
BULLET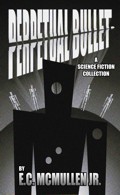 "'Some People' ... may be the standout story in the book."
-

John Grant

, Infinityplus

E.C. McMullen Jr.
WILLOW BLUE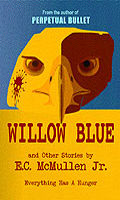 "'Willow Blue' will burrow under your skin and stay there long after you've put the book down."
- Jeffrey Reddick, Creator of
FINAL DESTINATION

IN OTHER BOOKS
E.C. McMullen Jr.'s
short story
CEDO LOOKED LIKE PEOPLE
in the anthology
FEAR THE REAPER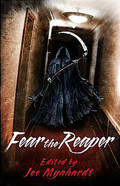 "This Ray Bradbury-esque is one of the most memorable and one of the more original stories I've read in a long time."
- Steve Isaak,
Goodreads

HORROR 201:
The Silver Scream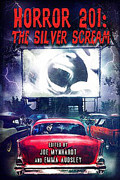 Filmmaker's Guidebook
featuring
RAY BRADBURY,
JOHN CARPENTER,
WES CRAVEN,
TOM HOLLAND,
E.C. McMULLEN Jr.,
GEORGE A. ROMERO,
and many more.



Extensively quoted in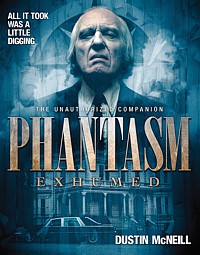 PHANTASM
EXHUMED
The Unauthorized Companion

Robert S. Rhine's
SATAN'S 3-RING
CIRCUS OF HELL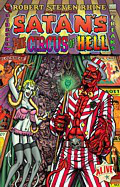 Forward by
GAHAN WILSON &
FEO AMANTE.
Featuring comics by
ALEX PARDEE,
WILLIAM STOUT,
STEVE BISSETTE,
FRANK DIETZ,
JIM SMITH,
FRANK FORTE,
ERIC PIGORS,
MIKE SOSNOWSKI,
OMAHA PEREZ,
DAVID HARTMAN,
STEVEN MANNION,
and more!

And In
CINEMA


E.C. McMullen Jr.


Head Production Designer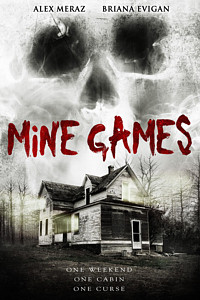 MINE GAMES


(Starring:
JOSEPH CROSS, BRIANA EVIGAN,
ALEX MERAZ)

Production Designer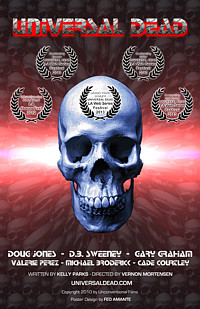 UNIVERSAL DEAD
(DOUG JONES,
D.B. SWEENEY,
GARY GRAHAM)

Art Director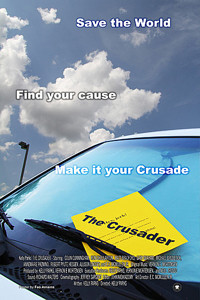 THE CRUSADER
(COLIN CUNNINGHAM,
GARY GRAHAM)
Review by
Christos N. Gage

WILL YOU?


TIP JAR



FIGHT CENSORSHIP
SUPPORT CBLDF

GLOBAL FREQUENCY

#1
Writer: Warren Ellis
Artists: Garry Leach & David Baron
DC / Wildstorm Comics
12-issue series; $2.95 each
There's a clandestine, secret society called the Global Frequency, with a thousand and one members. No one knows who's a part of it. Your neighbor could be. Your wife could be. And you would never know, unless you heard a distinctive cell phone ring and saw this person you thought you knew putting on a specially marked jacket before rushing off to answer the call: which is always about a major, earth-shattering disaster that has to be averted before it's too late.
Does this idea comfort you? Or does it make you paranoid as hell?
With Warren Ellis as the writer, it should probably do both. GLOBAL FREQUENCY is a new twelve-issue series written by Ellis, with different story arcs drawn by a variety of respected artists. Garry Leach, Alan Moore's first collaborator on MIRACLEMAN, starts things off, with future stories to be rendered by, among others, Steve Dillon (PUNISHER), Glenn Fabry (PREACHER), and Gene Ha (TOP TEN). Ellis has promised that each story will be tailored to the particular artist's style.
That's definitely true for the first issue, a pretty much self contained story (I thought those were extinct) that introduces the Global Frequency, including its leader, Miranda Zero, as they try to prevent San Francisco from being destroyed in a nuclear explosion.
It seems that, thirty years ago, a Russian sleeper agent was sent to the US with a receiver implanted in his brain. If the Kremlin ever decided it was necessary, the receiver could tap into the agent's psychic abilities and create a wormhole that would teleport a nuclear bomb - primed to explode on arrival - from a rural Russian wasteland to wherever in the USA the agent happened to be. This weapon was never used: but, after thirty years, the receiver in the guy's brain has deteriorated, and accidentally activated itself. If the Global Frequency agents can't stop the process, the Bay Area is toast.
This story, with its Cold War paranoia and covert-ops theme, is perfect for Leach, recalling his brilliant opening to the Miracleman saga, which featured secret weapons being hauled around in trucks in the wee hours of the morning. The art style is realistic, but dark, with everything seeming to happen in low and/or artificial light. Facial expressions are evocative without being melodramatic. I can't think of a better artist to start off this series, and it's great to see Leach's work again: it's been a long time for me, and if anything, his art has gotten better over time.
The story, as I mentioned, is kind of like a TV pilot: it introduces the concept and key players in the midst of a mission, and we learn the basics as we go along. The mysterious Miranda Zero (not her real name, but "the only one you're getting") seems to be the founder and leader of the Global Frequency network, an independent agency that is not beholden to any government but has an uneasy working relationship with most of them.
Aleph is a woman who sits in a monitor room, equipped with a big board that shows the location of every GF operative, and the means to contact any of them in a split-second to draw on their unique abilities. She coordinates the action and transfers information between field agents.
We also meet others, including former Special Forces soldier John Stark, but there's every reason to believe that any given case will require the services of a different combination of the network's 1,001 operatives.
The idea of a mysterious, autonomous group that monitors the world, cleaning up its secret messes before they blow up in everyone's face, may sound like Ellis' AUTHORITY (or its predecessor STORMWATCH), but GLOBAL FREQUENCY is different. For one thing, the 1,001 agents don't have super powers, at least not so far. And there's a difference in the tonal approach that I like and hope to see continue. While THE AUTHORITY was extraordinarily imaginative, I never much liked the characters, because they were all kind of arrogant and amoral. They had inflated opinions of themselves, as if their powers and role as world-savers made them special (which, to be fair, they did, but hey, a jerk is a jerk).
Exactly the opposite seems to be true here. The Global Frequency agents' very normalcy is what makes them effective. They go about their missions as if doing a job; an important job, but one that is bigger than them; like cops or doctors. I'm sure Ellis can't go twelve issues without introducing at least a half-dozen characters who are psycho perverts (and, hey, they have their place), but I hope the overall personality of the agency continues along these lines.
Ellis stated that the inspiration for this series was drawn at least in part from the events of 9/11, and a year after the fact, it isn't much of a leap to imagine an organization like this actually existing. If it did, it would be staffed by pros given to doing their jobs quickly and responsibly, just like the folks we meet in issue #1 (okay, one of the GF agents who's an MIT genius spends the whole issue dressed like the Gimp from PULP FICTION, but on the phone he's all business).
The other interesting thing for me is the relationship between the Global Frequency and the rest of the world. While they're a secret society, well-informed citizens seem to at least have heard of them, although they're not certain whether it's just an urban legend or baseless conspiracy theory. Miranda Zero refers to her dealings with the world's governments, who pay her to clean up and cover up their black ops gone wrong. This just-below-the-surface quality adds nicely to the overall aura of mystery that makes the book intriguing.
I'm not one of those people who loves everything Warren Ellis does; some of his stuff makes me feel like I just took a walk through a slaughterhouse. But I found GLOBAL FREQUENCY #1 to be a very promising start to what could be an incredibly cool series. Based on what I've seen so far, I'll give GLOBAL FREQUENCY Four Rabid Fanboys.





Review copyright 2002 by E.C.McMullen Jr.