FEED BACK?
Write Us:
Feo Amante
Be sure to write:
Feo Reader
in the subject line else you may be bounced like JunkeMail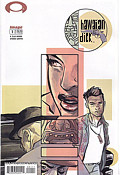 HAWAIIAN DICK #1
Writer: B. Clay Moore
Artist: Steven Griffin
Image Comics
3-issue miniseries
$2.95 each
No, HAWAIIAN DICK is not the new lead feature at the TomKat Theater in West Hollywood. It's a new 3-issue miniseries from Image Comics, a heady mix of period crime noir and the supernatural set in a locale that's part of the United States, but that has a culture, history, and dark side all its own.
The main character is Byrd, a haole (Caucasian) World War II veteran and private eye who relocated to Hawaii from the mainland after ending up on the wrong end of some mysterious unpleasantness. He gets referred for a job by his old military buddy, police detective Mo Kalama. The job seems simple enough "retrieve a stolen car" but Byrd soon finds out the car has something in the trunk that's extremely important to local crime boss Bishop Masaki. If he doesn't get it back soon, there'll be hell to pay. Who knows, there might already have been some hellish goings-on, if the rumors about the ghosts of "long-dead Hawaiian warriors haunting the stretch of highway where the car was stolen" are true.
HAWAIIAN DICK is a fresh twist on an established genre: the 1950's hard-boiled detective yarn. It feels familiar, and yet, like the Love Boat, exciting and new. The book drips atmosphere from every page. A lot of the credit for that has to go to Steven Griffin's art, which is stylized and evocative. It reminds me of Guy Davis'work on SANDMAN MYSTERY THEATRE in its effect, with characters who sometimes look grotesque but never cartoonish, creating a slightly disconcerting mood without sacrificing storytelling. And his use of color is excellent (I assume Griffin did the coloring; there's no separate credit for it). He draws on a palette you'd find in a Tiki bar: yellows, pinks and greens in bright 1950's shades, as well as the darker blacks and browns one expects from detective noir. He succeeds in spades at capturing the feel of the locale and setting a proper mood.
As for the story, I like what I'm reading so far. It moves along quickly, with the requisite twists and turns and double-crosses, but it's never hard to follow. The characters, for now, are painted in broad strokes, but have mysterious, secret-filled pasts hinted at. With two issues to go, it could still end up either brilliant or a train wreck, but if writer Moore fulfills the promise he displays in #1, expect some good stuff.
In many ways, the real star of this book is 1950's Hawaii itself. Moore gives us a tremendous feel for the islands, with their simmering racial tensions and rich, legend-filled culture. Also provided is "A Brief Guide To Byrd's Hawaii", a back-up feature giving the reader background on the people and places encountered along the way.
Complaints are few: a more detailed explanation of the nature and effects of the local racial tensions would help clarify some of the story points, as it seems to be an important issue, and it's not always clear from the art what ethnic group a character belongs to. But, overall, I'm enjoying the ride a lot thus far. With just three issues in the series, HAWAIIAN DICK promises a fast-paced story without a big financial investment. If you want something familiar, yet exotic: hard-boiled and surreal at the same time; it's definitely worth a look. I give it Four Rabid Fanboys.


Review copyright 2002 by E.C.McMullen Jr.
Contributors to feoamante.com are going places!

Starring Adrian Paul
(

THE HIGHLANDER

),
Bokeem Woodbine, and Ling Bai (

THE CROW

), This Alternate History movie is part Horror, Part crime, part S.F. and all Vampires.
From the screenplay by our own
Christos N. Gage
and
Ruth Fletcher Gage.

Visit
Don Marquez