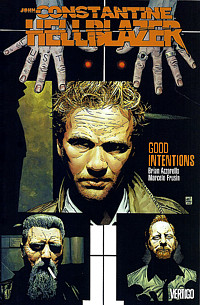 HELLBLAZER "Good Intentions"
6-part arc Issues 151-156
Written by Brian Azzarello
Illustrated by Marcelo Frusin
Vertigo
Crime comics writer Brian Azzarello (100 BULLETS, EL DIABLO) continues his trend toward gritty, dark storylines he started with his first arc featuring John Constantine, "Hard Time."
Fresh out of jail, Constantine continues his American journey by hitching a ride (with a couple of murderers and kidnappers, no less) into Doglick, Virginia. Here he meets sadistic brothers Dickie and Richie Fermin and their nasty bulldog. Unfortunately, their other brother was the man that got Constantine put in prison in the first place. They learn how the guy died (I'd tell ya, see, but it would ruin the surprise in "Hard Time") and they're cool with it, so they take good ol' Connie under their wing. And as a result he sees a darker side of himself that he had thought loooong past... On top of that, Dickie's married to a woman named Rose, an ex-girlfriend of sorts, of Constantines.
We're treated to a handful of flashbacks to when they first met, when Rose was on a trip to London and Constantine still fronted a punk band. Now, Constantine may be a right bastard at times, but he realizes some heavy things are going on. And he knows he needs to get Rose out of trouble. However, things are not as they seem, and Constantine (and the reader!) are in for a real shock by the end of the series. Add to it the fact some mysterious beast is killing and eating people in the woods, and the people in town see it as a punishment for their as-yet-unrevealed crimes, and Constantine's got himself a real handful.
Like "Hard Time," Azzarello builds the action and plot slowly. Almost painfully slow. But he has a strong ability to hold his readers' attention and stick it out to the end, where he unleashes the big payoff. And this one's outstanding. And it's also very simple, which is why I can't say much more without giving away that ending. Marcelo Frusin (nobody seems to know where he came from, not even the guys at CBR, but he has contributed short work to FLINCH and Warren Ellis's TRANSMET one-shot I HATE IT HERE) picks up the artwork where Corben left off, but Bradstreet continues his cover duties. Frusin's art is simple yet elegant, and he's got a strong eye for detail. He also knows how to draw sinister. His characters have some of the darkest expressions I've seen in a long time, and he does it with strong use of shadows. He hides the eyes, the jawline, and it just looks fantastic. He's the new regular on the series, and I'm glad to see it. I look forward to more of his work.
Overall a great read. Many folks are griping that Constantine belongs back in London. Word is he'll be back there soon. But I tell you what, I'm having a lot of fun watching him run into some good ol' boys on this side of the pond. Great stuff!
I give the Good Intentions arc three rabid fanboys.

This review copyright 2001 E.C.McMullen Jr.