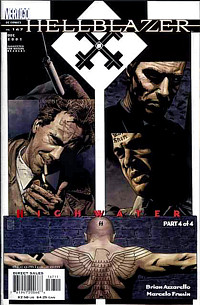 HELLBLAZER #164-167: Highwater
- 2001
Story: Brian Azzarello
Art: Marcelo Frusin
$2.50 ea.
Vertigo
In the four-part HIGHWATER story arc, HELLBLAZER's protagonist John Constantine heads into America's heartland to set things straight with Marjorie, the girlfriend of the man he was accused of murdering (turns out the guy actually killed himself, but framed John for it). He finds that Marjorie has fallen in with a group of white supremacists, led by hard-as-nails Ellison Gage (no relation to yours truly). Mix in an arms dealer named Wolfman who enjoys teasing the neo-nazis about the fact that he's selling them Israeli made guns, and the corrupt rich gangster he works for, and you've got a powder keg waiting for a spark. That spark goes by the name of Constantine.
Advance press warned that the HIGHWATER story arc would be controversial, because it depicts white supremacists as three-dimensional human beings rather than one-note evil whack jobs. It's true that writer Brian Azzarello (100 BULLETS, EL DIABLO) succeeds in showing why certain people, with nothing else to cling to, could be drawn in by a movement that tells them they're better than others simply by virtue of their race, but I wouldn't say any of the neo-nazis in the story are portrayed in a sympathetic light (nor should they be), so I'm not sure where the controversy comes in. You do get the sense of wasted potential in these people, and the tragic effect their hatred has on their kids, but it certainly doesn't excuse or condone their actions.
Through the characters of Marjorie, Gage, and Gage's daughter Gwyneth, the writer does a fine job of explaining the racists' philosophy, and the "proof" they find to back it up in Scripture. Then he does an equally fine job of shooting holes in their theories through the no-bullshit persona of Constantine. Azzarello has established himself as a master of smart dialogue in Vertigo's excellent crime comic 100 BULLETS, and he continues that tradition here. That leads to my only real gripe, which is that the first couple of installments are a bit talky, but it pays off; readers who feel that Azzarello has focused too much on psychological horror at the expense of the more traditional type should enjoy part four (issue #167), in which a reanimated corpse goes buck wild on the gang of neo-nazis who murdered him (the fact that Constantine raises the dead man using Jewish mysticism is a nice touch of irony). Marcelo Frusin's art is, as always, appropriately moody and evocative, especially his depiction of the walking corpse, whose face is a mass of shadow with two red eyes glowing within like burning coals.
The old grand-dad of the Vertigo line, HELLBLAZER remains an intelligently written, well drawn, eminently readable book that shows no signs of losing its edge. I hereby award HIGHWATER 4 rabid fanboys.

This review copyright 2001 E.C.McMullen Jr.