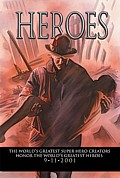 HEROES
Marvel Comics
Marvel Comics pays tribute to the firefighters, police officers, and emergency medical technicians who were on the front lines of the World Trade Center disaster with HEROES: THE WORLD'S GREATEST SUPER HERO CREATORS HONOR THE WORLD'S GREATEST HEROES, a magazine-size publication featuring illustrations and words totaling 64 pages from some of the top names in the industry.
Every image in HEROES is striking and powerful. Each is a portrait of courage, loss, devastation, or hope.
The pictures that affected me the most include:
Alex Ross' cover (also reprinted inside) of a firefighter carrying a woman from the wreckage of the World Trade Center.
George Perez and Tom Smith's American flag featuring medical, police, military and firefighter personnel depicted in the stripes, tears streaming down their faces.
Siblings dressed as a firefighter and police officer watching the smoke from their bedroom window, clutching their dolls by Sal Velluto, Bob Almond, and Chris Dickey.
Two children holding hands watching the news report in their classroom from Patrick Zircher, Derek Fridolfs, and Hi-Fi, with text by Fabian Nicieza.
Igor Kordey and Chris Chuckry's startling vision of airline passengers charging their hijackers.
The weary faces of New York City's heroes by Tim Bradstreet and Jose Villarrubia, from a photograph by Derek Schiavone.
A man carrying a woman in his arms fleeing from falling debris by Greg and Tim Hildebrandt.
Walter Simonson's firefighter and police officer standing high above Manhattan's skyline with the burning towers between them, including text by Paul Dini.
Neal Adams' centerfold collage featuring one burning tower with an airliner flying toward the second, rescue efforts, firefighters raising the American flag, and Mayor Rudolph Giuliani speaking with the press.
A firefighter grasping the hand of someone reaching out from beneath the rubble by Tom Raney with Hi-Fi.
Jae Lee and Jose Villarrubia's haunting portrait of people holding pictures of the missing, featuring a poem by Neil Gaiman.
A screaming child standing in the wreckage, clutching a torn American flag by Paul Pope, Lee Loughridge & Zylonol Studio.
The faces of New York City's heroes, their eyes shadowed by their headgear by Mike McKone, Mark McKenna, and Hi-Fi.
Joe Quesada, Todd McFarlane and Richard Isanove's back cover of a weary firefighter, covered in dust, sitting on a bench, covering his face with his hand, while a fire helmet lies on the ground in front of him spouting a small flame.
Of the contributions from the writers, Neil Gaiman's and Paul Dini's stood out the most for me. Gaiman's poem "The Song of the Lost" is brilliant in its brevity, capturing emotions of despair, love and hope. Dini's comments about how as children we look up to police and firefighters, but as adults we find them an inconvenience at times are truthful and therefore painful.
One disappointing thing about the book is that three of the illustrations (including the Quesada, McFarland and Isanove back cover with a poem by Kevin Smith, a David Mack cross-section diagram of the heroics of a firefighter, and David Gibbons' collapsing towers with text by Alan Moore) are two-page spreads. But the layout of these three in the middle of the book are before and after Adams' centerfold, so you have to turn pages to see the pictures in their entirety.
You'll also find pictures of Marvel's super-heroes, most notably Captain America, interacting with the real life heroes. I remember reading that some people were offended when one of the illustrations featuring the Hulk appeared online, but I personally accepted the presence of these characters in the heroic spirit that was the intention of the artists.
Five Rabid Fanboys
Proceeds from the sale of HEROES will be donated to the Twin Towers Fund. Additional donations can be sent to: The Twin Towers Fund, General Post Office, P.O. Box 26999, New York, NY 10087-6999.

Review copyright 2001 by E.C.McMullen Jr.