Review by
E.C.McMullen Jr.

SPEAK NO EVIL

- 2016
Writers: Justin Corbett, George Tripsas
Artists: Samir Simao, Chunlin Zhao
Editor: Meredith Nudo
Gray Bear Comics
$5.00 US
For years now, while the major publishers continue to shrink and the smaller presses and indies were left to the monopoly of Diamond Distributors, top writers and artists became more reliant on direct sales via Crowdfunding. That includes this title, SPEAK NO EVIL.
The story opens with the following quote,
The oldest and strongest emotion of mankind is fear,
and the oldest and strongest kind fear is fear of the unknown.
- H. P. Lovecraft
This tale begins with an isolated stone cabin in the woods. Within this cabin, a maelstrom of hell is entering our world as a young man on the floor, beset by demons or imps, shouts, "Shut it down!"
An older man, also within the swirl of green light and demons, reads from a book, shouting, "Inferos Redire Nequeunt!"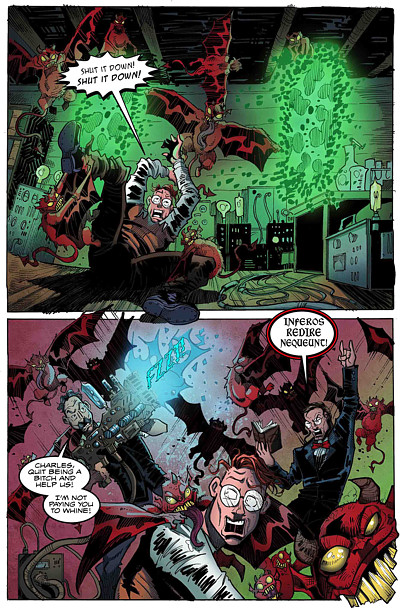 A third man, holding a gun that emits electricity, demands that the young man get a hold of himself and do his job. A bipedal vertebral humanoid with bilateral symmetry comes through the portal and matters only get worse, until only two men and a gore soaked room remain.
Well, that was the prologue, now onto Chapter One: The Box.
It's here that we meet two boys, brothers who will be our main protagonists. They are older headstrong brother Silas and younger rebellious brother, Edwin.
These two kids only have each other in the world, likely orphans, and they steal to survive. We don't learn this through drawn out exposition but the fact that they talk to each other as if stealing is a way of life. They only speak of how they are going to improve each other's lives and live somewhere else as if they are all they have.
This is excellent writing: sparse and carrying a lot of weight in all it doesn't say.
For today's job, the boys are stealing a truck loaded with illegal Prohibition Era booze. The criminals who once owned the truck and its cargo are not pleased and now we have a chase.
I enjoyed going through the pages of Justin Corbett and George Tripsas story and the brothers merry misadventures: predicaments brought on entirely by their aggressive naivety. They have to live, have to survive, but they aren't old enough to know how the world works and neither caution or planning is their strong suit. Their strength is their love for each other, as siblings express it.
Artist Samir Samao's art is cartoonish over realistic, but when the story goes hellbent for horror it's not found wanting.
Chunlin Zhao's colors provide more proof, as if it was needed, that the printed comic looks better than ever over ones made even ten years ago.
SPEAK NO EVIL #1 raised its funds through a Kickstarter campaign under the Gray Bear Comics banner. These campaigns have repeated to provide fans with further issues - 2 so far - and the continuing story of both the brothers Silas and Edwin, the team of Howard Phillips Lovecraft and Nikolai Tesla, and how they are eventually drawn together.
The end of this issue brings us back to the end of the prologue and so promises we ain't seen nothing yet.
Hyper-paced yet fleshed out, SPEAK NO EVIL is a mad blast fusion of character driven action in a Horror story.
Four Fanboys.





This review copyright 2018 E.C.McMullen Jr.