This weekend of October 16-18 will be the

Big Bear Film Festival

. On that very same weekend, about 100 miles away in Los Angeles, will be the much larger annual

Screamfest Film Festival

. And at the Staples Center, is the

Film, Stage, and Showbiz Expo

. Everyone of us has a favorite something and among those we have favorite movies. Now among those whose favorite movies moved the masses, it's easy to find camaraderie. Hell, if you are all about A Nightmare On Elm Street, Friday the 13th, Halloween or even Chucky, there is seemingly no end to the number of fellow fans you can meet and stuff you can buy to comfort that personal, fan-ish part of yourself that just has to go beyond the movie and treasure some little keepsake of your enjoyment of the film.



But what if you're a Phan?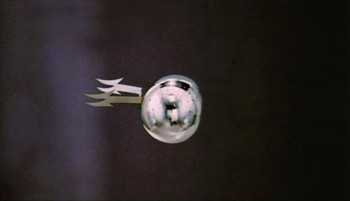 THE DEADLY FLYING BALL
What if your favorite movie or series of movies never gained wide appreciation but, instead, cult appeal? Well then finding friends and keepsakes becomes far more difficult, and to enjoy the same sense of community that the blockbuster fans enjoy, you have to go all hardcore. If some trinket or swag should materialize you just HAVE to get it! Because that bastard is going to be limited edition and gone in no time!
These are the Phans of Phantasm.
Phantasm starts with a small town where odd things are happening, but it all happens beneath the surface of the daily life. Someone has died, someone is missing, but nothing dramatic enough to shock the people of the town out of their slumber and into action has happened. But the people of the town know. They KNOW that something has somehow changed their community. No one knows what, and no one wants to be the first to start putting the puzzle pieces together. Everyone pretty much knows everyone else, and no one wants to be the "Village Weirdo."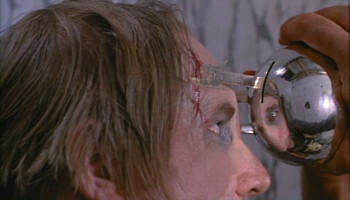 THE BALL MEETS TARGET
So conversation tilts toward the "Isn't it odd?" this and "Have you noticed?" that.
But the skinny little twerp of the neighborhood, you know, the shrimp with the popular older brother, Jody (Bill Thornbury)? Well the twerp's name is Mike (Michael Baldwin). And he's curious enough and bored enough to start investigating on his own. So he starts with the Morningside Cemetery. He starts there because he was visiting the graves of his recently deceased Mom & Dad. While he was there, he noticed the tall old funeral home caretaker (Angus Scrimm) acting odd. Then the caretaker did something that just blew Mike's little mind.
When Mike tells his older brother Jody what he saw, Jody isn't buying it. Mike hasn't been right since Mom & Dad died and Jody is doing his best to step up to the plate and keep his young bro level. Soon Mike is sneaking out at night to find more proof to convince Jody, and he finds it real quick. Whatever the hell is happening to their town, it all comes from Morningside Cemetery and the creepy tall man.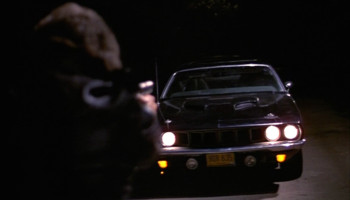 THE EVER PRESENT BARRACUDA
When Mike tells Jody an even bigger story than before, Jody is angered. Especially when the weirdness is so off the wall that Mike doesn't even know how to describe what he saw.
Jody: What's out there?
Mike: I don't know. It was little, brown and low to the ground!
Mike's good friend was found dead and that means another funeral. There are too many funerals in the town, too close to home, and fantastic stories by a wound up little brother who probably still believes in freaking Santa Claus, are testing Jody's patience. And that's how it all would go, except this time Mike brought back proof.
The kind of freaky proof that makes Jody believe that, while Mike is reading way more into Morningside than what is really there, something really bad - evil bad - is coming from that place.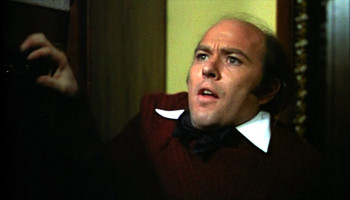 REGGIE: THE MOST RELUCTANT HERO IN THE WORLD
Jody: "Now, remember: you don't aim a gun at a man unless you intend to shoot him. And, you don't shoot a man unless you intend to kill him. No warning shots. Hey, you listening to me? No warning shots. Warning shots are bullshit. You shoot to kill, or you don't shoot at all."
Jody's last good friend in town is his older friend, Reggie: a slacker who drives the ice cream truck around and doesn't ask much from life other than finding a nice gal to marry and settle down in town, raise kids, and sell ice cream. Poor Reggie will soon be drawn into the nightmare, kicking and screaming to get back out and return to the normal.
Throughout the four PHANTASM movies, Reggie never wants to be the hero. He didn't ask for the job, he was just there for his friends. And if the hell of their experience is over tomorrow, all Reggie wants to do is have everything as nice and cool as it was. He wants his small boring town back. He wants his ice cream truck back, and he wants the day to day contentment of life to return. Reggie is willing to go all Rambo to get very little back. He didn't have much, and Reggie's REALLY pissed that someone would actually go out of their way to take what little he had.
Reggie: "What we gotta do is we gotta snag that tall dude and stomp the shit out of him, and we'll find out what the hell is going on up there. Yeah!"
All that was 30 years ago when the movies first started in 1979.

PHANTASM to me is like the first two HELLRAISER movies. I can readily admit that they aren't the standard epics of cinema, and I've learned from experience that they aren't for everybody. There was a time when I used to break up with girlfriends who couldn't find the appeal in PHANTASM. I mean, what kind of life could I possibly have with such a woman? And what about the children? I had to think of the children!
Possibly its because of the warts of PHANTASM. The rawness: it's artistic unpolished defiance that dares to be wildly imaginative, unexpectedly creative, serious yet never too cool to be self-effacing. And it does all of this despite budget, name actors, or any of the typical Hollywood watermarks that Horror Thriller fans are sick of seeing. More than anything else, Writer and director Don Coscarelli wasn't satisfied to go only for the gross, or titties, or f-bombs, or all of the other excuses that incompetent Horror Thriller movie directors attempt when what they are REALLY supposed to deliver what PHANTASM delivers and that is the SCARES! PHANTASM is meant to SCARE you.

So maybe that's the key to my long years of Phandom? I don't know. I'm not saying we Phans are better than anyone else, but we're certainly different.
Maybe I'm the kind of guy who sometimes, just sometimes, walks past the beautiful gals to talk to the fascinating one. My fandom is such that I eventually got to know actors Reggie Bannister and his life partner, Gigi Fastelk. I live on the edges of the story that so strangely fascinates me so.
The Big Bear Horror Film Festival is live this weekend of October 16-18, 2009 at the Performing Arts Center 39707 Big Bear Blvd, Big Bear, CA 92315. The event – benefiting the charity of Reggie Bannister and his life partner, Gigi Fast Elk - will mark the 30th Anniversary Reunion of Phantasm. Don Coscarelli (producer/writer/director), Angus Scrimm (The Tall Man) have confirmed they will be joining the film fest as well as other leading cast and crew.
Horror Icon and FANGORIA Magazine founder, Kerry O'Quinn, has signed on as host and emcee for the fun filled weekend. Director, Mary Lambert (Pet Sematary I, II), Richard Moll (HOUSE), Jeff Rector (director/actor REVAMPED) and Eric Forsberg (NIGHT OF THE DEAD) will be joining us as award presenters on Sunday. Mary Lambert will introduce her work-in-progress, "Dark Path Chronicles" (Fear.net), Jeff Rector will show Revamped and Eric Forsberg will screen Night of the Dead as well as special screenings of Phantasm I, II, III and IV . More celebrity judges and presenters will be announced as they are confirmed.

The Big Bear Horror Film Festival is presented by Evil Kitty Productions and this fun filled event will benefit local Big Bear arts charities as well as our non-profit, the Crestline Creative Arts Foundation (CCAF). CCAF promotes the arts by mentoring local mountain youth in free film camps, live performances, and internships on professional film productions.
For more information, visit bigbearhorrorfilmfest.com.

feoamante.com reviews of the PHANTASM movies.

Feo Amante hits the Austin, Texas PHANTASMANIA.

At FeoTales, from the long out-of-print PHANTASM: EXCURSIONS INTO OBLIVION, is Richard Elkin's RED PLANET.