Review by
E.C. McMullen Jr.

HOW MUCH, YA THINK?


TIP JAR




ATTACK THE BLOCK

- 2011
USA Release: July 29, 2011
Big Talk Productions, Optimum Releasing, Isobel Griffiths Limited, Stage 6 Films, UK Film Council, Film4, StudioCanal, Screen Gems
Rating: USA: N/A
Far above the earth something enters the highest outer reaches of our atmosphere and grows a tail behind it. As it falls to earth, the light from it intensifies and the tail grows.
Far below on the fast approaching surface, fireworks speed into the sky and explode on Guy Fawkes Night.
A young woman leaves a party and heads back home alone. On her phone, she talks to her Mum along the way. Her name is Sam (Jodie Whittaker: DR. WHO [TV - 2017 - 2020).
Abrupt noises startle Sam as she goes through the well-lit city night. She's easily frightened.
As Sam makes her way, some teenage boys in hiding pull their hoods over their heads and their shirts and rags over their faces. Unrecognizeable, they step out into her path. Before the young woman realizes what she's walking into they have her surrounded and mug her at knife point.
And that bright thing falling to earth? It screams out of the sky and smashes a car on the street right next to them all.
Crying in panic and shame, Sam uses the surprising opportunity to run away.
"She's getting away!" one of the boys alert the others.
"Allow it." the ringleader says. His name is Moses (John Boyega: THE CIRCLE, PACIFIC RIM: UPRISING, WATERSHIP DOWN [TV]) and with the car already torn apart, whatever inside it is ripe for the picking. Who knows what was locked up in there?
Picking through the wreckage looking for valuables, Moses is surprised by a huge animal that attacks him. Overpowered with a quick wild animal clawing at him, Moses stabs it with his flick knife.
The injured creature runs off but not far. Everyone saw where it went, the park across the street inside a public restroom.
Angered, bleeding, and embarrassed before his gang, Moses goes after it. If it can be beaten with a stab it can be killed with a stab. Giant cat or dog, Moses aims to kill whatever it is.
Backed by his friends and their weapons, they soon make short work of the creature, only to discover that whatever they killed isn't a dog, cat, or anything else they've ever seen.
Pretty damn mysterious, Bruv'!
Well they all know a drug dealer named Ron (Nick Frost: SHAUN OF THE DEAD, HOT FUZZ) who grows the best weed in his giant flat. He's always watching National Geographic so if anyone is going to know what this thing is, it's going to be Ron.
Hell! This ugly thing might be worth some money if it's a freak!
Not everyone in the gang thinks it is a freak. Pest (Alex Esmail: STRIPPERS VS. WEREWOLVES), points out the obvious,
"After all, bruv', it fell out of the sky!"
Meanwhile, there are a whole lot more of these things falling into our atmosphere.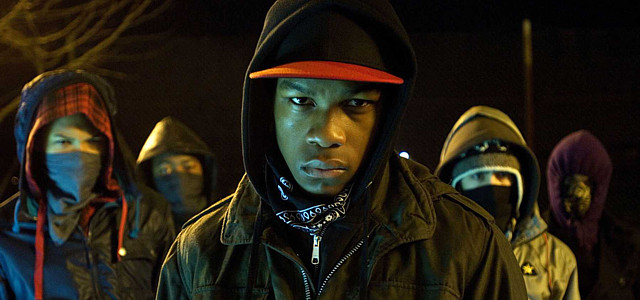 Moses is the central character around who the story flows and Boyega plays his role with a convincing expression of outward threat and inner pain.
This is how fast everything kicks into high gear in ATTACK THE BLOCK. And awesome of awesomeness, Writer and Director Joe Cornish just keeps ratcheting up the action, thrills, chills, horror, and all the while with nary a noticeable break: solid character development.
Full of bravado, naivety, and all moving into a deadly adulthood of crime and evil, the boys of the block come face to face with a larger world than their microcosm "block" could ever be, and killing that creature was the worst mistake of their very young lives.
That thing they killed was the smallest and weakest of these creatures. The ones striking the earth now, mostly protected from impact by some kind of pod device, somehow "know" that this particular gang of kids killed one of their own.
TRIVIA
John Carpenter Influence
Writer and Director Joe Cornish tells the world that ATTACK THE BLOCK was influenced by the work of John Carpenter.
Read,
Joe Cornish Discusses Attack The Block at The Quietus
For whatever unknown and unknowable reason they had in coming to our world, their new order of business is to kill those who killed one of them.
That's a whole mess of trouble for a gang of burgeoning thugs, but like life, it's not the only complication.
Entangling all of their lives and herding them into a life of slavery, is their local drug pushing crime boss who "owns the block": Ron's ostensible "flatmate", Hi-Hatz (Jumayn Hunter: EDEN LAKE, CHERRY TREE LANE, I ANNA, PIGGY, SCINTILLA).
True he's an unbelievably dense bonehead, but if there's one thing that life has got through that thick skull of Hi-Hatz, he knows that when in doubt, kill someone. In a country where handguns are outlawed, rare, and at an extreme premium, Hi-Hatz is a one gun king among the disarmed blind who will never be saved by the cops: only bagged, tagged, and filed away at the local morgue for processing.
In Joe Cornish's ATTACK THE BLOCK, local Brixton cops, like they were well over a century ago in the Sherlock Holmes mysteries, have no interest in protecting people from crime or catching people committing a crime, only finding someone to arrest for the crime.
Like in Broward County, Florida!
However, Sam isn't just any victim. She's a nurse: Within the sphere of public servants like cops, firefighters, and EMTs. She's the kind of person who tends to cops injured on the job.
They're willing to be a little more gung-ho for a fellow public servant and soon Sam is riding with a couple of officers, hoping to eye-spy the street thugs who mugged her.
It's at this moment that Writer Director Cornish turns the tension up to 11 and nearly breaks the needle!
But hey! What about the parents of these kids?
The boys are all liars and have their parents convinced that they are just out at a friend's house, playing video games and wotnot. They keep suspicion low by being sure to return home by their 10 o'clock curfew, and calling on the hour to let Mum and Dad know they're okay.
Ya need anything from the store before I come home?
Brutal, unrelenting, and merciless, Cornish never-the-less infuses his characters with a lowbrow charm of misdirected innocence. They're committing real crimes against real people, but they're wrapped in an illusion of TV show pretend.
When later confronted by the terror of Sam's genuine trauma and vengeful anger, they are in disbelief. We weren't gonna really stab you. The knife was just to, y'know, speed things along so we can get back home by curfew.
They're so young and unchallenged they think Sam's attack at their hands was nothing more than her playing her role in their drama and getting on with her life. It wasn't like they cut her or anything.
Amazingly, Cornish makes the kid's point of view weirdly logical and never betrays that logic, even when the boy gang is later upbraided by a girl gang led by Tia (Danielle Vitalis), who have far bigger plans for their lives.
The boys see the girls they grew up with have reached a point where they are dividing along gender lines, but the boys don't get the how, why, or necessity of it. The girls are already renting their own flats while the boys still live with their parents or relatives.
Cornish is so adept at this in fact, that he takes us from hating this gang to rooting for them.
SOCKS! Knocked off!
ATTACK THE BLOCK is heavy on the violence, yet easy on the blood and gore, having the camera turn away or the editor cut away right at the height of the violence, while the audible screaming continues, thereby letting the audience imagine the worst.
Meanwhile producers Nira Park (SPACED [TV], SHAUN OF THE DEAD, HOT FUZZ, IN FEAR, THE WORLD'S END) and James Wilson (SHAUN OF THE DEAD, THE LOVELY BONES) gave Cornish everything he needed to make a masterpiece.
If you're a fan of movies like CRITTERS and TREMORS, you're going to love this one.
ATTACK THE BLOCK is kick-ass excellence and one of the best alien invasion movies ever made. Ever! Made!
Five ShriekGirls






This review copyright 2019 E.C.McMullen Jr.
YOU MIGHT ALSO ENJOY
(Sub-Section: ALIENS ATTACK LOCALS)
ALTERED
MOVIE REVIEW
CRITTERS
MOVIE REVIEW
TREMORS
MOVIE REVIEW