BEWARE: THE BLOB
aka
SON OF THE BLOB
- 1972
Columbia Pictures
Rated: Argentina: 13 / Australia: M / Finland: K-14 / Germany: 16 / Norway: 15 / Peru: 14 / Portugal: M/12 / Spain: 13 / Sweden: 15 / UK: 15 / USA: PG-13
Never heard of it? Me either. I've heard of THE BLOB, of course, both the 1958 original and the 1988 remake. But this 1972 sequel to THE BLOB somehow stayed below my radar. Is that a good thing or a bad thing?
BEWARE: THE BLOB was directed by Larry Hagman. Depending on your generation your reaction to that name is either "Oh, yeah, Major Nelson from 'I Dream of Jeannie'" or "Oh, yeah, that J.R. guy from 'Dallas'" or "Who?" He's got quite an acting resume but this was his only time directing a movie. Two people, Richard Clair and Jack H. Harris (DINOSAURUS, THE 4D MAN), came up with the story. And two more, Anthony Harris and Jack Woods (EQUINIOX), wrote the screenplay.
The story opens with a cute kitten playing in the grass while 70's style carnival music plays over the opening credits. The kitty plays and plays and the music goes on and on. Even though I was watching a DVD my hand reflexively reached for the remote to see what else was on.
Finally the kitty segment comes to an end and attention shifts to a married couple. We learn from conversation that the husband has just returned from working on the pipeline, presumably the Alaskan pipeline. He tells his wife that a metal canister labeled "Specimen: Keep Frozen" contains some odd material he found. Of course, as soon as they aren't looking, the canister pops open and a familiar reddish goo oozes out.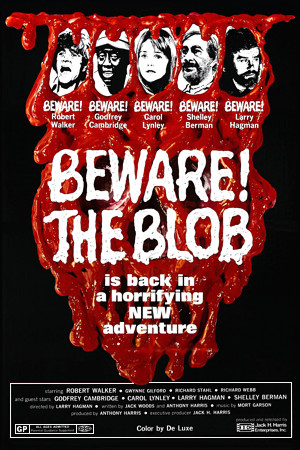 THEN AS NOW, A FEATURE FILM WITH AN ALL-STAR CAST OF TELEVISION CELEBRITIES IS HOLLYWOOD'S SECRET WAY OF LETTING YOU KNOW THAT THE MOVIE HAS A HIGH-SUCK FACTOR.
Now, before I tell you any more, I feel compelled - in a misery loves company kind of way - to tell you that the movie doesn't move anywhere near as well as my paragraph. Instead, the above information was diluted in long, pointless conversation and lame attempts at humor from bad actors reading bad lines from a bad script. I'm not going to sugar coat the truth: this movie is truly awful. Even the cute kitty was a bad actor. I'm really not sure what the director had in mind for this movie. Is it an attempt at horror, at horror spoof, at making a really bad movie? If it was the last one then "Good job, Larry!"
The Blob eats the married couple and a variety of others, getting steadily bigger and becoming a cheesier special effect. The roster of the eaten includes a bunch of vaguely familiar faces depending on how much TV you watched in the 70's. There's Robert Walker, Jr., who any nerd worth his pocket protector recognizes as Charlie from the original series Star Trek episode "Charlie X". The blob also menaces Dick van Patten, Richard Stahl, Carol Lynley (THE POSEIDON ADVENTURE), Gerrit Graham (THE WASP WOMAN, PHANTOM OF THE PARADISE, DEMON SEED, IT'S ALIVE III, C.H.U.D. II) and, in a brief cameo, Burgess Meredith.
All that nostalgia makes me nostalgic for a
!!!SCIENCE MOMENT!!!:
As we all remember from our history of cinema class, the blob (1958) ends with the massive monster being air dropped in the Arctic once it was discovered that cold immobilized it. But would it just be left there unguarded? Of course not! They'd build a very secure government lab around it to both study and contain this horribly dangerous alien creature.
This movie is an answer to the question, "Why doesn't Larry Hagman direct more often?" Every time he tries to be creative he goes wrong. For example, at one point a character is watching a horror movie on TV - the same horror movie the people in the theater were watching before the Blob attacked them in the original film. Nice touch, right? But moments later this same guy is now actually watching THE BLOB on TV, destroying what little suspension of disbelief I had left. In another example the Blob attacks a cop hassling some stoner hippies in a big drainage pipe (one of the hippies is Cindy Williams - Shirley from "Laverne and Shirley"). As the cop screams the camera pans to some graffiti scrawled on a fence: "love". Nice contrast, Larry! If only the world could learn to love we wouldn't get eaten by the blob. I hear you, man.
Now hear this. BEWARE: THE BLOB! gets three negative shriek girls.




This review copyright 2002 E.C.McMullen Jr.




Return to Movies