Review by
E.C. McMullen Jr.

COCO

- 2017
USA Release: Nov. 21, 2017
Pixar, Disney
Rated: USA: PG
With opening narration we get a quick history of what this story will be about.
Miguel (Anthony Gonzalez), who is talking, is a child born into family who are the only ones in Mexico who hate music. Passed down through the generations, they have all been told since their late matriarch, Mamá Imelda (Alanna Ubach: VIRTUOSITY, JEKYLL, BATMAN: GOTHAM KNIGHT, A HAUNTED HOUSE, HELEN KELLER VS. NIGHTWOLVES, AUGUST FALLS) that ever since their shall-be-nameless patriarch abandoned her and their daughter Coco (Miguel's great-abuelita - Mama Coco), to pursue a singing career, music is a curse upon the family.
So instead, they make shoes.
As it turns out, this isn't narration but Miguel talking to a plaza Mariachi as he shines his shoes. Miguel knows how to play guitar but, except for his wheelchair bound and forgetful Mama Coco (Ana Ofelia Murguía: EL PROFETA MIMI) he dares not let anyone in his family know because they would freak.
The Mariachi, who wanted a shoe shine and not a life story, asks Miguel, "What would your hero, the famous Ernesto de la Cruz say?"
Miguel: "Sieze your moment?"
A moment that never comes as his family, led by Miguel's Abuelita (Renee Victor: THE ADDAMS FAMILY [TV - 1992-93], THE PROPHECY II, PARANORMAL ACTIVITY: THE MARKED ONES), descends upon the Playa de pavilion, upon Miguel, and Abuelita threatens the Mariachi for daring to infect her dear, sweet grandson with cursed music.
The boy wants to be a musician and despite his family's best efforts, they can't drum it out of him.
So how does a kid learn to play a guitar in such a family?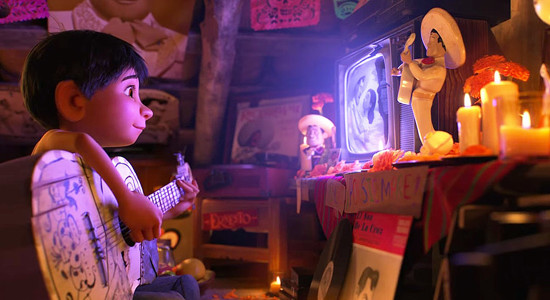 We soon find that Miguel has a secret hideout, a shrine to Ernesto de la Cruz (Benjamin Bratt: DEMOLITION MAN, RED PLANET, ABANDON, DOCTOR STRANGE), where he has built his own guitar and has taught himself to play by watching old videos of de la Cruz movies. He studiously watches the late Ernesto's fingers as the old time musician plays every note, plucks every string, and Miguel imitates him.
The moment comes when Ernesto utters his famous words, "You want your dreams? Nobody is going to hand them to you. You must seize your moment!"
Tonight is the night of the Mariachi competition, on Dia de los Muertos. Miguel has never played before an audience before, but now this is his moment.
Which of course is ripped from his hands and crushed - otherwise we wouldn't have a movie.
Sobbing from heartache, Miguel goes running blindly through his village, eventually finding himself near the grand burial chamber of Ernesto de la Cruz himself. Ernesto was not only world famous, he comes from this village, which gives it the only fame and tourism it has ever known.
Everybody loves the mysterious Ernesto, but Miguel has reason to believe that de la Cruz IS the nameless patriarch of his family who abandoned them to become a great singer.
Arming himself with this excuse, Miguel secretly breaks inside the burial chamber, begs the painting of Ernesto for forgiveness as he "siezes his moment", steals the famous guitar over Ernesto's cement enclosed coffin, and merry mishaps occur.
Thanks to the magic of the moment, Miguel leaves the living and crosses over to the land of the dead, as a living boy.
Such a thing is unheard of and nobody there knows how to get him back. So begins Miguel's adventure.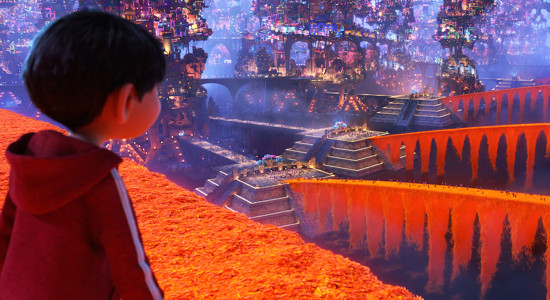 Directed by Lee Unkrich (Co-Director: MONSTERS, INC.) and co-directed by Adrian Molina and based upon Unkrich and Molina's original story and screenplay, along with two other writers, Jason Katz (original story and screenplay) and Matthew Aldrich, Pixar delivers the humane stories we've come to adore.
Of course the story is template formula Pixar. Like every Pixar feature film there is our hero out of step with his/her family or group, going against their grain, thanks to a strange outsider.
The strange outsider, of questionable character, who offers to help - but only for his own reasons - is in this case a shifty skeleton named Hector (Gael García Bernal: BLINDNESS, THE LONELIEST PLANET, VAMPS). An innocent in the form of a baby, pet-type, or mentally challenged person becomes an unwitting but enthusiastic guide or McGuffin who both causes trouble for and saves our hero.
Yet being forced into this formula by Pixar honcho John Lasseter (MONSTERS, INC., THE INCREDIBLES), unleashes an astounding creativity of artistic imagination in which tales of the best of humanity and compassion can fly.
In the theater I watched COCO in standard 2D form. Days later I went back with my wife and watched it again in 3D.
Holy cow does this movie live in 3D! Both times I saw it, two different audiences, people stood and cheered at the end. How often does that happen for an animated movie?
How often does that happen period?
At turns COCO is funny enough and sad enough to make you cry, but the movie is a beautiful experience all the way through.






This review copyright 2006 E.C.McMullen Jr.