Review by
E.C. McMullen Jr.

BRAIN DAMAGE

- 1988
USA Release: April 15, 1988
Palisades Partners
Rated: USA: R
An old man comes home tired and dejected, unlike his wife who is quite enthusiastic. Their favorite butcher is out of business and the old man had to go to a new place to get their "cuts". They aren't as good as what they're used to getting, they're more expensive and smaller.
The old lady doesn't care. She unwraps the calf brains and practically giggles in delight as she takes them to the bathroom, exclaiming how excited Aylmer will be.
Then she screams and drops the plate of brains. The bathtub is full of water but otherwise empty. "He's gone!" She wails like a mother losing a child. The tired old man is suddenly full of energy as both of them tear apart their apartment, searching for Aylmer.
Well who the hell is Aylmer and why would he be so excited about raw calf brains?
Then we meet Brian (Rick Herbst: DEAD SEXY), who is in bed and feeling sick. His brother Mike (Gordon MacDonald: PERFECT STRANGER) and his girlfriend Barbara (Jennifer Lowry) are... (she's Brian's girlfriend, though Mike wants her, oh yeah he does! Couch sleeping Jody bastard!) ...are worried about him, but Brian's sure he'll get over whatever it is he's got and be good as new... if he could just get some rest. Brian woozily talks Mike into taking his place on the date with Barbara and Mike nearly ejaculates right on the spot. The two leave. Brian would like to get some rest, but once he's alone, the bizarro hallucinations begin.
The next thing he knows, he's talking to a wrinkled, phallic looking dark blue turd with blue eyes and a calm friendly voice.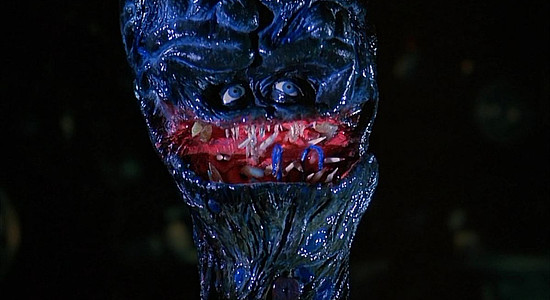 Aylmer: This is the start of your new life Brian, a life full of colors, music, light and euphoria. A life without pain, or hurt, or suffering.
It all seems good until you see it in action. From blue soup flooding your room to a disco junkyard, the hallucinations are nothing to write home about (why would you write home about your hallucinations? What's wrong with you?), but man, the (what's wrong with you besides the hallucinations, I mean) euphoria must be out of this world. Brian is so blitzed in fact, that he doesn't even notice the junkyard guard's attempt to arrest him, or his new blue friend attack the guard and kill him.
Thus begins Brian's new life, which unravels quick time. His odd behavior alarms both his brother and girlfriend (they don't know about the murders... YET!) but Brian only knows that he's having a great time. His new blue friend gets him high and they have fun, even taking baths together.
Meanwhile, the old couple are going through withdrawals so awful they look like rotting zombies.
Soon Brian's new blue friend (voiced by the incomparable John Zacherle: HORRIBLE HORROR, FRANKENHOOKER) is hungry again and off they go to a nightclub. Before Brian knows it, his blue friend injects him with its "juice", Brian gets blitzed out of his gourd, and the blue thing takes over, getting a hot club girl (Vicki Darnell: FRANKENHOOKER) to accompany them outside. What happens next was edited from the U.S. theatrical release and the VHS home video, so watch the Synapse DVD version.
When Brian finally comes around, he finds blood in his underwear. Hurrying home, he hits the handy bunch of trashcans next to his apartment. The old man, Aylmer's former caretaker, sees Brian's behavior and knows exactly what's going on.
Morris: "He belongs to me!"
Brian doesn't realize what's been happening during his periods of blue juice flight, but he's scared enough to find a flophouse somewhere away from his brother and try to get control of his addiction. That's when he has a heart to heart talk with Aylmer and learns the truth of their relationship.
Nearly everyone, even those who haven't seen the movie A Few Good Men, know the famous quotable line, "You want the truth? You can't handle the truth!"
When Brian confronts Aylmer about the blood in his underwear, he is clearly unable to handle the truth. Brian is so stunningly dense in fact, that even Aylmer is incredulous.
Brian: You sucked out her brains?
Aylmer: Yeah, right through her mouth.
Brian: Is she dead?
Aylmer: Of course she's dead! What, are you kidding?
Brian: What, are you telling me that we killed someone last night?
Brian thinks he can kick his habit. He doesn't want to lose Aylmer but, like the old couple, he doesn't want to feed the varmint living human beings either. Aylmer won't have any of it. He's not about to go back to calf brains and it becomes a battle of wills between Brian's addiction and Aylmer's hunger. Aylmer is certain he'll win and his witty, carefree attitude while Brian goes through hellish withdrawal and bad trips, provide some of the darkest comedy I've ever seen.
Too bad BRAIN DAMAGE also gets the
!!!UNFAIR RACIAL CLICHE ALERT!!!:
There are two minority actors in this movie with speaking roles and pivotal parts. Guess what happens to them? If you don't know, then you've never heard about the UNFAIR RACIAL CLICHE ALERT (URCA). So read the URCA and then go to URCA/Brain Damage and see why this movie gets one.
Beware though, The URCA is loaded with SPOILERS.
Writer and director Frank Henenlotter loves to make straight-on exploitation movies (the Synapse DVD has a great commentary track). While BRAIN DAMAGE is funny, nutso, and knock-a-bout, there is the definite feel of an artist running through this film. And I'm not talking about the self-glorifying art-house arteest type of cinematic art where the director is only talking to himself and boring everyone else.
More than make you laugh or scared or even offend you, Henenlotter is trying to knock you out of your chair with sights, story, and concepts you've never seen. From beginning to end I was along for the ride yet completely out of my depth with BRAIN DAMAGE. I had no idea where Frank was going or if I'd like where he was taking me, but he kept me hooked all the way through.
BRAIN DAMAGE is wicked cool, low budget exploitation sleeze, yet it is among the best of them. Normally I'd give such a film Negative Shriek Girls for being so bad they're good, but Henenlotter is such a superlative storyteller the only negative here is his low-budget actors ability to act. Which is why I give it four solid Shriek Girls.
BRAIN DAMAGE is the champagne of low-class.





This review copyright 2010 E.C.McMullen Jr.