Review by
E.C.McMullen Jr.

THE GIANT GILA MONSTER

- 1959
USA Release: June 25, 1959
Hollywood Pictures Corporation
Rating: USA: N/A
"There are still vast and virtually unexplored regions, bleak and desolate, where no human ever goes, and no life is ever seen. It is as though the land had been toasted by God. It is in these lonely areas of impenetrable forest and dark shadows, that the Gila Monster still lives. How large the dreaded Gila Monster grows, no man can say."
Ha! I bet you didn't know that, didja?
However, you can get through that impenetrable forest in the daytime and rock your baby in the front seat of your old beater auto, you hep-cat Daddy-O!
That is, until a Giant Gila Monster comes to settle your hash.
Seems vast and virtually unexplored regions, bleak and desolate, are just up the road a few miles out of town.
Too bad for those kids, but meanwhile, some cool cats are dancing to that wild rock sax down at the diner, man. Then Gordy (Don Flournoy: BEYOND THE TIME BARRIER) and Jennie (Jan McLendon) show up and ask where Pat (Grady Vaughn) and Liz (Yolanda Salas) are?
Now dig, it's 1959 but everyone is driving pre-World War II jalopies. 1930s iron is hep in the 1950s, you dig?
Lisa (Lisa Simone: MISSILE TO THE MOON) and her boyfriend Chase (Don Sullivan: THE MONSTER OF PIEDRAS BLANCAS, CURSE OF THE UNDEAD, TEENAGE ZOMBIES, GILA!) show up. Seems Chase fixed Pat's old heap, but that dude is a Squirrel, man.
TRIVIA
What most of you probably don't know, is that Shug Fisher was one of the star names attached to this flick. Except for this one sole SciFi/Horror flick, Shug spent his long and busy career in war movies or breaking into song with the Sons of the Pioneers whenever a shit-kicker flick demanded it. And Talkie-Westerns of the early 20th Century always demanded it. Shug wound up his days as a re-occurring character on TV shows ranging from Rip Cord to Daniel Boone to The Beverly Hillbillies to The Virginian to Gunsmoke.
The other ringer star power in this flick, Fred Graham, had over 250 movie and TV credits to his name before he died. Neither of these men were actual stars and their audience draw was questionable. Still, they were well-known character actors for their day.
Next thing you know, Old Man Harris (George "Shug" Fisher) drives up in his jalopy and the diner parking lot is quickly turning into a junk yard.
A few fruitless minutes are wasted talking to Old Man Harris, who then slurps a soda pop like its a throat stinging bottle of whiskey.
Beyond introducing a number of characters, this scene did nothing. So the next day, Sheriff Jeff (Fred Graham: MANHUNT OF MYSTERY ISLAND, THE PURPLE MONSTER STRIKES, THE CRIMSON GHOST, THE WAR OF THE WORLDS [1953], 20,000 LEAGUES UNDER THE SEA, PANTHER GIRL OF THE CONGO) pulls up to Mr. Wheeler's stately mansion. Seems Old Man Wheeler hasn't seen his son Pat for the last 24 hours. So he files a missing person's report. Wheeler isn't concerned that Pat is hurt, but that his son got married to Liz.
Wheeler puts the blame of the missing Pat on that bad influence, Chase (because Bad Influences are renown for getting young folks hitched all nice and responsible-like). The Sheriff fires back that being influenced by Chase is a better thing for Pat than the kid growing up to be like his old man. No love lost between Mr. Wheeler and the Sheriff.
Sheriff visits Chase the mechanic, asks about Pat and Liz, then drops the M-Bomb. "Level with me Chase. Do you think Pat and Liz would... would ... well, you know, get married?" Chase has no idea, so Sheriff Jeff visits Liz' parents. They don't know what's going on either, but they trust their daughter no matter how long she's gone. They go back into their house, not giving their daughter's safety a second thought because, after all, God will take care of everything.
Meanwhile back at his shop, Chase talks to a customer about how experienced he is in handling nitroglycerin. You know, a talent like that can come in real handy.
Car wrecks start turning up and what with Chase being a mechanic and tow-truck driver, he is on the spot. It all seems pretty dull but the spooky music is there to let you know that something spooky is going on.
Then Chase drives by a hitchiker at night and the man goes for a smoke, sees a Giant Gila Monster, and falls in fright.
The Gila Monster effects are provided by real life Gila monsters, Jeb and Murphy, slowed down to give their movements "weight". This gag was first used to bring realism to a guy in a rubber suit in Japan's GOJIRA, but in this movie, we're talking about one of nature's most dumpy looking land creatures. Seeing the gila monster drag his sorry bloated butt across a model road just makes the varmint look slower and duller. This is NOT a scary looking varmint. Not like, say, an alligator or crocodile.
The next day, or maybe that night (this movie is really cheap and I can't tell when something shot in the day is supposed to be dark enough to be night, or it was just awful cinematography), Chase is speeding along in his jalopy and sees a suitcase by the road. Music gets spooky again. Sheriff pulls up. Chase and Sheriff investigate the area and find a half-pack of cigarettes. Abandoned suitcase and a half pack of smokes: Nice haul.
All of this is witnessed by the beady eyes of a hidden giant gila monster who left clues!
21 minutes into the movie: later that night, Lisa openly weeps to Chase because her employer, that darn Mr. Wheeler, is throwing his weight around and threatening to send her back to Paris. Lisa is his French Maid doncha know?
The next day, Chase chases down a drunk driver who crashes into a ditch when he sees a giant gila monster slowly crossing the road. Horatio Alger Smith (Ken Knox: BEYOND THE TIME BARRIER) is the drunk's name.
The next day and aropos of nothing, Chase breaks into a song about his rockin' baby while his drunk customer sleeps it off. Smith wakes up, pays Chase for his work, gives him his card, and drives away. Too late Chase realizes that Smith is really the famous DJ, Steamroller, who could make him a famous singer!

Out of the clear blue, a car mechanic wants to become a famous singer.
The movie stops dead for no other reason but to go into deep detail about what a helluva great guy Chase is.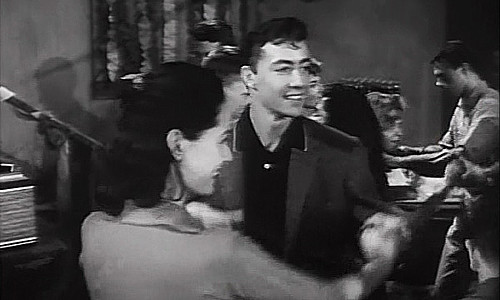 Great guy and a Swinging dancer down at the Malt Shop.
He is one hell. Of A. Great, self-sacrificing, loves his Mom, will be there for anybody, guy.
Everybody loves him but mean Mr. Wheeler.
The Sheriff reappears and talky talks the mystery of the wreck. Then he and Chase talk about legalese and paperwork. Then they talk about Chase doing the Sheriff one big favor. Then another. Then they...
GAH!!!
Holy crap did someone forget they were making a monster movie? What is all of this bullshit?
THE GIANT GILA MONSTER was made as a double feature with THE KILLER SHREWS, and if you thought THE KILLER SHREWS was bad, let me assure you it was the star of the double billing.
THE GIANT GILA MONSTER was co-wrote by Director Ray Kellogg with Jay Simms. This and THE KILLER SHREWS were the start of Jay's writing career and the end of Ray Kellogg's. While his movies are awful, don't feel bad for Ray. He was a respected and award winning special effects artist in his time. He just wasn't a writer or director is all.
The Mystery Science Theater 3000 crowd butchered this in style and you should enjoy it the same way.
Three Negative Shriek Girls




This review copyright 2014 E.C.McMullen Jr.
YOU MIGHT ALSO ENJOY (VARMINTS Sub-Section: DESERT)
THEM
MOVIE REVIEW
TREMORS
MOVIE REVIEW

FEAST


MOVIE REVIEW