RODAN
- 1956
Toho, The King Brothers, DCA
Rated: NR
This Americanized English cut and dubbed version of RODAN is a miasma of bad film making secreting from a better movie. How much better I've no idea, but the original RODAN, directed by Ishirô Honda (GOJIRA, GODZILLA VS. MOTHRA, GIDORAH: THE THREE-HEADED MONSTER, INVASION OF THE ASTRO-MONSTER, DESTROY ALL MONSTERS, GODZILLA'S REVENGE ... well, you get the idea. Honda was the Big Kahuna Kaiju guy), was quite a hit in Japan. I do know this, the 5 plus minute prologue, and Keye Luke's voice-over narration, was added in America and looks and sounds like crap. Nothing against Master Po, but damn! The distributor responsible for this mess was DCA. I'm glad they are extinct.
In the Americanized version of RODAN, which is all this review has to go on, the flying lizard was awakened by atomic bomb testing. You can tell that this doesn't quite jibe with the rest of the story as the characters keep making references to a nearby volcano becoming active again.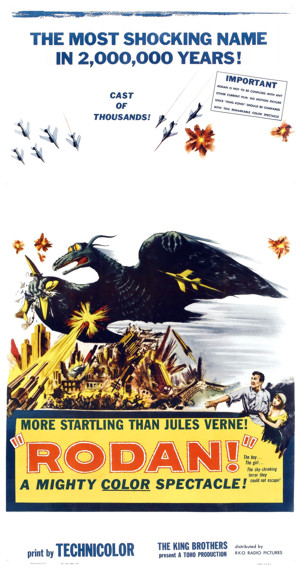 DON'T GET ME WRONG, I'M SURE THAT Mssr. JULES VERNE HAD HIS MOMENTS. I'M JUST NOT SURPRISED THAT A 300 FOOT TALL, INDESTRUCTABLE DRAGON THAT FLIES AT SUPERSONIC SPEEDS WOULD BE EVEN MORE STARTLING.
In a small mining village near Kyushu, a bunch of the workers start having problems with a mysterious killer in the mine that slaughters them but doesn't eat them. Eventually the culprit is discovered in a very creepy way: A giant insect! Turns out there are a bunch of these things, called Meganulons, so the Army decides to shoot missiles at the ground until the mines cave-in around the area where the giant insects are. The plan goes too well and a much larger area than intended collapses. But that doesn't kill all of the insects. However, something will, though the cure is worse than the disease. The head of operations, Shigeru Kawamura (Kenji Sahara: GODZILLA, MOTHRA VS. GODZILLA, GHIDARAH: THE THREE-HEADED MONSTER, DESTROY ALL MONSTERS, ALL MONSTERS ATTACK, GODZILLA: FINAL WARS) was caught underground in the mines during the blast (he was doing the hero thing). He somehow survives that ordeal but not without a bout of amnesia. While Shigeru recovers, the world is visited by a mysterious something that flies faster than the speed of sound yet has no exhaust! It does leave a vapor trail as anything flying at mach one or faster would. Then the mysterious attacks begin around the world and everyone is wondering what the hell is going on. Shigeru recovers in time to tell of what he saw. A Rodan being born. Now Rodan isn't a proper name anymore than Godzilla or Anguirus is. Rodan is the common noun to describe a type of creature, in this case a giant pteradactyl. What's more, there isn't one Rodan, but two! TWO Rodan's for the price of one, and boy are THEY gonna destroy the world!
Unfortunately, the movie keeps getting crapped up with scratched stock footage of jet planes and repeat clips of the same scene of people running - oh look, there goes that guy carrying the baby again! There are also too many clips of a rodan, hiding in its cave, and an obvious reverse of another rodan also hiding, as if we're supposed to believe that it is two separate rodans.
This movie is fun sapped by crappy re-editing, bad dubbing (everyone sounds like they are talking through a megaphone) and the DVD by Sony and Classic Media is REALLY poor. Color tone changes, often in the same scene, are common. This review is of the 2002 DVD release, so I'm hoping that Classic media gives RODAN a much needed sound and picture cleaning like they've begun with some of the old Toho classics. Ishirô Honda, who co-created GODZILLA also created RODAN and directed many of the best loved GODZILLA movies. What's more, for its time, RODAN was a huge hit both in Japan and America. Toho, reeling from the confidence of having a smash hit like GODZILLA, ponied up for color film for RODAN. Finally, from a cinema perspective, RODAN deserves it and needs it, and so do we non-Japanese kaiju fans. We deserve to see the original Japanese version.
2 Negative Shriek Girls



This review copyright 2007 E.C.McMullen Jr.
DVD


AMERICAN VERSION




ORIGINAL JAPANESE VERSION
(SUBTITLES)



*




TRIVIA


Though made by Toho and created by Ishuiro Honda, Rodan started life wholly separate from GODZILLA and was not part of the original mythos.
E.C. McMullen Jr.'s


short story
CEDO LOOKED LIKE PEOPLE
appears in the anthology


FEAR THE REAPER




ALSO FROM


E.C. McMullen Jr.


a collection of previously published short stories in


PERPETUAL BULLET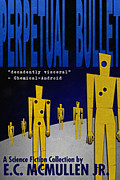 "E.C. McMullen Jr's 'Some People' ... may be the standout story in the book."
- John Grant, Infinityplus



AVAILABLE AT


Amazon,
Barnes & Noble,
Diesel,
iTunes, KoboBooks,
Smashwords,
Sony,

and


WHSmith