Review by
Julie M. C. Galliard

HELL HOUSE

- 2001
Cantina Pictures Inc. / Mixed Greens Media / Seventh Art Releasing
Rating: Though this movie is unrated, the material may not be suitable for children under 13.
Welcome to Hell
Every year, the Trinity Church (Assemblies of God) in Cedar Hill, Texas welcomes 10,000 people to Hell.
The event is hell house, this Texas church's annual take on the Halloween haunted house, where they depict in gruesome detail their vision of the sins of the world, the terrors of Hell, and the promise of salvation, Trinity style. The documentary HELL HOUSE by director George Ratliff (who also directed the 1995 documentary Plutonium Circus) depicts one season of the house from concept, through building and rehearsals, climaxing with a tour through the end result.
The movie is not narrated - it lets the church members speak for themselves, sometimes isolated in front of an eerily blank white background where they have the opportunity to monologue on their worldview and religious beliefs. They are allowed to lay on hands and speak in tongues as they wish. And whether they look silly or not has a lot to do with whether you agree with them.
The movie revolves primarily around one family in the church, a single dad with 4 or 5 children. One of the children is a teenage girl who auditions for a prominent Hell House role, one of them is a very young child with some kind of seizure disorder. In the course of the movie we learn that his wife left him for somebody she had been having an affair with via the Internet, a real-life horror which makes its way into one of the Hell House dramas.
The father is depicted with sympathy - he obviously has a hard lot in life. Indeed, most of the members of the church are depicted with sympathy. Their sincerity is palpable, and when they speak about their yearning to save the world from the evils of the modern age, they come across every bit as committed and caring as your typical member of Greenpeace, or PETA. And their motives sound oddly similar. The world is deteriorating. Things are worse now than they've ever been. Something must be done to save the human race from its own folly.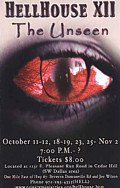 2002 HELL HOUSE POSTER
Hey, who WOULDN'T want to go to a Halloween event that had posters this cool?
This art is better than most Horror movie posters!
Although, in the Trinity worldview, final Armageddon is just around the corner, so it's easy to wonder what they're saving it for.
But, just like members of PETA who release domesticated minks from their cages to save them from becoming coats - by allowing them to be run over by automobiles - the Trinity Church's vision of salvation is comically, tragically, narrow and misinformed.
One particularly hilarious speech involves one of the key organizers of the house talking about how he added the "rave" scene because he felt that this aspect of his experience, as a modern young person, was not reflected in hell house. It sounds like a fine idea, until he starts trying to explain how the scene involves a young woman taking "the date rape drug." He cannot remember what type of drug it is, exactly how it is used, or what it is called, eventually concluding, "I'm pretty sure its official name is the date-rape drug."
Funny, and telling. What it tells is that he doesn't have a clue to what he's talking about. This appears to be a pervasive problem for the Hell House organizers. Another scene involves a hilarious argument over what color occult symbols need to be. One man has brought white paint, the other man insists that occult symbols have to be in red, but it is obvious that neither one of them has any clear idea why he thinks that. The punchline comes when we see the final painted symbol. It is red. And it is a Star of David.
One particularly telling scene features one of the church leaders confronting some disgruntled teenagers who have just gone through hell house. The teenager who does most of the talking, a boy, does not come across well at all. He seems confrontational and incoherent compared to the calm, benevolent church leader. But then a girl in the group says something like, "You have that suicide scene, where she gets taken off to hell. But somebody who kills themselves, they're not in their right mind, so how can you say God won't forgive them?"
There is a pause, as if she has genuinely penetrated his slick preacherly surface for a moment. Then the church leader says,
"That scene was about her rejecting God. That's what that was about."
But of course, the attentive viewer will recall that there is another suicide scene earlier in the house, a kid tormented by his classmates, which does not have any specific god-rejecting script. And he gets dragged off to hell too.
The Hell House organizers are primarily interested in depicting sins of a bloody, sexual, melodramatic nature. Drunken car crashes. Abortions. Suicide. Homosexuality. There is a pervasive blame-the-victim mentality that taints all the scenarios. In the rave story a girl takes a drug offered to her by a young man, wakes up having been raped, and kills herself from shame. In the other suicide, a young man kills himself because he is being tormented by his peers. A young man is "turned" to homosexuality because of an abusive uncle, dies in anguish of AIDS, curses God for his fate and is dragged off to hell. And yet we never see the rapists and tormentors, the abusers, suffer for their sins.
Even the promise of salvation, supposedly the whole point to this affair, rings hollow. While the young man is dying of AIDS, in the next hospital bed a young woman is bleeding to death after taking "the abortion drug." At the last moment she begs for Jesus to forgive her, and an angel appears and prevents the masked demon from dragging her away. That's about it for salvation. There is no sense that prayer brings comfort or strength, no sense that salvation can bring about a better world, only that it can stop you from being dragged to hell.
The final room in the house is by far the worst. No more fantastical tableaux. Here it's all real. A man, with a thunderous Bible-thumping rhetoric, explains that you can leave through that door over there or you can go through this door over here and Trinity folk will pray with you. Door number one, door number two. But he makes it quite clear, with the kind of obnoxiously manipulative language normally used to sell brands of soft drinks and automobiles, that if you take any door other than door number two you are IN SERIOUS DANGER OF LOSING YOUR IMMORTAL SOUL! RIGHT NOW! THIS VERY MINUTE!
As you might expect, this strong-arm appeal seems to work most effectively on people who are primed for it. The single father who we've seen before. Other members of the Trinity congregation and high school. People who already believe Trinity's message and have been emotionally overwhelmed by the harrowing nature of the house. This scene demonstrates the fundamental hypocrisy of Hell House. Visitors are supposed to seek out salvation with Trinity because they are overcome with truth, the Holy Spirit, or fear of the torments of hell.
But if that doesn't work, they'll settle for a big, loud, intimidating guy who yells at you.
3 Shriek Girls




This review copyright 2002 E.C.McMullen Jr.