Review by
Pat LeCat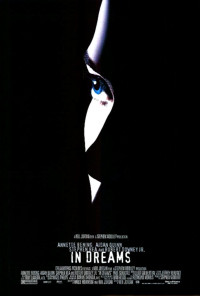 IN DREAMS
- 1999
DreamWorks Pictures / Amblin Entertainment
USA: Rated R
Starring Annette Bening, Aidan Quinn, Stephen Rea and Robert Downey, Jr. Nice looking official website.

Like with THE COMPANY OF WOLVES, Neil Jordan (HIGH SPIRITS, INTERVIEW WITH THE VAMPIRE) conjures in his latest movie the horror side of fairy tales. Unlike his 1984 masterpiece, this mix of "Snow White" and serial killer clichés is a complete failure.
The movie starts impressively enough with underwater shots of a ghost town. The surreal images are up there with the best of Jordan's work. But this time the magic just doesn't work, due to a storyline (Screenplay by Bruce Robinson and Neil Jordan) as drenched in stupidity as some scenes are in water.
Claire Cooper (Annette Bening: MARS ATTACKS!) has visions of an abducted little girl in an apple orchard, which she is convinced are brain waves from a child murderer. However her psychic gift is treated by characters and director alike as just a slightly embarrassing trait whose main effect is screwing up her sex life, like a mild case of herpes.
Hubby Aidan Quinn (FRANKENSTEIN [1994], HAUNTED, PRACTICAL MAGIC) isn't much help, though you'd have trouble keeping it up too, if your wife was into receiving psychic broadcasts from a serial killer during sex.
A new victim is found at the bottom of a lake. Only when her own daughter is kidnapped does she understand her visions are not from the present but the future. Pretty soon she gets flashes of her husband's corpse being nibbled on by the family dog in a hotel room; an image that generates more excitement than anything the poor guy has tried on her so far, and made me wonder if this couple's problems couldn't have been solved with a mere try at S/M and zoophilia.
The biggest problem with the movie (aside from the sheer stupidity of the story) is that no character resonates convincingly as human beings. It's hard to be scared when the heroine is so paper thin you don't even care whether she lives or dies. All we know about Claire, except for the fact that she's a children book illustrator (a plot point that is carefully set up but never fully exploited), is that she's a Mother. And as a Mother, her main trait is that she Loves Her Daughter.
Beat that.
Unfortunately (or thankfully, depending on your side of the screen), she doesn't remain a Mother long and has to spend the rest of the movie "Cracking". Since this is Dreamworks, she gets the Hollywood A-list nervous breakdown, complete with slit wrists, straight jackets, and (most importantly), a license to use the word "fuck" which, as any moviegoer will tell you, is the surefire sign someone is Losing It.
IN DREAMS turns into a bad sitcom without the jokes when Claire is coerced into playing family with the murderer and his victim in a house haunted by, ahem, apples (don't ask). The complete lack of suspense, or anything remotely resembling a thrill, makes it look like an existentialist episode of "Married with Children".
Most of the actors here have given great performances in other films. In this one, they either look bored or boring. Aidan Quinn is completely wasted, in every sense of the world. As the villain, Robert Downey Jr. (NATURAL BORN KILLERS, RICHARD III, THE GINGERBREAD MAN) can't seem to decide between playing it down or hamming it up. He remains somewhere between the two, mumbling "classic" villains one-liners as if wondering whether them apples would make good hallucinogens if cooked right.
Stephen Rea (CRY OF THE BANSHEE, THE COMPANY OF WOLVES, INTERVIEW WITH THE VAMPIRE) and Paul Guilfoyle (THE SERPENT AND THE RAINBOW), respectively psychiatrist and detective, do what psychiatrists and detectives do in this kind of movie, namely Not Taking the Heroine Seriously Until After the Fact. With job descriptions so similar, they could have merged the two parts in one and saved time.
The original ending was reportedly scraped for a less conventional (and more downbeat) one. The new resolution is rather original but works only in part. The unexpected epilogue is so out of character it plays like a Freddy movie tacked on the last reel of SE7EN.
Jordan is a very gifted director. All through IN DREAMS are scattered obvious traces of his talent. One of the most visually impressive scenes has Bening wandering through a hotel, her blood red dress a shocking contrast to the sepia background. Alas, stunning imagery can't redeem a plotline with holes wide enough for an artificial lake. No matter how gifted the director, you can't make a good movie out of a bad script.
Two shrieking girls, one of them only around for the visuals.



This review copyright 1999 E.C.McMullen Jr.




Return to Movies