Review by
Shirley Muramoto

HARRY POTTER AND THE ORDER OF THE PHOENIX

- 2007
USA Release: July 11, 2007
Warner Bros.
Rating – Argentina: Atp / Brazil: Livre / Australia, Canada, New Zealand, USA, UK: PG / France: U / Finland: K-11 / Germany: 6 / Greece: K-13 / Iceland: L / India: U / Ireland: PG / Malaysia: U / Netherlands: MG6 / Norway: 11 / Peru: PT / Portugal: M/12 / South Korea: ALL / Spain: T / Sweden: 11 / Switzerland: 10
The adventures of Harry Potter continue on the big screen, with this film adaptation of J.K. Rowling's popular book, HARRY POTTER AND THE ORDER OF THE PHOENIX. Once again we follow Harry (Daniel Radcliffe: THE TAILOR OF PANAMA) and his friends on their adventures, as they face the growing darkness in a world threatened by the dark wizard Lord Voldemort (Ralph Fiennes: STRANGE DAYS, SPIDER, RED DRAGON).
From the very start, we see Harry's world changing for the worst. For defending himself and his cousin from a deadly attack, he finds himself facing possible expulsion from Hogwarts. From there, things go from bad to worse.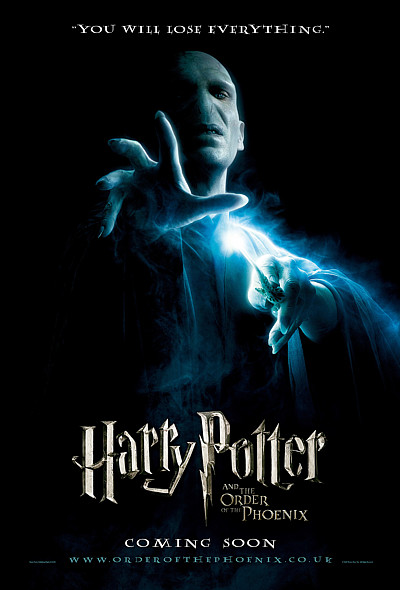 Lord Voldemort has not been idle since his return. He and his Death Eaters have been gathering their forces in secret, with some dark plot in mind. Further complicating things is the fact that the Minister of Magic refuses to believe in the Dark Lord's return, and casts public ridicule on anyone claiming it to be true – including Harry and even Dumbledore.
Hogwarts, previously a haven to Harry, has fallen under siege. Not by Voldemort's crew, but by the Ministry of Magic. Harry and his fellow students are plagued by the pink-clad incarnation of evil, otherwise known as Professor Dolores Umbridge (Imelda Stauton). Despite her prim and proper appearance, Umbridge is as dark a villain as any featured in previous Harry Potter movies. Filled with self-righteousness and self importance, she wields a heavy wand as she imposes her version of martial law upon the students, with an insidious giggle that is enough to give any one nightmares.
Yet despite the rising darkness that swirls about him, Harry – with ever-faithful friends Ron (Rupert Grint) and Hermione (Emma Watson) – rally and fight back, defying the shadows – be they the rumormongers, the small-minded, or Lord Voldemort himself. And, in the midst of all this turmoil, Harry even manages to find himself a girlfriend.
The trio of Gryffindors are not alone in their struggle, however. Joining them are several other brave youngsters, some familiar and others new. Ron's irrepressible brothers Fred and George (James and Oliver Phelps) join them, as well as Ginny (Bonnie Wright), youngest of the Weasleys. A somewhat feckless but undaunted Neville Longbottom (Matthew Lewis) also pitches in, and shows a side of courage and strength we've only briefly glimpsed in earlier movies. There is also new face in the crowd, the extremely eccentric yet strangely wise "Looney" Luna Lovegood (brilliantly played by Evanna Lynch) of house Ravenclaw. Lynch's blank-eyed yet knowing stare, and almost childlike grin, are just absolutely the perfect touch.
The depiction of magic throughout the series has always been stellar, but the wizard battles presented here are absolutely fabulous. Flashy and chaotic, with a real feel of danger and all the excitement of a battle with light-up swords with wooshy sound effects. But better. Still, special effects and great battle scenes alone do not a good movie make.
Although the main storyline is not difficult to follow, sometimes it does feel like things are speeding by – not quite at fast forward, but slightly out of synch. Still, screenwriter Michael Goldenberg (also the writer behind Peter Pan [2003] and Contact [1997]) does a remarkably good job of taking an almost impossibly complex novel and extracting the heart of the story. And David Yates manages to weave story, special effects, and talented actors to present movie-goers with a first class adventure movie.
All in all, HARRY POTTER AND THE ORDER OF THE PHOENIX is entertaining and enjoyable, worth the investment of time and money to watch.
4 out of 5





This review copyright 2007 E.C.McMullen Jr.

YOU MIGHT ALSO ENJOY
THE LORD OF THE RINGS:
FELLOWSHIP OF THE RINGS
MOVIE REVIEW
PIRATES OF THE CARIBBEAN:
THE CURSE OF THE BLACK PEARL
MOVIE REVIEW

THE EVIL DEAD


MOVIE REVIEW