Review by
E.C.McMullen Jr.

JURASSIC PARK IV: Nedry's Revenge

- 2002 - 2014
Ratings: N/A
And thus JURASSIC PARK III, ended a trilogy which, like the majority of trilogies in Hollywood, start out with such promise and immediately nose-dives into shit.
Congratulations to the people responsible for foisting utter crap on us, and successfully obliterating a winning franchise - one that included various computer and video games and toys.
It would take well over a decade for the franchise to attempt another start with JURASSIC WORLD, which, overall, did well. So now get ready for JURASSIC WORLD: FALLEN KINGDOM.
Back in 2001, you might have thought that JURASSIC PARK III signaled the ignoble end of what could have been a great trilogy and now all is lost and the franchise extinct: HAVE NO FEAR!
Though JURASSIC PARK III only broke even in the U.S., it squeeked by with enough profit to wait a few years (Over 10 and after the deaths of both the author who made it possible and the SFX man who made it all look real), so that they may foist the following upon you -
Your Tyrannous will be Saurus after this Foisting!
FROM THE PEOPLE WHO BROUGHT YOU
THE HAUNTING (1999),
THEY LIVE,
HULK,
and
JURASSIC PARK III
COMES
JURASSIC PARK IV: Nedry's Revenge

THE ALL NEW JURASSIC PARK IV POSTER!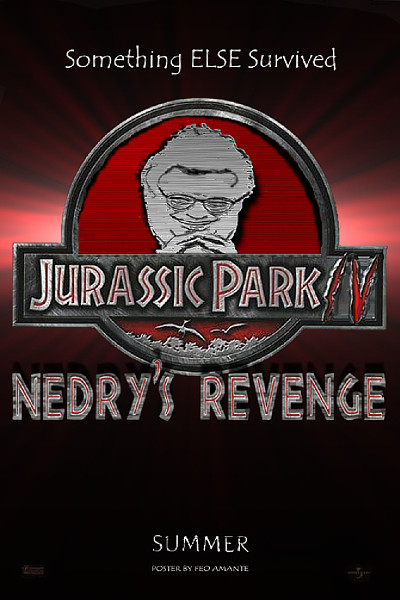 THIS TIME, JURASS IS THEIRS!
("theirs" meaning the dinosaurs, yes.)
Okay, that's the joke folks. Now for some JURASSIC PARK news from around the net.
November 23, 2014
Jurassic World - Official Trailer Tease (HD)
---
February 18, 2014
Jurassic World: What We Know So Far About Jurassic Park 4
By Sean O'Connell
Get ready to feel old. Twenty-four years have passed since Michael Crichton published his bestselling novel, Jurassic Park. Steven Spielberg's 1993 adaptation of Crichton's book recently celebrated its 20th anniversary with a 3D re-release. And the last time you were able to see a Jurassic Park movie in theaters before that was 2001.
Continued at Cinema Blend.
---
January 15, 2013
Jurassic Park IV: What We Want
Hold on to your butts!
by Daniel Krupa
It's been over 10 years in the making but Jurassic Park IV is finally happening. It's been given a release date of 2014, but there's no word yet on plot, cast, or director. So being a self-diagnosed Jurassic Park obsessive, here's what I'd most like to see next summer.
Continued at IGN.
---
January 11, 2013
Universal dates 'Jurassic Park 4' for June 2014 release
By Andrew Sims
Universal Studios announced today that the fourth film in the Jurassic Park franchise will open June 13, 2014!
Though information has been hard to find as the project gets put together, we do know that the studio hired Rick Jaffa and Amanda Silver (Rise of the Planet of the Apes) to pen the script. Spielberg is producing, and they're still in search of a director. Additionally, this installment will be shot in 3D, unlike the previous three films.
Continued at Hypable.
---
June 15, 2011
Steven Spielberg Is Brainstorming Ideas for JURASSIC PARK 4 With Mark Protosevich
By Brendan Bettinger
Back in 2008, producer Kathleen Kennedy was pessimistic about the status of the Jurassic Park franchise:
"You know, when [Jurassic Park author Michael] Crichton passed away, I sorta felt maybe that's it. Maybe that's a sign that we don't mess with it."
Jurassic star Sam Neill agrees, citing the death of creature design guru Stan Winston alongside Chrichton when he told MTV in a recent interview, "I think we've told the story. I think it's done."
It's a nice thought, but the franchise is about as likely to remain dormant as the dinosaurs within.
Continued at Collider.
---
January 10, 2011
Report of 'Jurassic Park IV' in Production Denied
"Jurassic Park IV" is not secretly undergoing production. Following news that the movie is currently taking principal photography at the Universal Studios, Universal Pictures debunks the rumor, telling Coming Soon that there is no truth to this.
Continued at AcesShowbiz.
---
January 13, 2010
Director Joe Johnston Talks CAPTAIN AMERICA, JURASSIC PARK 4
by Jackson Cresswell
Fresh off directing the highly-anticipated The Wolfman, Joe Johnston reveals the details of some enormous projects, namely Captain America: The First Avenger and Jurassic Park 4, in an interview with Boxoffice.com. Johnston teases at the idea of a second Jurassic trilogy and gives intriguing but spoiler-free hints into the plot of Captain America.
Continued at Collider.
---
December 7, 2008
Producers Say No to Jurassic Park 4
Source: Silas Lesnick
Producers Frank Marshall and Kathleen Kennedy just revealed at today's junket for The Curious Case of Benjamin Button that plans have fallen through for a fourth entry in the "Jurassic Park" franchise.
Continued at ComingSoon.
---
April, 5, 2007
JURASSIC PARK IV News
By Frosty
Earlier today I did the press day for both Hot Fuzz and Year of the Dog. Obviously I have a ton to post from both junkets but I wanted to get this story up right away.
For a while now rumors have been flying that Steven Spielberg has an idea for a new Jurassic Park movie and it's one that he thinks could resuscitate the franchise. Obviously these kinds of stories come up every once in awhile and you always take them with a grain of salt.
But today there is something solid to report.
Continued at Collider.
---
September 17, 2004
Rewriting Jurassic Park IV
by Paul Davidson
John Sayles may not be a household name, but the Hollywood writer-director has seen over thirty of his stories turned into films. His latest opus is the just-released political drama Silver City, which stars Chris Cooper and Richard Dreyfuss. What he's working on now, however, is something that promises to be bigger than any other job he's worked on: Steven Spielberg's new Jurassic Park film.
Continued at IGN.
---
July 11, 2003
Sam Neill Confirms Jurassic Park IV
by Paul Davidson
Sam Neill is definitely returning for Jurassic Park IV, the actor told Australia's The Sunday Mail over the weekend. Neill's character, Alan Grant, survived encounters with dinosaurs in both the original Jurassic Park and in Jurassic Park III.
Continued at IGN.
---
November 7, 2002
Jurassic Park IV Goes Ahead
by Brian Linder
Industry insider mags, Variety and The Hollywood Reporter, have confirmed newly surfaced rumors that Universal Pictures and producer Steven Spielberg are moving ahead with plans for a fourth film in the Jurassic Park franchise.
Continued at IGN.
This page copyright 2002 - 2014 by E.C.McMullen Jr.