Review by
E.C. McMullen Jr.

JEEPERS CREEPERS

- 2001
Zoetrope Studios
Ratings: USA: R
This is a movie so close to perfect that you just want to grind your teeth at the bad part of it - and there is only one bad part. Unfortunately, the bad part reoccurs throughout the movie, destroying the mood and atmosphere, and this movie has lots of atmosphere.
Writer/Director Victor Salva starts the movie by putting us on a lonely back road with a teenage brother Darius (Justin Long) and his sister Trish (Gina Phillips: DEADLY INVASION: The Killer Bee Nightmare [TV]) returning home from college during Spring Break. Both are losers among the popular crowd. So they spend their time in the car bickering and sniping at each other, scoring points off each other with stupid road games, and just generally being a brother and sister.
One of the games they play is the old License Plate game, where you try to make words from the letters and numbers on a U.S. license plate. At one point this hideous old truck comes zooming right up behind them, blaring the horn and being unrelentingly rude.
The scene is terrifying as the truck is big enough to crush the smaller car. Getting out of its way does no good, it follows right behind, the driver wanting to be an asshole.
Finally the truck pulls out and away, the license tag reading BEATING U.
It takes awhile for the siblings to calm down and only then does Darius or Darry, realize that he just scored points for the License. "It said Beating U. That's mine!" Sis discounts it and soon they are back to bickering again.
As they travel up the road though, they see a house in the distance and the old truck is parked there. A cloaked figure wearing a wide brimmed hat is dumping sheet covered something's into a large corrugated pipe. The something's appear to be in the shape of bodies. The sheets appear to be stained with blood.
The figure sees them, jumps into his truck, and is soon chasing after them, smashing into them before driving away again. Right about now you are probably saying, "Hey Eddie! Don't give away spoilers!" To which I say "Ha!" I've only told you the action terror part. After this, it gets really eerie! Then it gets really creepy! And then it gets worse! Heh! Heh! Heh!
BLOOPER FUN!


Watch for continuity during the chase and crash scene. The truck hits the car in the rear bumper repeatedly, damaging it each time. Yet every time we see the car pull away, the bumper and tail lights are as good as new.
This is Horror movie making at its finest. Without the heavy trappings of overblown Computer Generated Images (CGI), an overwhelming number of victims, and the standard clichés that Hollywood Horror movies just can't seem to resist, JEEPERS CREEPERS rises to the level of the George Romero DEAD movies or Coscarelli's PHANTASM movies. The movie is balanced between being driven by both plot and characters. The very feel of the first half hour is very reminiscent of Tobe Hooper's TEXAS CHAINSAW MASSACRE, without a shred of mimicry.
JEEPERS CREEPERS has demons, heroic old cat ladies, spooky confused psychics, redneck sheriffs, and two teen protagonists instead of a murder of crowing, giggly, body-count kids that you just can't WAIT to see die. This movie has very few central characters, so we care about their fictional lives - which is the way it should be and it is the only way Horror can work.
This movie pulls no punches that I can see. Either one of the main characters may die.
Or they may both die. Nothing is guaranteed here and the brother and sister are never put into impossible situations - that they get out of anyway - just because they are the heroes.
But there is that problem. That one, titled problem that comes in to ruin the movie over and over. The movie is called JEEPERS CREEPERS, fine, but did they have to keep playing that stupid song? Even making a pop version of it for the radio? Even having the freaking MONSTER whistle it while he works???
Understand that there are some songs that can actually lend themselves to the creepiness of the flick. No one who has ever seen the movie BLUE VELVET can think of Bobby Vinton's syrupy ditty the same way again.
The same goes for Roy Orbison's In Dreams. But these were songs that were considered among many others before the final decision. Some songs, presented in the right context, can lend themselves to creepy atmospherics.
But even should that be the case, you DON'T have the freaking Monster whistling the damn song! That is, unless you are so unsure of your own competence that you are hoping for that excuse of "I was making a satire!"
This is the bleat of Kevin William's style Horror movie making from the execrable SCREAM 2 to both I KNOW WHAT YOU DIDs to URBAN LEGENDS. It reminds me of the Clint Eastwood movie THE DEAD POOL where Johnny Squares (Jim Carrey) accuses Peter Swan (Liam Neeson) of ripping off the head turning scene in THE EXORCIST.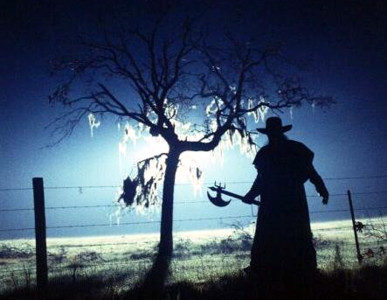 "It's not a rip-off," Swan whines, "its an homage!"
"It's not an homage!" Squares correctly asserts. "Its a rip-off!"
"This is a rat turd."
"It's a kipper!"
Sorry, I got off the track there.
According to interviews, Writer/Director Victor Salva has said that some boardroom movie studio dope (my turn of phrase, not Victor's) wanted the whistling added in after the fact. Think of every misstep in a movie as costing another $10 million at the box office. It appears that Salva was right on the money from start to finish with this flick and I'm curious as to what a Director's cut will look like on the DVD. I'd personally like to hear one hell of a lot less of that stupid song. I wouldn't mind it being cut from the movie entirely. It really adds nothing and feels for all the world as if it was pasted on as an afterthought.
The look of the Creeper (Jonathan Breck: I MARRIED A MONSTER [TV], SPIDERS) seems uninspired at first, but this too is subject to some wicked changes!
If it wasn't for that stupid song jitterbugging in and out of the movie, JEEPERS CREEPERS would have got 5 Shriek Girls no problem. But 4 Shriek Girls is pretty damn good too!





This review copyright 2001 E.C.McMullen Jr.