SHOULD YOU?


TIP JAR



MAN WITH THE SCREAMING BRAIN
- 2005
Sci Fi Pictures, ApolloProScreen, Filmproduktion (
as Apollo ProScreen
), FWE Picture Company, Creative Light Entertainment
Rated: UK: 15
Sometimes, because there are people you like, you want to like their movies as well. And when you go into their movies, you give it all the opportunity in the world to entertain you: far more than you'd give a movie that starred no one of interest to you.

MAN WITH THE SCREAMING BRAIN stars Bruce Campbell (THE EVIL DEAD [all], THE DEAD NEXT DOOR, FROM DUSK TILL DAWN 2, SPIDER-MAN [all], ALIEN APOCALYPSE), who also wrote it, directed it, and produced it. In short, MAN WITH THE SCREAMING BRAIN is as exact to what Bruce wanted to make as a $2 million budget would allow.

Bruce plays rude American Capitalist, William Cole. Cole is visiting the fictional Russian town of Bravoda, attempting to expand his vast business empire. His wife, Jackie (Antoinette Byron), is there just to shop and neither get along with each other. They hop into a cab drove by Yegor (Vladimir Kolev: PYTHON 2, DARK DESCENT, ALIEN APOCALYPSE), and go on a whirlwind tour while Cole and Jackie take shots at each other. When Cole isn't bickering with his wife, he takes potshots at Yegor, who can return fire as good as he takes it.

Some of this dialog brings a smile, but none of it is particularly clever.

Meanwhile, a clearly mad scientist, Dr. Ivan Ivanonich Ivanov (Stacy Keach: MOUNTAIN OF THE CANNIBAL GOD, ROAD GAMES, CLASS OF 1999, FEAR RUNS SILENT, CHILDREN OF THE CORN 666) and his Western lifestyle lovin' Igor, Pavel (Ted Raimi: THE EVIL DEAD [all], CANDYMAN, THE ATTIC EXPEDITIONS, SPIDER-MAN [all], Masters of Horror: THE DAMNED THING), wants to join two human brains together but his research keeps hitting snags. Why does he want to join two brains together? Because he's MAD I tell you!

Meanwhile, a psycho maid from hell, Tatoya (Tamara Gorski: THE LOST WORLD, RETURN TO THE LOST WORLD), starts making eyes at William Cole. Little does Cole know that she also has some kind of relationship going on with Yegor and, while we're at it, she up and murdered her other boyfriend when he decided that he didn't want to marry her.

In short order, Cole's wife Jackie balls Yegor, Tatoya kills Yegor, Pavel finds Yegor and brings him to Dr. Ivan, Tatoya balls Cole, Cole refuses to marry the nutcase so she kills him too, Pavel finds Cole's body and brings him to Dr. Ivan, and Dr. Ivan fuses Yegor's damaged brain to Cole's damaged brain inside Cole's body. Result? A man with multiple personalities and the occasional screaming brain.

Next thing you know, Tatoya murders Jackie and there is one brain too many, so they plop Jackie's body into Pavel's experimental robot that looks like some DEVO video blow-up doll.
The humor is supposed to come from Cole trying to deal with two people inside one body a la All Of Me (1984), and Bruce physically hams it up to the hilt. But as slapstick as it is, the jokes pretty much all fall flat. Raimi tries to out-ham Bruce, which starts to drag the film down. Bruce can ham it up and make that look good because he has the physical energy to do so. Ted goes for the eye-rolling, face mugging and leaves it there. Stacy Keach shows them both how it's done and chews the scenery with hungry gusto. Kolev as Yegor is subjugated to being only a voice and Byron as Jackie isn't even really that. Both of them have expendable lines and little is funny. As for Gorski's Tatoya, after her interesting femme fatale opening, her role devolves into a non-stop chase scene as Cole/Yegor and the robot Jackie try to wreak their revenge upon her. Pavel chases both brains and Dr. Ivan just gets drunk. This is the body of this movie and it goes on forever.

This mess was written by Bruce with help from David M. Goodman, and a touch or two from Sam Raimi. But as co-writer, director, producer, and lead actor, this is all Bruce and he's just not up to it.

There are a few grins here, and few smiles there, but nothing to laugh at and it's not much fun. Comic artist Hillary Barta produced a far superior 4 issue comic to support this movie and I only wish the movie was like the comic - which was fun and funny.

Too bad, because I really like Bruce Campbell. Oh well.

THE MAN WITH THE SCREAMING BRAIN gets 2 Shriek Girls.



This review copyright 2005 E.C.McMullen Jr.
E.C. McMullen Jr.'s


short story
CEDO LOOKED LIKE PEOPLE
appears in the anthology


FEAR THE REAPER




ALSO FROM


E.C. McMullen Jr.


a collection of previously published short stories in


PERPETUAL BULLET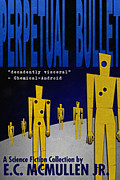 "E.C. McMullen Jr's 'Some People' ... may be the standout story in the book."
- John Grant, Infinityplus



AVAILABLE AT


Amazon,
Barnes & Noble,
Diesel,
iTunes, KoboBooks,
Smashwords,

and


WHSmith