Review by
E.C. McMullen Jr.

NOBODY LOVES ALICE

- 2008
USA Release: April 10, 2008
Indie-Pictures
Rated: USA: Unrated
If you find yourself in the first 15 minutes of this movie thinking,
'This is like some trite little Lifetime Channel revenge chick flick. A little more twisted than usual, but pretty much it.'
You could be forgiven.
That's exactly what I was thinking. Then, just fifteen minutes later, I was freaking glued to the screen. By the time the end credits rolled, I was ready for heart medication.
Written and directed by first timer Roger A. Scheck on a ridiculously low budget, and shot on DV, this little movie sneaks up on you in much the same way that a dinner spends a nice and wonderfully relaxing day in the woods, before it feels breath of a tiger on the back of its neck.
Alice (Nitzan Mager) is a pretty but nerdy and introverted schlub at her job. She makes sputtering attempts at social interaction with her co-workers, but she appears to pop in and out of herself like a hesitant turtle. And I have to say, Mager's acting is remarkable.
Alice works with two other women: Abigail (Amanda Taylor) and Megan (Elise Rodriguez: ZOMBIE CHEERLEADER CAMP). Abigail is in a long term relationship with her boyfriend, Alex (Phillip Ward: SOUTH OF HELL). Alex is crazy in love with Abigail, which only drives Abigail crazy. She knows that Alex is getting ready to propose, but she is afraid of commitment. So afraid that it gives her nightmares.
Fretting over fidelity, Abigail talks it over with her friend Megan, who tells her that all men cheat. Not comforted by this news, Abigail decides to test Alex. To do this, she enlists the hesitant help of Alice.
Alice already has a "boyfriend" (we've seen him: tied up, beaten, and bloody back at her apartment), but she decides to go along with the ploy.
One phony phone call later, and Alex knows he's being had. He meets Alice, asks her a few leading questions, then confronts her, knowing that Abigail set him up. He drives Alice home and prepares to leave, only to discover that, when Alice borrowed his phone to make a call, she didn't give it back. He returns to get it, and merry mishaps occur.
Now right up to this point, the movie is kind of dull.
Sure, we know that something jest ain't right about that there Alice, but there's also a lot of wandering dialogue that's not really taking us anywhere in the story. Now wandering dialogue is fine if its revealing something about the characters who are speaking - like those clever conversations in Hitchcock movies. We may have learned nothing of the story, but we know the characters are sharp, smart, cookies!
Wandering dialogue is also fine if it reveals in round-about the characters with a fascinating subject - like Tarantino conversations. Or the dialogue is so oddball we can't help but notice - like the shrimp conversation in Forrest Gump. But the interaction, particularly between Alex and his friends, is Lifetime Channel dull. Holy crap! Phillip's Alex character is fine, but the other two are as bland as pond water.
Like I said, that first fifteen minutes, meh.
Abigail realizes that Alex is on to her and regrets it. He saw her car from across the park and flashed her a none too happy glare as he walked away with Alice. Megan doesn't notice, but Abigail knows her man. So when Alex doesn't return to their apartment, Abigail thinks that he's punishing her.
As day turns into night turns into morning, Abby is starting to lose it, leaving loads of messages on his phone, begging for forgiveness and the chance to apologize in person. By the next evening, Alex is still missing and never showed up at work. So now Abigail is worried that something bad happened to him, and the last known person who was with him was Alice.
TRIVIA
Writer, Director, Producer, Roger A. Scheck was 20 when he completed the script, and 21 when he completed the movie.
To get his female characters just right, Scheck enlisted the advice of his female producers (6 of them!) during the writing phase.
Part of a low budget indie Horror Thriller's charm and believability is that the actors don't "act" like actors. Like the physical posturing and template limb placement during line delivery that you get from TeeVee series actors (have you ever seen trained actors act like they're eating? You never see real people eat like that!).
Movies with newbie nobodies tend to behave like real people (under the right director) and win out every time over Horror Thriller movies with big cast names. Which is why Hollywood Horror Thriller movies invariably fail. The number of successful Hollywood Horror Thriller movies with big name actors is far outnumbered by the successful Indie Horror Thrillers starring nobodies. Even a cheeseball flick like EVIL DEAD knocks THE HAUNTING (1999), GOTHIKA, and 1408 in the dirt.
Another formula we've all grown sick of, but one which Hollywood Horror Thrillers just can't seem to let go of, is the miraculous comeback of the monster. Remember that amazingly stupid bathtub scene in FATAL ATTRACTION? Fortunately, the rest of the movie was good enough that the final moment couldn't destroy all that came before.
And so it's the same with NOBODY LOVES ALICE. The rest of the movie makes up for that first 15. It's not that Alice is ugly. To the contrary, she's beautiful. But any guy who ever had a hot but psycho girlfriend, knows you can't love them. And in the case of Alice, if you go to sleep at her place, you won't be getting back up. Ever!
One more thing I'd like to address before my verdict.
Roger Scheck takes brief little moments before someone does something that could be considered pretty damn risky, or at least ill advised. There's a brief second or two of silence as a character apparently thinks about what to do next, before they make their decision. And you know what? That's a very human thing.
When we sit at home watching a movie and a character blindly rushes into something stupid and dangerous we want to shout at the screen (and some of us do), "No you freaking idiot! You're gonna get killed!"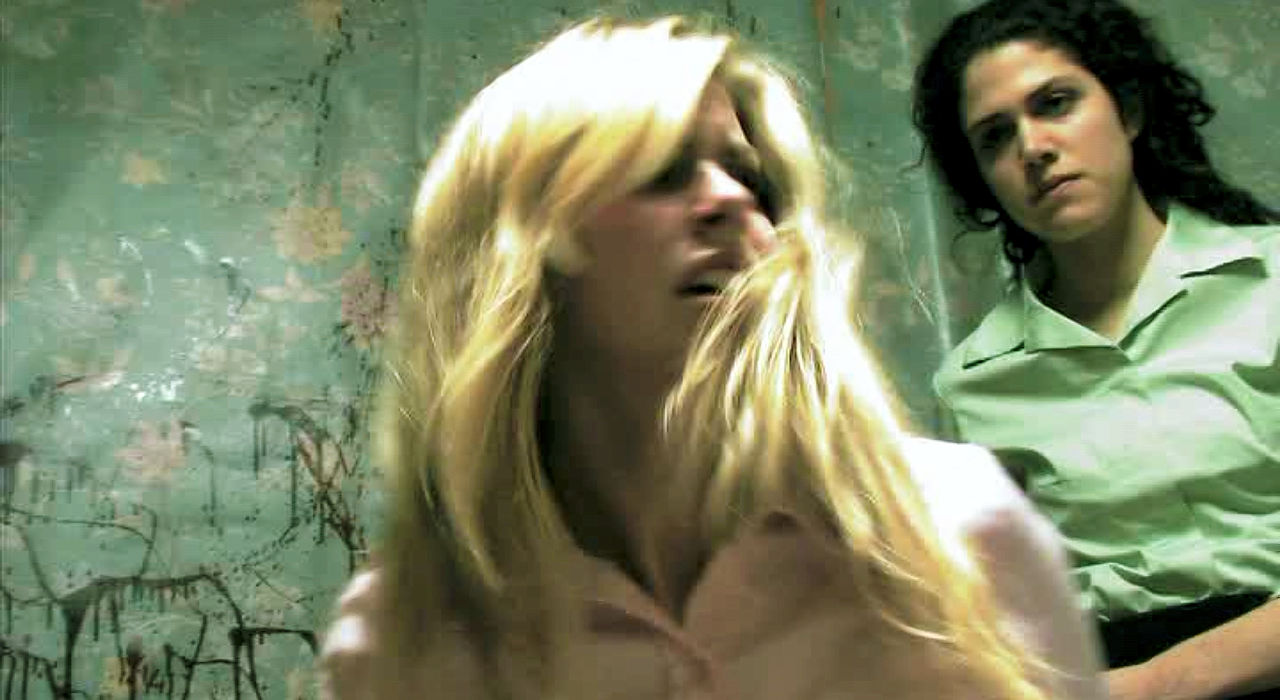 Scheck's characters don't run headlong into danger. We have no idea why they made their decision, but at least they took a moment to mull things over. Scheck didn't spend forever letting the camera dwell on this like some art house flick director having his camera shout "Look at me! Look what I'm doing! I'm nuanced! I'm directing!", he simply gave his characters a brief pause to make the right or wrong choice.
People make wrong, deadly, even stupid choices all of the time. Why? Because when people find themselves in a very scary, potentially dangerous situation, they talk themselves out of their fear. It's why Gacy was able to get away with murder in his own neighborhood for decades. It's why the BTK killer was able to get away with murder in his own neighborhood for decades (had not both men eventually turned themselves in - they may have never been caught. So how's your neighborhood?).
When a Mother suddenly realizes that her child appears missing, she wastes precious time telling herself to stay calm, not to panic. She chooses to Spend Time, calmly calling out the name of her child, instead of physically moving and searching. When people sign a policy for homeowner's insurance, the company gives them a brochure about what NOT to do if they THINK they've been robbed.
Rule No. 1. If you come home and find your front door open, DO NOT GO IN! People have to be told this because its human nature to tell yourself that things aren't as bad as they appear (Odd, but maybe I left it open?). If we didn't tell ourselves this, we'd be freaking out over every little thing. So when we find ourselves in a potentially disastrous situation, we try and calm ourselves, think things through. We stand there with danger all around us, or in the very next room, while we mentally explore our options.
We are so prone to this, that a bestselling book on trusting your gut instinct, Malcolm Gladwell's BLINK, proved (through empirical evidence and studies if not for a solid fact) that our first impressions are nearly always correct (Malcolm himself was eventually hoisted by his own petard on this matter).
So I liked the fact that Scheck was aware of this, anticipated it (like too few do), and allowed for it.
NOBODY LOVES ALICE has a low key simplicity to it, giving the ending so much more punch. Once it got my attention, it didn't let go. When that horrific end came, NOBODY LOVES ALICE left me breathless!
4 Shriek Girls





This review copyright 2008 E.C.McMullen Jr.