Review by
Kelly Parks

ONE HOUR PHOTO

- 2002
USA Release: Sept. 13, 2002
Catch 23 Entertainment / Killer Films / Laughlin Park Pictures / Madjak Films / 20th Century Fox
Rating: USA: R
If you watch a lot of movies, consciously or subconsciously you begin to see patterns. And by patterns, I mean clichés. Most people in movies are cardboard characters living easily predictable formula lives. Half the time you don't really need to stay beyond the second act because the ending is so obvious.
But every once in a while you come across a director who knows you. He knows what you're expectations are and uses that to play with your head. He surprises you, which is rare indeed for jaded movie critics. But enough about me - let's talk about the movie.
Mark Romanek (STATIC) wrote and directed ONE HOUR PHOTO. It opens in a police interrogation room. Sy Parrish (Robin Williams: DEAD AGAIN, THE FISHER KING, INSOMNIA) is being questioned but we're not sure about what. Clearly, there was an incident and we get the impression violence may have been involved. Sy doesn't seem like a violent man, though. In fact he's upbeat and eager to cooperate with Detective Van Der Zee (Eriq La Salle: JACOB'S LADDER).
We flash back to the events that lead up to Sy's arrest and see that he's better known to his customers at the Savmart as "Sy, the photo guy." He runs the one-hour photo counter and apparently has for some time. Sy's narration introduces us to his customers, his co-workers and his opinions of them.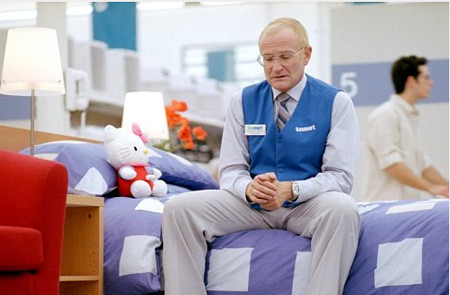 Haven't we all sought solace from a "HELLO KITTY" doll?
Nina Yorkin (Connie Nielsen: THE DEVIL'S ADVOCATE, DEMONLOVER), Will Yorkin (Michael Vartan: ALIAS [TV]) and their son Jakob (Dylan Smith) have been bringing their photos to Sy for nine years, ever since Jakob was born. It's young Jakob that gives Sy his "Sy, the photo guy" nick name. To the Yorkins, Sy is just a friendly clerk at the neighborhood store. But to Sy the Yorkins are the ideal family that he longs for. His obsession with them is revealed gradually and seems steadily more unsettling as time goes on. We see that whenever the Yorkins bring their pictures in, Sy makes an extra copy for himself.
Sy is genuinely creepy but ultimately he's a sad character. His actions are twisted and unacceptable but his motivation is mostly loneliness. The Yorkins have become his pretend family and that fantasy keeps Sy somewhat grounded.
Until, of course, something goes wrong. A young woman (Erin Daniels), vaguely familiar to Sy but he can't place her, comes in to develop some pictures. These photos contain images that shatter Sy's fantasy about the Yorkins as the perfect family. At the same time things start going wrong at work and it's all too much. Something must be done.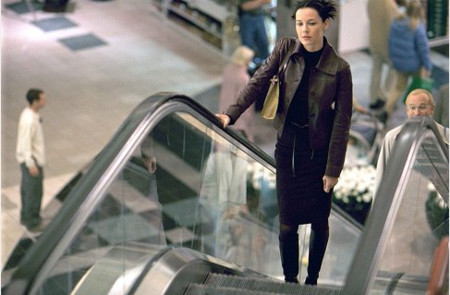 Malls are always fun for young women:
Until the creepy old fart starts following you around.
I can't say much more about the director's head games I alluded to at the beginning without giving too much away. All I'll say is keep track of what kind of feelings and expectations certain scenes cause for you then consider that again at the end. The scene where Sy tries to get young Jakob to get in his car are especially telling.
This is an excellent film with a nice, slow build up of suspense. We know from the start that Sy will do something and wondering what that is will make you steadily more frantic. I give it four shriek girls.





This review copyright 2002 E.C.McMullen Jr.