LAST CALL

LAST CALL

- 2008
by E.C.McMullen Jr.

LAST CALL makes The Official Selection at the
36th Annual Loscon & Tabloid Witch Film Festival - 2009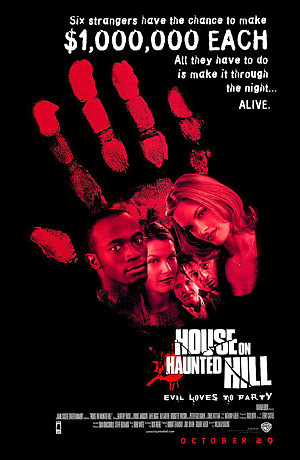 "Yeah, well done lad!!!! Very Twilight Zone-like in a really good way."
- William Malone, Director THE HOUSE ON HAUNTED HILL (1999)

THE MAKING OF LAST CALL

So you saw it?

Now that you've watched it, I can tell you the following. I didn't want to tell anyone before hand as that feels like an excuse. I'll tell a story, but not excuses. What's the difference to me between the two? Like wine I guess: I'll tell no tale before its time. So now that you've seen it and formed an opinion, I'll give you a brief history of LAST CALL. Think of it as a written DVD extra.

Vernon Mortensen, a short filmmaker and Star Trek geek, (who would later become one of my editors and sound editor on this), made me the following offer:
"I'll loan you my old Sony camera to make a short film down here in San Diego. You only get it for one day. I want to see how you work under fire."

Sooner or later, every horror fan film buff learns about Roger Corman and his making - from start to finish - Little Shop of Horrors in only two days.

Granted he had a budget handy and access to crew, sets, lights, props and everything else he needed that I didn't have. Still, I wasn't going to say "No." to an opportunity.

Saturday
It was late when my bro, Kelly Parks, told me about Vernon's offer. I had one week to shoot a film in a strange town where I knew no one except Kelly. And Kelly knew no actors, no crew, zip. Even Vernon doesn't live in San Diego, its just the city nearest to him.

So I started an actor hunt for anyone in San Diego via Myspace. I also needed to hunt down lights, locations, sound equipment, transportation, and props (the gun). I had seven days. Oh, and of course the most critical part, I needed a story.

So I started a script. I felt sure that I could find a two story house that I could make work with my script. Hell, an apartment with interior stairs would work if shot from the right angle.

Sunday
I went to a signing at Dark Delicacies in Burbank. As it turned out, screenwriter George Clayton Johnson was also there ( THE TWILIGHT ZONE episodes:

1. The Four of Us Are Dying
2. Execution
3. A Penny for Your Thoughts
4. A Game of Pool
5. Nothing in the Dark
6. Kick the Can
7. Ninety Years Without Slumbering. )
Plus the movies, OCEAN'S 11 and LOGAN'S RUN [w/ William F. Nolan] and in a talkative mood. I always admired the old Twilight Zone episodes for their economy of story and characterization. I asked him how they were told to write for Serling. George told some wonderful stories but he also gave me what I felt, was the very nut of every 25 minute episode of Twilight Zone.

In essence every episode of the first two seasons of THE TWILIGHT ZONE, boiled down to, "One person tells another person something scary and scares both of them." Nearly every episode was just a person verbally scaring the crap out of the other person, and by the end something happens to make someone realize that the first frightened person was telling the truth. From one episode to the next, this is always how it was and certainly for George Clayton Johnson.

Later that day, I'm getting a smattering of response to my MySpace query. My MySpace friends, who are also actors, don't live in San Diego. I go in search of more MySpace friends.

Page to minute equation means my short would be 5 minutes long. I had Kelly try to find someone who had a house I could use. The script was key on the person walking down the stairs being able to see the front door from the staircase. Since the whole of the very brief script centered around the staircase, that was a major point and couldn't be re-written for a staircase from which you couldn't see the front door.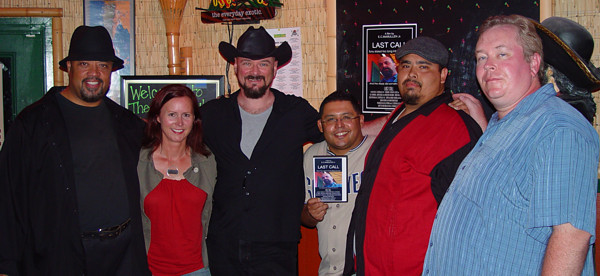 PREMIER NIGHT AT CHICO CLUB
LEFT TO RIGHT
Jimmy Diggs, Christina Grenard, E.C. McMullen Jr. Mike Valencia, Danny Garcia, Kelly Parks
Monday
I had the final polish of my 5 minute script and sent it to Vernon. Vernon sent it back and said he liked it. I need a soundtrack. I load up bloated Myspace page after page, listening to tons of bands and with every long wait for every image and game application stuffed page, I feel that I'm wasting valuable time.
The test was how resourceful I could be. Speaking of which, Saturday, Sunday, and Monday are now past. No location.
Tuesday
In my mind, it didn't seem like a major deal but in reality, houses and apartments in San Diego just don't seem to have staircases that end at the entrance to the house where you can see the front door. I have enough friends in Los Angeles to tell you that in this city, the place is rotten with them. But with what little resources I had in San Diego, it wasn't working. I can't waste anymore time. If there's one thing that every damn city has it's a bar! So I write a new script. By 1:00 in the morning I have found lights and and at least one solid actor, Terry M. West. He'd like to see the script but I haven't finished the new one yet.
Wednesday
Morning I send my polished final draft to Vernon. 25 pages. Vernon isn't happy about that. He tells me that film festivals like to keep it to no more than ten minutes. A MySpace friend online responds to my music query. Their name is Wet Sans Brolly out of the UK and they set me up with their U.S. agent who lives, in of all places, San Diego! I don't need the music to do the shoot but now I can think about it while I film. I work on the script some more that night, editing, cutting. How much can I remove and still make it work? I shave it down to 20 pages. Vernon repeats the 10 minute mark but I tell him that I'll worry about that during film editing.
Kelly tells me that he's been talking to his future son in law, Danny Garcia, and Danny knows of some locations that might work for me. I won't know until Friday. I now have plenty of actors but everyone has a different schedule. The trials of working with volunteers.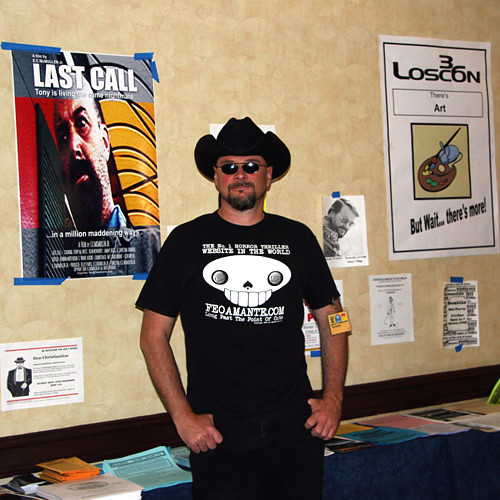 LOSCON 36
Home to the 2009 TABLOID WITCH FILM FESTIVAL
(Am I...? Why am I Sneering?)
Thursday
I have my actors. I haven't been able to do a casting call, I have no idea if they're any good. I'm stuck with what I've got. Who I've got at this point is actor Terry M. West, who is an old friend recently moved to California. Another is Dean Newbury, an acquaintance I met at the San Diego Comic-con and who became a MySpace friend. He's going to play a uniformed cop. Another is Jimmy Diggs, a writer I met through Kelly and his association with the San Diego Film Makers Group, who wants to give acting a shot.
Back in 2000 I acted in a short film and the director of that short, Christina Grenard, who amazingly still lives in San Diego (we'd been out of touch for years), agrees to be in my movie.
Rounding out my cast are two other actors with impressive enough credentials (under the circumstances). I met my waitress and Jack to be via MySpace and talk with them only via messages. The "She" does still camera work and has a tripod I can use. The "He" will play Jack and bring a clapboard. I send everyone a pdf of my script. That evening, I take the Amtrack to San Diego.
Friday
I pick up the Sony DV camera from Vernon and acquaint myself with it and the boom mike. Terry West is bringing his lights. My actress is bringing her tripod. My Jack is bringing the clapboard. Dean is bringing the prop gun. Different script, but I still need a gun.
That night Danny and I go location scouting.
Back when I was in my 20s and single, I was the hunky guy's friend. Like a beautiful girl's friend, who is rather homely? That was me. I had several friends who all hit the gym, crunched, worked out, bulked up, and bought their clothes according to GQ. But I was the guy who could always go into a nightclub and walk out with a date. Not just a phone number, but date as in taking someone home. I wasn't a smooth talker, I was just a talker. And I could always guarantee that I could get a gal of my choice to go home with me. I couldn't get the gal YOU picked to go home with me, but I could damn sure get the one that I wanted.
Well now the "Gal" I wanted was a bar for a location. It had to be in a part of town that wouldn't have a ton of people driving past for the outdoor shots. It had to have many things. The first place we went to was called CHICO CLUB. I talked to the bar owner (co-owner actually), Mike Valencia, and left an hour later with my location on the first try.
Continued on Page 2
1
2
Mike allowed me into his bar to shoot early Saturday morning. But we had to be finished by 10:00am because that's when his bar opens and he can't keep his patrons quiet. They're paying to be there and it's the game on TV.
Page copyright 2010 E.C.McMullen Jr.
Poster by E.C. McMullen Jr.