Review by
E.C.McMullen Jr.

SHOULD YOU?


TIP JAR



SYNGENOR
MOVIE REVIEW

SCARED TO DEATH

aka

The Aberdeen Experiment

- 1980
USA Release: March, 1981
Lone Star Productions / Media Home Entertainment
Rating: USA - R
Early in his career, writer / director William Malone wrote hideously bad shit. Boring shit, the kind of crap that would make Ed Wood sneer and Herschel Gordon Lewis fall asleep. And yet, William was able to get sizable hunks of Hollywood investor money and see his crap distributed through major theater chains.
Such a movie is SCARED TO DEATH.
SCARED TO DEATH was written and directed during William Malone's "Rip-Off ALIEN and H.R. Giger" phase. Obviously Willie was wildly impressed with Dan O'Bannon's story, Ridley Scott's direction, and H.R. Giger's art and Alien creature and set design. All other great contributions to this movie were ignored by Malone and his need to cash in on ALIEN in one way or another was the shot in his own foot for the next two decades.
This flick starts out with a slow pan of a neighborhood and soap opera style music. Then the camera focuses on a leaf riding down a curbside stream of water. It pauses at the edge of a storm drain, teeters, and then plunges into the darkness.
Now we are in that sewer. We are travelling, POV, through the sewer tunnels. Cut to a house in a neighborhood. Cut to the POV shot watching through a window while a woman in a towel gets naked and then gets dressed. This is obviously the first victim, right? The phone rings, she smiles and turns down a date with some guy, hears a noise, the lights go out, she wanders through the dark house until Merry Mishaps occur.
By the time those mishaps occurred, I was ready to pick up a book and start reading.
Now remember that William Malone was obsessed with the image of H.R. Giger's ALIEN design. He kept trying to see what kind of movie he could make that would make a Giger rip-off design, work. In his later movie CREATURE, Malone pretty much re-did ALIEN, albeit with a bigger budget and a far worse script. The acting was for shit too.
One thing CREATURE did have going for it was far better visual direction. The camera angles, direction, and editing in SCARED TO DEATH are appallingly bad.
The story follows one Ted Lonergan (John Stinson: THE HAND, CREATURE), a retired detective who couldn't get along with anyone else on the force.
Why? Because he thinks he's so much smarter than everyone else. So here we see him arguing with his publisher, who is tired of publishing his crap, yet continues to do so.
Why? Because it sells. Just because he's on the gravy train doesn't mean that he shouldn't harrass his star writer though, and Ted, while admitting to the writing of said crap, smugly says, "But you'll buy it anyway."
Then he jumps in his car, backs up without looking, and smacks right into another car. He gets out and, yelling, blames the woman for hitting him.
A class act, right?
Of course, we are supposed to feel for this asshole because, though Ted is self-centered, bitches at his friends, and is a megalomaniac (though an unsuccessful one. He lives in a dump, in a slum neighborhood, and drives a beat up hunk of smoke-belching garbage, yet he is a very successful writer, albeit hack: Ahem. Oke-dokey), he still says he's sorry when he unfairly butchers someone's ego. And Ted says he's sorry a lot! In fact, he says he is "sorry" almost as many times as he says "the". Someone you "love to hate" could have worked with another actor, someone with an innate sense of charm. But Stinson wasn't up to it and Malone didn't know how to get it out of him.
The girl he runs into (Diana Davidson: BEDEVIL) winds up inviting him into her home and bed and taking care of him because, as she says, "You do have a way about you."
Did I forget the killings? Yeah, the movie nearly did too.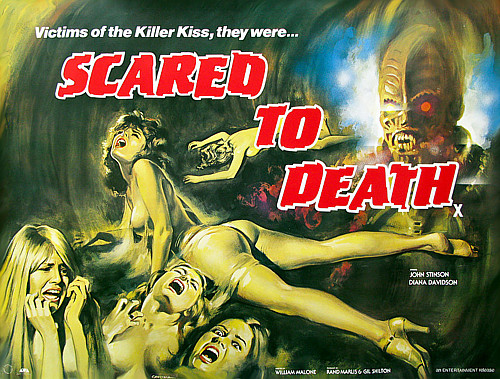 This scene is not in the movie. Sorry.
Ted's buddy, Detective Lou Capell (Jonathan David Moses), keeps hounding Ted to come back and help him solve this whacked out case. But Ted has his principles (i.e. he refuses to work with assholes, which is pretty much everyone on the planet EXCEPT him) and so plays the prima donna while people get butchered on the streets.
So the killings continue and a smart young woman shows up who may or may not have the answers. We know she is smart because she dresses like Adrian from Rocky mit der huge thick rimmed glasses. She is bookish, nebbish, and shy. She goes by the name of Sherry Carpenter (Toni Jannotta) but WE know her as EXPOSITION GIRL!
Her biggest (and longest) scene is one where she is reading to herself, OUT LOUD, from a book which describes the varmint, named Syngenor, that our heroes (I use that term so loosely) must destroy - or at least capture and put in a zoo. Then she turns the page and continues to read! Imagine watching a movie where someone is reading to you from a book, one page after another? Even Ed Wood would never have done that to us!
The varmint, Syngenor, was created and raised by feeding it Human Spinal Fluid (where the hell did they find THAT much human spinal fluid? It doesn't grow in trees like maple syrup! It comes from, well, Humans!). The scientist who created the varmint, we are told, later pondered if the human spinal fluid diet was such a good idea.
DUH?
If you don't want to create a varmint that feeds on human fluids, you SPECIFICALLY DON'T feed it human fluids! Raise it on nice pastrami sandwiches instead! Or maybe 12 grain bagels with those bits of sun dried tomato in them. A varmint needs roughage you know. Then, if it gets loose, it will only attack a delicatessen or a Schlotzky's.
In fact, scientists in bad Horror movies are like the whole "gun issue". Scientists aren't stupid, people who write scientists into crappy screenplays are stupid.
So now we know (assuming we haven't gone to the bathroom, snuck into another theater, or -if at home - hit eject) what the varmint is and what it's doing. It still makes no sense as to why anyone would have made the damn thing in the first place!
The true reason for its existence is this: Malone wanted a monster that looked a lot like the Giger monster! As long as we have that monster, and it lives off of people's spinal fluid, which it gets by shoving its teeny leedle tongue in folkses throats, then by golly we are going to have a MOVIE! Malone couldn't understand that ALIEN worked because of a great screenplay, great direction, and very good acting - AS WELL as Giger's Alien and Ron Cobb's set design.
All Malone could see was the monster!
So what of this monster and how does it stand up to its Daddy, the ALIEN?
Books, articles and whole thesis have been written about the movie ALIEN, its varmint, and its retractable tongue. The tongue is obviously phallic and why not? In Giger's original design, it was a penis.
So when you see the varmint "Syngenor" and his pathetically tiny tongue, that is both limp and quivering, attempting equal damage a la ALIEN, you have to laugh. Why didn't the victims just bite the damn thing off?
This movie is still available on videotape, but my biggest fear is that, with the success of SUPERNOVA in rental and the success of THE HOUSE ON HAUNTED HILL (1999) in theaters and rental, that someone may grab SCARED TO DEATH and put it out on DVD too (UPDATE: It happened).
This review therefore is a public service message. Don't waste your precious life watching this excrement.
1 Shriek Girl: KILL IT BEFORE IT BREEDS!


This review copyright 2000 E.C.McMullen Jr.