Review by
E.C. McMullen Jr.

WYRMWOOD: ROAD OF THE DEAD

- 2014
USA Release: Feb. 13, 2015
Guerilla Films
Rated: USA: R
It all begins with a 2 minute "Gotcha" as a bunch of guys in homemade protective gear - largely sports equipment - bust out of their garage, hook a chain to the back of their pickup truck outside and, armed to the teeth with guns and ammo, make their way backwards to their garage.
Of course it's not as simple as that, since they are fighting a horde of what are clearly flesh-eating zombies. Zombies exhaling green smoke from their mouths.
"Aye, I've a story to tell."
A man named Benny (Leon Burchill) relates his version of the night before all hell broke loose. When all the shooting stars fell from the sky.
After Benny tells his story, he asks the man next to him, Barry (Jay Gallagher), if he has any stories. But Barry doesn't know how to turn the horror he just lived through into a story.
Fortunately brothers and writers, Kiah Roache-Turner and Tristan Roache-Turner, and director Kiah Roache-Turner, know how to tell Barry's story.
We see Barry's wife Annie (Catherine Terracini), and his daughter Meganne (Meganne West) at the dinner table. His wife stands too much on ceremony. Barry's daughter is a typical self-absorbed teenager. Barry himself makes rude noises during dinner. Nobody is going after each other's throat. They aren't some American dysfunctional cartoon of a family, but a boisterous loving one.
This realism comes through and heightens the tension and horror because we know what's coming. We already know what Barry went through. A thing so horrific that he can't think of a way to put it in a story. We spend the next 20 minutes watching Barry's story unfold.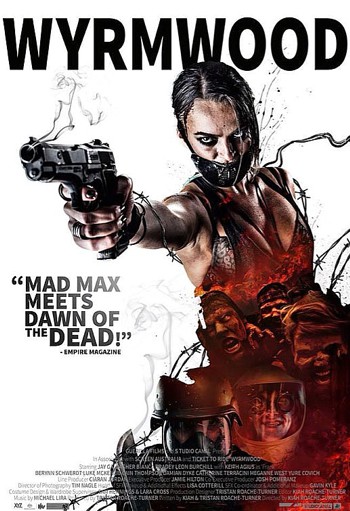 During that time, we meet Barry's sister, Brooke (Bianca Bradey: WRATH, A NIGHT OF HORROR VOLUME 1). Brooke is having a grand old time taking fetish photos with her friends, the model Charlie (Beth Aubrey) and photographer, Cherry (Sheridan Harbridge).
Charlie screams for the camera, then stops. She doesn't feel good. She begins throwing up. Her eyes change and she begins screaming in a whole other voice. Merry Mishaps occur.
As soon as Brooke has got to safety, she runs outside, only to find other people who have turned "Charlie".
Back in her house, but far from safe, she calls Barry.
Barry and Annie wake, Barry answers the phone, and Brooke tells him that the world is going crazy.
At that moment his daughter comes into their bedroom.
"Daddy, there's someone in the kitchen..."
The rest of WYRMWOOD is kick-ass zombie cannibal movie mayhem!
The Horrific tragedy of innocent people infected with... something, is always at the forefront. WYRMWOOD never loses sight of the fact that the things that must be destroyed were once people. At one point, a character I like, tearfully turns to her partner and says,
TRIVIA
Took 4 years to complete as the crew could only shoot on weekends.
Production Budget of $160,000 U.S.
More at Yahoo.
Shot on Canon EOS 5D
Optical Sensor size: Full Frame
HD 1920x1080
12.8 Megapixel

"I can feel it..."
At the same time there is a glorious madcap exhilaration to it all. When it comes to Horror movie making, specifically a worn down, worn out concept like cannibal zombies, WYRMWOOD hits all the right notes. It expands on the old tropes of zombies both American and Australian (there's a bit of UNDEAD in this one).
Astounding that the Roache-Turners found a way to both borrow heavily from all that came before, while bringing us wildly new characters and motivations into the mix. Astounding again that the actors who deliver full force are all largely newbies to the screen.
Gratuitous everything never looked so brilliant and more necessary to a story. I love watching this movie!
So strap on and strap in! WYRMWOOD tears ass across the screen!
4 Shriek Girls





This review copyright 2016 E.C.McMullen Jr.