Review by
E.C.McMullen Jr.

ZOMBIELAND

- 2009
USA Release: October 2, 2009
Columbia Pictures, Relativity Media, Pariah
Rated: Africa: 16LV / Australia: MA / Canada: 14A / Chile: Y7 / Finland: K-15 / Ireland, Netherlands: 16 / Japan: R15+ / Mexico: B15 / New Zealand: R16 / Norway, Sweden, UK: 15 / Portugal: M/12 / Singapore: M18 / South Africa: 16LV / USA: R
The thing about the modern zombie is, whether they are fast or slow (in George R. Romero's original NIGHT OF THE LIVING DEAD, they were both), they all follow Romero's 3 Laws of Zombies
1. A zombie can be stopped by being shot in, or otherwise taking sufficient damage to, the brain.
2. A zombie must attempt to eat all nearby humans, except where this conflicts with the first law.
3. A zombie must stagger around aimlessly, except where this conflicts with the first or second law.
With these ironclad rules firmly in place, and with over 40 years of Romero's zombies in the world consciousness, its only natural that movies would come along expecting everyone to know this stuff. Like we all know that vampires will die with a stake through the heart, same as humans.
Or the Siodmak law of Wolfmen, where they can be killed with a silver bullet, same as humans.
Zombies can be killed by destroying their brain, same as humans.
In ZOMBIELAND we learn the rules because our tour guide through ZOMBIELAND is Columbus (Jesse Eisenberg: THE VILLAGE, CURSED), so-called because Columbus, Ohio is where he came from. Columbus isn't about sharing his real name, no one in this movie is.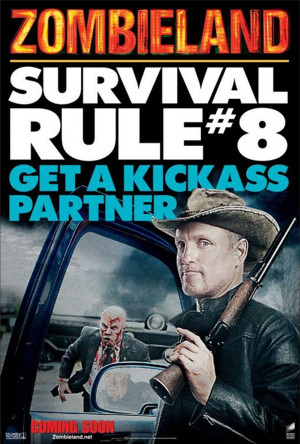 SURVIVAL RULE #5: No Attachments
That's because people tend to die quickly and horribly and if you know their name you start to care about them. In ZOMBIELAND, the survivors have had all of the heartache they're willing to take.
But this comes into conflict with,
SURVIVAL RULE #8: Get Yourself A Kick-Ass Partner
We're well into the first year of the Zombie apocalypse and Columbus survives because he invented his rule system, one that, as his inner thoughts explain it to us, also appears in 3D text next to his head so we'll remember it too. With the narration and the titling, ZOMBIELAND breaks all of the rules of storytelling but here it works because it is so over the top in its satire.
When we first meet Columbus, he is carefully following
SURVIVAL RULE #3: Beware of bathrooms.
The Zombies are getting sneaky and one of their favorite haunts is public rest rooms. Still, when you gotta go you gotta go and its better to lock yourself in a bathroom - ONCE you've made ABSOLUTELY sure it's safe, than get stuck doing it outside and have a zombie surprise you in the middle of it all. You are not about to run fast in the middle of laying an egg and survival depends on you running as fast as possible. And speaking of running fast...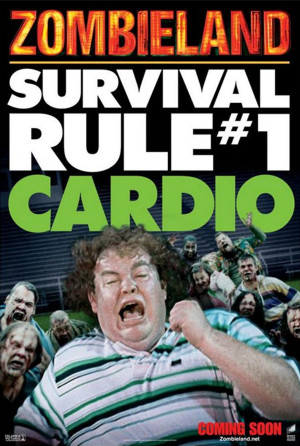 SURVIVAL RULE #1: Cardio
"When the zombie outbreak first hit, the first to go, for obvious reasons... were the fatties."
When the zombie apocalypse happened, the slow moving overweight people were the first to go. You gotta keep in shape. Some zombies are slow, but a lot of them are fast, and of course, there's their aforementioned penchant for being sneaky.
As Columbus makes his way through the ruins of civilization, attempting to head back to Columbus, Ohio in the hopes that his parents might still be alive, we learn about his life. Starting with the tragicomic way in which he was first introduced to the Zombie Apocalypse. I can't remember the last time I've seen a movie with humor so utterly grim. Not even SHAUN OF THE DEAD was this grim, or this funny.
In time, Columbus meets up with Tallahassee (Woody Harrison: NATURAL BORN KILLERS, TRANSSIBERIAN). Tallahassee is going to Florida for the same reason Columbus is going to Ohio, family might still be alive. It's a long shot. Aw hell, it's probably farting in the wind, but Tallahassee has got nothing better to do.
Well actually he has. The Zombie apocalypse has overall been pretty good to Tallahassee as his idea of fun is creatively killing zombies in the most brutal way possible. Tallahassee's "kicks" dovetails nicely with Columbus' 32 Rules of Survival.
SURVIVAL RULE #8: Get a Kickass Partner
The two team up and try to learn to get along with each other. When you are both following Survival Rule 5, trying to get along with someone while actively trying not to get attached or even like them, is difficult. Yet survival requires it, and to survive in Zombieland, everyone who has got this far has in one way or the other, figured out the rules of survival on their own. Those who haven't, well, they didn't make it.
Everyone has their weakness though. We know what Columbus' weakness is. Tallahassee's weakness is Twinkies. It's a treasured comfort food for Tallahassee in the wasteland of civilization and as he says, "Pretty soon life's little Twinkie gauge is gonna go empty." And that is his metaphor for the much bigger picture. So finding and eating Twinkies, keeps him sane and gives him hope.
At least until they run into two gals named Witchita (Emma Stone) and Little Rock (Abigail Breslin: SIGNS). As hard as it is to be the rare man in this world, its even harder to be the relatively weaker, living woman. Those who have survived did so with cunning and trickery. Witchita and Little Rock are well versed in both, and spend a great deal of the movie repeatedly duping Columbus and Tallahassee and leaving them for dead.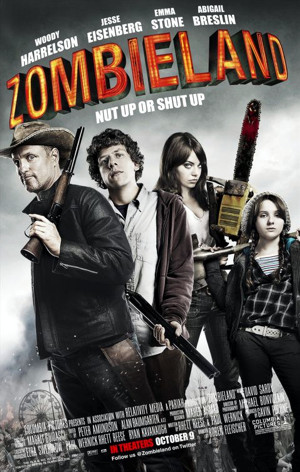 Just as Columbus and Tallahassee are heading East, so Witchita and Little Rock are heading West. Except the two women have a specific locale in mind and there is no question that it WILL be there: The theme park, Pacific Playland. And because that part of southern California runs off of a Nuclear Power Plant, they'll have all the electricity for their theme park that they could ever want.

Columbus and Tallahassee chase after Witchita and Little Rock for three reasons.
One, revenge: those girls not only left them for dead, they made fools of the boys!
Two, Wichita and Little Rock stole all of their stuff, more than once, and the boys want it all back! And
Three, while neither man wants to admit it, they are tired of the loneliness of the zombie apocalypse. Admitting that both of their journey's are a pipe dream, they chase after the two girls and that's the road trip story of ZOMBIELAND.

Will they ever get along with each other?
Will they ever get across country?
Will they all make it to California?
Will Pacific Playground be intact and not a burned out husk of a place? And what of Columbus' weakness? He's afraid of clowns! Will anything come of that?

I'll tell you this, I'm stunned that Director Ruben Fleischer slammed-dunked it on his very first feature film. That's nothing short of amazing!

Also amazing is this whacked-out story which still finds time to have humanity (without the emotion ever wrecking the characters or plot). Writers Rhett Reese (MONSTERS, INC.) and Paul Wernick, wrote a classic satire that makes fun of everyone but themselves. Self-referential hipster winking at the audience ages a movie like few things - including time - can.

All four leads deliver the energy and fun such a film requires, and as you probably know, Bill Murray makes a cameo appearance, seemingly for no other reason than to push the long awaited upcoming GHOSTBUSTERS remake. Yet his scene was one of the best things of this great movie!

Of course, all comedy relies heavily on pace and timing and that's where I have to give extra kudos to Editor Alan Baumgarten (THE LAWNMOWER MAN, LORD OF ILLUSIONS). The pacing not only snaps, but ZOMBIELAND has real scares which abruptly turn to action which immediately turns to laughs. And like some of the best Horror or Comedy films, ZOMBIELAND is short, only 88 minutes long.

I've never had more fun watching a desolate, morbid, grief-stricken holocaust as I did watching ZOMBIELAND. Stuffed with tropes just to make fun of them, ZOMBIELAND is the best time you'll ever have in post-apocalyptic hell!

This kick-ass fun gets all 5 Shriek Girls!






This review copyright 2009 E.C.McMullen Jr.
YOU MIGHT ALSO ENJOY
DEAD SNOW
MOVIE REVIEW
YOUNG FRANKENSTEIN
MOVIE REVIEW

FIDO


MOVIE REVIEW