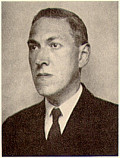 HOWARD PHILLIPS LOVECRAFT
(1890 - 1937)
Certainly a racist due to his environment, Lovecraft, born to parents who were both eventually committed to insane asylums (Father in 1893 due to advanced syphilis), was at first, a firm believer in the values his grief stricken mother, elderly grandparents and timid aunts, and community, instilled in him at an early age.
His grandfather Whipple encouraged Howard to read and write, and the child became proficient by the age of only 3.
Though his grandfather was the center of his world, and the only other male in the house, Lovecraft's grandmother, Robie, was the center of the household and upon her death in 1895, when he was 5, the family went into a tailspin of grief from which they never recovered. The women wore black mourning clothes and the house was filled with ceaseless grief for years after.
Lovecraft recounts that his nightmares began at this time and he lived with them for the rest of his life. Come Christmas, he was told that "Santa Claus does not exist". According to S. T. Joshi, Howard the child's response to his family was, "God is not equally a myth?"
As the family descended into poverty, Howard turned to thoughts of suicide and it was only his love of reading, science, and constant questioning and skepticism that kept him going.
Even among his peers of the era, Howard was exceedingly racist, often described as an anti-semitic, yet he fell in love with and married Sonia Greene, a Jewish woman. Also, odd for a racist, he didn't believe in human supremacy and his work is filled with the Cosmic place of humanity being nothing more than effluvia that, at best, can only survive the Horrors of the universe, but never defeat them.
Sonia noted that Howard seemed to enjoy being at his most racist in social events, just to rile people up.
Too poor and physically weak to be a world traveller (people were often hit hard by childhood disease back then, suffering the after effects for the rest of their brief lives), Lovecraft grew as a human being, and little by little broke the shackles of intolerence and ignorant racism thanks to unquenchable desire to learn and his correspondence with a wide racial and gender diversity of people all over the world.
A growing body of fans were enjoying Howard's Weird Tales, and were eager to engage in correspondence with him, but Lovecraft's short stories didn't make enough to support him.
So intrigued was Lovecraft by the body of knowledge, mindsets, and values different from his own, that his correspondence letter writing overtook and eventually replaced his fiction writing (he wrote over 100,000 by the time of his death).
But childhood upbringing dies hard and over the course of his life, as he tilted from the Right to the Left of his era, Democrat President Woodrow Wilson was inviting the Ku Klux Klan to the Whitehouse, Liberals embraced Segregation, Science (which in his time embraced Eugenics!), Marxism, Socialism, and Fascism (beloved of Artists of the time. Mussolini insisted that Poetry was a State Necessity). In his last few years, Lovecraft, who distrusted Capitalism, Democracy (mostly because he couldn't understand Capitalism and Democracy will give the vote to just anyone! ), and Communism, believed that Socialist Fascism might be a progressive force for change as well as "traditional civilization" writing,
"...a kind of fascism which may, whilst helping the dangerous masses at the expense of the needlessly rich, nevertheless preserves the essentials of traditional civilization and leaves political power in the hands of a small and cultivated (though not over-rich) governing class largely hereditary but subject to gradual increase as other individuals rise to its cultural level."
You can see how convoluted and largely based on vague wish fulfillment such political views are, yet they aligned Lovecraft with popular Art and Poetry Socialists of the era like Ezra Pound as well as Futurist fascists like Filippo Tommaso Marinetti. Yet it is exactly this type of thinking that, to Lovecraft, would put his self-identity of a poverty-stricken aristocrat, back to his rightful place in society.
Remember, Lovecraft died in 1937, long before World War II began in 1939 and longer still before the horrors of Socialist Fascism were fully unveiled at the Nuremberg Trials of 1945 - 1946.
Lovecraft's willingness to test himself and his values against the world and fully explore his personal growth as a human being was cut short by his early and untimely death from cancer.
Lovecraft scholar, S. T. Joshi is from India, a country that continues to suffer from its own instilled racism (caste system). The younger Lovecraft would likely have been surprised indeed to find that a person like Joshi would be his most recognized and ardent fan.
Sources: Everything published by S. T. Joshi, most of which might still be found in your local public library.