SHOULD YOU?


TIP JAR



THE BEAST FROM 20,000 FATHOMS
- 1953
Mutual Pictures of California / Warner Bros.
Rated: NR
Just for the record, a "fathom" is equal to six feet so 20,000 fathoms is almost twenty-three miles. That's about sixteen miles deeper than the deepest part of the ocean. Man, stuff like that really bothers me! But I'll try not to hold it against the movie that they made a science mistake in their title.
THE BEAST FROM 20,000 FATHOMS was directed by Eugene Lourie (GORGO, BEHEMOTH THE SEA MONSTER, THE COLOSSUS OF NEW YORK) and written by Fred Freiberger (BEGINNING OF THE END), based on the short story "The Fog Horn" by Ray Bradbury.
The movie opens in the Arctic, where a narrator tells us that "Operation Experiment" has reached "H" hour on "X" day (that means they set off a nuke). The base where Colonel Evans (Kenneth Tobey: THE THING, IT CAME FROM BENEATH THE SEA, THE HOWLING, GREMLINS, STRANGE INVADERS) runs the atomic test notices a strange large object on radar but it quickly vanishes.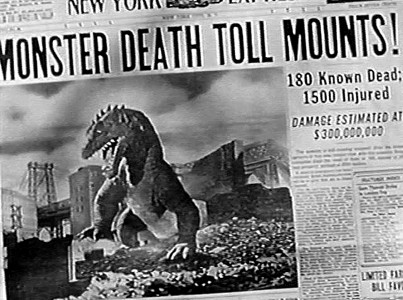 MONSTER DEATH TOLL MOUNTS?
OMG! 180 KNOWN MONSTERS DEAD? 1500 INJURED?
OH! THE MONSTROSITY!
Atomic scientists Tom Nesbitt (Paul Hubschmid: SKULLDUGGERY, JOURNEY TO THE LOST CITY) and George Ritchie (Ross Elliot: TARANTULA, SCORPION) go out to check radiation levels and Tom sees the Beast, a huge dinosaur released from the ice by the heat of the atomic blast.
Tom is injured and the Beast vanishes. Tom is moved to a New York hospital and sticks to his claim about a prehistoric monster but no one believes him. Dr. Ingersoll (King Donovan: INVASION OF THE BODY SNATCHERS), the hospital psychiatrist, tells Tom it's all just his imagination and stop all this monster talk, there's a good lad.
DVD VERDICT
I was, however, very happy with two of the extras included on the DVD. The "Making of" featurette is an interview with the movie's special effects artist: Ray Harryhausen. Here he describes his process of creating stop-motion animation that would be seen in many more monster movies to come. Ray also reveals that the movie cost about $200,000 to make (roughly $1.5 million in today's money) and the producers then sold it to Warners for $450,000. Sounds like a nice profit but they ended up regretting it when the film went on to make millions at the box office.
The other extra is an on stage conversation between life-long friends Ray Harryhausen and Ray Bradbury. They reminisce about their careers in general and the making of this movie in particular. Fascinating stuff for a movie geek like me.
But the Beast is real, as several ships at sea discover. Tom sees the news reports of the attacks and goes to see Professor Thurgood Elson (Cecil Kellaway: THE INVISIBLE MAN RETURNS), an expert in paleontology. He's friendly but dismisses Tom's claims. His beautiful assistant Lee (Paula Raymond: FIVE BLOODY GRAVES, BLOOD OF DRACULA'S CASTLE, HAND OF DEATH) is more sympathetic and we can all see where that's going.
Tom gathers more evidence and witnesses and makes a believer out of Professor Thurgood. But if he just waited until the monster attacked Manhattan he could have saved a lot of talking. I could tell you more about that but instead lets have a quick
!!!SCIENCE MOMENT!!!:
If you freeze an animal in a block of ice, the animal will be very well preserved. If you unfreeze it, it will be mush because the process of freezing makes ice crystals form inside the animal's cells, tearing the cells apart.
As 1950's black and white sci-fi monster movies go, this is not the greatest example. (THEM and THE THING are among the best). There's no chemistry between Tom and Lee and it takes forever (in this 80 minute movie) to get more than a glimpse of the Beast. I give it two shriek girls.



This review copyright 2007 E.C.McMullen Jr.