SHOULD YOU?


TIP JAR



D-WAR: DRAGON WARS
- 2007
Younggu-Art Movies
Rated: USA: PG-13
Hey, have any long time Feo Fans missed the fact that I'm crazy for giant monsters? I got brought into my love of Horror via GODZILLA and stories by H.P. Lovecraft and lemme tell you, I'm STILL waiting for the day when they make a Big Horror movie featuring one of his varmints!
So yea, I was stoked to see D-WAR: DRAGON WARS, and no naysaying nabob of negativity was going to disuade me. There are certain tastes in the world where you either like it or you don't, and if you don't like movies with big honking monsters tearing through a city, then you aren't going to tell ME what you didn't like. So in all fairness, this review really applies to folks who feel like I do.
D-WAR: DRAGON WARS starts with narration. I'm no fan of narration and especially now that I've had the chance to see the original Japanese versions of movies like GODZILLA and GODZILLA RAIDS AGAIN, I can recognize and be seriously put off by the American mangling of these movies. Most of the Japanese Kaiju movies never had opening narration droning on and on about the dangers of this, that and the other stupid thing. When Japanese movies reached American shores, much was cut from the original to insert a lot ofscratchy stock footage and preachy narration. So we get the narration which tells us about Imoogies, which are Korean dragons.
Then we get an interesting shot of what is supposed to be Los Angeles - HA! No part of Los Angeles I've ever seen, but that's cool. There are a lot of Cop shows on TV that look nothing like New York City, Miami or LA there either. They look a lot like Budapest, Long Beach, and Toronto. Anyway, a part of LA has been pretty much chewed up into nothing but sand, which is pretty mysterious and makes a news reporter like Ethan (Jason Behr; THE GRUDGE, SKINWALKERS) wanna cross the yellow police tape. Ethan is soon stopped by two FBI guys who tell him to get back across the tape and stay out of the area. They walk away before Ethan complies and Newsie gets a nice video shot of something that, somehow, seems pretty damn recognizable.
This leads to a flashback where Ethan was a kid (Cody Arens) and his Pop (Richard Steen) was trying to pawn something off because Daddy-boy was desperate for money. As young Ethan wandered the old antique store, he came upon this old wooden box that lit up and danced a jig. The next thing we know, the old man who owns the store, Jack (Robert Forster: SUPERNOVA, MULHOLLAND DR.) is telling him a ton of exposition, which starts a flashback WITHIN a flashback, thus rendering the opening narration utterly useless. Which is why I always say, "Opening narration is utterly useless."

I always say that, which makes me no fun at parties.

So in between bouts of Jack's expository blather, there is also a number of scenes that visually describe what is going on. It would appear that an entire part of the movie was shot of how this story originated some 500 years ago which works out thus (From The Press Release):
In a small Korean village, five hundred years ago, a girl named Narin (Hyojin Ban) was born carrying the coveted Yeouijoo inside her. The Heavens sent the protector Bochun (Ji-hwan Min) and his protégé Haram (Kyuho Moon), to ensure that when it came time, Narin was peacefully sacrificed (peacefully sacrificed?!?) to the pre-determined Good Imoogi. Bochun vigorously trained Haram as a knight, to be prepared for the eventual day when Narin would be delivered to the Good Imoogi. The day the Dark Imoogi, Buraki, and his army destroyed Narin's village looking for the Yeouijoo, Bochun instructed Haram to take her to the Good Imoogi.
The young girl and her knight would then fulfill the giant serpent's destiny by giving it the power to save the world and become a heavenly dragon. By this time, after spending several years together, Haram and Narin had fallen in love. Unable to sacrifice their love to the benevolent Imoogi, they jumped to their deaths together in each other's arms (but! But they're still dying! Those crazy kids!). The Good Imoogi's destiny was unfulfilled and he would have to wait another five hundred years until the next Yeouijoo appears.
End of press kit. Now, 500 years later, the spirit of the girl is reborn, with a Yeouijoo for the imoogi - and so is the spirit of her young guardian. Ethan is the reincarnation of Haram. But there is a huge gaping problem with this.
And that gets to my second and third point:
2nd - Flashbacks are rarely necessary. The movie could have easily been a better movie if it just started in the past and played through what gets played in flashback without the opening narration or Jack's long-winded exposition. And because the backstory was actually shot, Jack's exposition is entirely unnecessary.
3rd - Exposition is almost never necessary.
Now this is the problem. According to the drama of the past, as it is visually played out, Ethan and the sacrificial girl really didn't thwart the will of heaven. Buraki, the evil imoogi had its goons chase down Narin and Haram. At one point, Buraki even appeared to deliver the coup de gras: There was no good imoogi in sight. The only thing they could do was to throw themselves off a cliff to keep the evil imoogi from getting the girl and thus the power of heaven. This means that the entire major plot, of how Ethan in his latest form has to redeem himself and make sure that Sarah is properly sacrificed this time, is totally nullified! He never thwarted heaven! In fact, he SAVED heaven from an empowered evil imoogi.
But this is how Writer / Director Hyung-Rae Shim laid it out so there you have it.
All Ethan knows is that he has to find a woman in the city of Los Angeles named Sarah (Amanda Brooks: FLIGHTPLAN). He doesn't have her last name so this is no easy task. Luckily he has extraordinarily great help from his bud, Bruce (Craig Robinson). One might even go so far as to say, mind-bogglingly inexplicably amazing great help. Not impossible, but DAMN!
Happily, there is some good news, after we've endured all of that crap, we are finally treated to a good movie. It will take you a while to notice as the first 20-30 minutes leave such a bad taste in your mouth. Still, the giant evil imoogi, slithering through the streets and up buildings is pretty cool. There is some humor here as well which helps everything go down easier and the battle in the streets of Los Angeles (LOS ANGELES! HA! Yeah, RIGHT!) is better than anything George Lucas showed us in all three of the last Star Wars movies.
Especially cool, for me, was the aerial combat between the helicopters and what I would describe as flying "Dragonettes". The helicopters are much faster and can shoot missiles. On the other hand, the dragonettes are nimble with far superior maneuverability, as you would expect of any flying creature; they fly, land, and take off again with natural ease. The helicopters have difficulty banking, could never loop-de-loop upside down, can't shoot their missiles just anywhere (civilian casualties and/or shooting each other), have to constantly mind their blades so they don't brush or hit anything that would send them crashing to the ground - all things that don't affect the dragonettes. If the dragonettes bump or even collide, they quickly disentangle in free fall and are up and flying before they hit the ground. When two helicopters crash, that is it pal. So the helicopter pilots also have to be aware of the other choppers, their forces on the ground, and accidentally taking out a skyscraper with one of their missiles, killing thousands. The dragonettes have none of these issues.
If the battle was in the wide-open blue skies, the dragonettes probably would never have had a chance, but the creatures fly and hide in the city, in the mountains, in the forests; springing from hiding at a passing helicopter with all of the quick furtive movements of a real predator. The CGI is just incredible here because the supernatural creatures move so naturally.
But I have to cut back on the Shriek Girls because
1st Shriek Girl - all that opening narration and exposition is just awful and it doesn't even fit with the visual. Imagine if we heard this opening narration and while the narrator was saying,
"But she pulled out a gun and shot him dead, betraying him and running off with her little dog Spike."
we saw this:
A man and woman kiss; segue into playing with their child and kicking back on a hammock.
The hell, right?
2nd Shriek Girl - Ethan still loves Sarah and tries to stop her from sacrificing herself to the good Imoogi. Sarah is confused and doesn't know what to think, and all of this is immaterial because, as in the beginning, Sarah CAN'T sacrifice herself to the good imoogi because we've SEEN no good imoogi: Only evil Imoogi. As before, if Ethan doesn't get Sarah out of harm's way then she is going to get sacrificed to the evil Imoogi and everything will go to hell in a Hello Kitty handbag.
If you take these two things out of the way then you have a far better picture. Yet there they sit and squat, doing their best to ruin what otherwise would have been a really cool movie. But with that said, I still enjoyed D-WAR: DRAGON WARS overall and can honestly say that it is better than any Godzilla movie from the 1950s through the 1990s that was butchered by half-assed American producers in their English cut-and-dubs. That's why D-WAR: DRAGON WARS gets Three Shriek Girls.




This review copyright 2007 E.C.McMullen Jr.
DVD


BLU-RAY


TRIVIA
For reasons unexplained, all of the Asian actors in this movie aren't named in the press release or even on the website. They might be listed in the end credits, but I'm not about to go back and watch this movie just for that!
No, of course they aren't listed at imdb.com either. At least, not as of September 17, 2007.
FROM


E.C. McMullen Jr.




WILLOW BLUE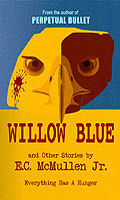 from the author of PERPETUAL BULLET.




PERPETUAL BULLET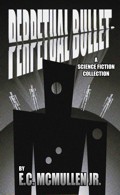 "'Some People' ... may be the standout story in the book."
- John Grant, Infinityplus

ALSO
E.C. McMullen Jr.'s
short story
CEDO LOOKED LIKE PEOPLE
appears in the anthology


FEAR THE REAPER