eXistenZ
- 1999
Natural Nylon Entertainment / Serendipity Point Films / Miramax Films
Rated: Australia, New Zealand: M / Belgium: KNT / Finland: K-16 / France: -12 / Germany, Switzerland, Netherlands: 16 / Ireland: 18 / Portugal: M/16 / Singapore: PG / Sweden, Norway, UK: 15 / USA: R
"YAWNFEST 2000!"
There was a time in my life, after having seen RABID, that you could not keep me away from a David Cronenberg movie. I waited for them like some fans wait for HELLRAISER or ALIENS or even SCREAM. As a kid, David scared me big time with movies that turned the adult world I was entering upside down while remaining familiar.
To me his crowning achievements remain VIDEODROME, THE DEAD ZONE, THE FLY, and DEAD RINGERS. David took an abrupt turn with NAKED LUNCH. A fan of make-up SFX, David showed an embarrassingly bad scene involving Julian Sands transformed into a giant centipede. Julian Sands the actor in make-up is what was called for, yet Cronenberg chose instead to go with a rubber puppet representation of Julian, completely shattering the suspension of disbelief as the rubber centipede with Julian's face was terribly done.
The next Cronenberg movie to come down the pike was CRASH. A movie about car crashes and sex had loads of opportunity for excitement, yet it was astoundingly dull (so dull that it is too poor to be reviewed at this site - and I even reviewed THE HABIT!). Plot, pacing, and acting were lethargic and confused. James Spader's continued attempt to mimic Charles Grodin sleepwalking, sans humor, only dragged the movie further into the dregs. A few found it controversial, but it later turned out that they were only shocked by the wide range of sexuality expressed in the flick. Oh yippee shit.
Now we have eXistenZ: a movie that, were it not for the fact that this was directed by Cronenberg, would have been released direct to video. I was suspicious when this movie first came out in that, like CRASH, eXistenZ was released only to the "Art House" theaters. Directors that have spent a good part of their career making movies for first run theaters to suddenly be shoved into art houses makes one wary. It rarely means that the filmmaker is suddenly putting out intense thought provoking movies like THE VANISHING (Dutch version) or THE RED VIOLIN. Though I've heard the argument justifying both CRASH and eXistenZ on these grounds, I can only reply that Dee Snider's STRANGELAND and THE HABIT played in these same Art House theaters - for what its worth.
Let me make it clear first of all that, while I love indie cinema and the small 1 and 2 screen theaters are usually the only places you can see low budget releases on the silver screen, that hardly qualifies them as intellectual brain food (not with the eternal midnight showings of THE ROCKY HORROR PICTURE SHOW). The snot nosed snobbery of elitism pervading arguments that, if you didn't like some obscure movie then you lack the capacity to understand the film, is hogwash. The fact that you work in a used bookstore or coffee shop does not give you carte blanc on cultural good taste any more than making big bucks writing computer application code all day makes you socially adept.
With the field now cleared of preening cliqué snobs (unfair to bring this up in the review, but since NAKED LUNCH, David has been attracting quite a share!), let me tell you about eXistenZ.
It sucks.
Now let me tell you why.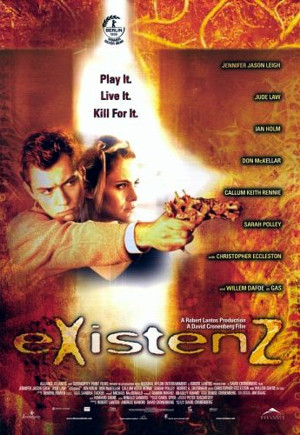 SHIELD ME ALLEGRA! I'LL PROTECT US WITH MY FISHBONE GUN!
It is a circle jerk for reviewers to critique critics, but even so, the splashy blurb on the videobox that proclaims in loud fonts: "Makes the MATRIX look like Child's Play." is sheer twaddle. I don't care if the critic meant CHILD'S PLAY the movie or was using a handy trope. Other than the fact that eXistenZ makes use of bending reality until our heros or protagonists can't tell the real from the imagined (which is a standard issue Cronenberg plotline anyway), this movie has ZERO to do with THE MATRIX and there is no valuable comparison between the two. Although the investors in this tripe must certanly wish there were to even bring it up.
The movie starts us off in a small old wood room, reminiscent of a refurbished church. The folks in their folding chairs are waiting the arrival of the new game eXistenZ. The creator of this game is Allegra Geller (Jennifer Jason Leigh: THE HITCHER). She has created the most popular computer games of the century. However, to some this has made her a pariah (?) and some hyped up boob makes an attempt on her life.
One of the staff that works for the game manufacturer, Ted Pikul (an amazing performance by Jude Law: THE TALENTED MR. RIPLEY), is drafted into getting Allegra away from the violence and soon these two are on the run. Allegra has been shot, but more important to her is her game module, which is referred to as a she (we are back to VIDEODROME territory in a half-assed way here folks). The game module is a genetically designed reptilian life form: A real living creature. The only way to play any of Allegra's games is to have a special plug inserted into the base of your spine. Pikul has never had this done and has no desire to do it. Allegra is concerned for her living game, eXistenZ. During the assassination attempt, she was torn out of the Artificial World of eXistenZ and that may have damaged her varmint. The only way for her to be sure is to go back into the game with a partner, and the only other one around is Pikul. After Allegra tosses off a few childish tantrums, Pikul agrees to having an illegal plug shot into his spine (insanely unbelievable by any stretch) by a rural gas station attendant named Gas (Willem Dafoe: THE HUNGER, SHADOW OF THE VAMPIRE). Pikul plugs into the game with Allegra and Merry Mishaps occur.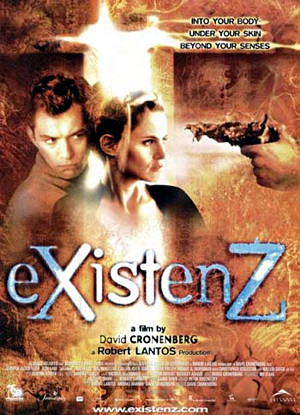 OH CRAP! HE GRABBED MY GUN! SHIELD ME ALLEGRA!
Actually, the mishaps aren't all that merry. In fact, the "world" that Allegra has created is rather uninspired. As a computer gaming freak, I can attest first hand that Allegra's game world, for all its fine resolution (it's just regular reality shot without SFX) and other sensory candy (fleeting seconds of really low budget SFX), is a bum play. Interaction (for this future world) is mediocre, the character AI (Artificial Intelligence) is substandard even by today's games, and the game itself is just a real bore to play. Any game where I have to stand around for hours cleaning fish is a drink coaster.
Now David Cronenberg is known for gross, but in past films gross was an integral part of the movie itself. In eXistenZ it clearly stands apart and in doing so, makes a joke of itself - hampering any attempt to take any of this movie with more than a grain of salt. Ted Pikul finds himself in the game and eating raw or poorly cooked mutated fish in one scene. He eats and eats and eats some more in an apparent attempt to gross us out while Allegra makes sickened expressions and tells him how gross he looks (just in case we are so stupid that this point was lost on us. Hey, Allegra, you created the game, stupid!). In another scene, he is chopping them up. In another scene, we watch the hacked up bloody varmints go down a conveyor belt. Later still we see an area where folks dig into these mutated fish and toss the parts into separate piles. Later still we . . . <yawn>.
The film is just so bloody tiresome, with none of THE MATRIX's energy, creativity, inspiration, or depth (deriving again from the much ballyhooed comparison). Jennifer Jason Leigh drags through her role in a stupor, seemingly ready to lapse into narcoleptic slumber. Then again, this style of character acting has served her well throughout most of her career and the critics love it - so who am I to gripe? Willem Dafoe calls in his part: a re-issue of his performance in WILD AT HEART. The excellent British actor Ian Holm (ALIEN) does the same - not that he was given much to work with. Ted Pikul is basically the rest of us, wondering why everyone around him are such freaks. This is not the character we have seen from Jude Law in any other movie. This young guy is a true actor and his characters, however poorly written, are real.
Nothing positive can be said for Cronenberg's writing or direction. Much of this movie is re-hashed from his far superior VIDEODROME with the gross eating scene in the Chinese restaurant reminiscent of THE BROOD. Another thing that Cronenberg goes for in this movie, is akin to what I brought up earlier: terrible make-up effects. In one scene a man, who is obvious-to-the-point-of-distraction wearing a face extending rubber appliance, gets a part of his face shot off. Whoa! Who saw THAT coming? There is a quick cut and then it returns to the man screaming in pain. The camera in close up shows us that the man's head is now entirely fake and very poorly done. Like the Julian Sands rape scene from NAKED LUNCH, the shot appears to be intentional, purposefully shattering suspension of belief. One has to ask oneself, Why? Why is Cronenberg going out of his way to destroy his own pictures?
The answer is, I don't know. All I do know is, that since NAKED LUNCH and CRASH, I no longer hit the theater when a David Cronenberg movie comes out. I waited until video to see eXistenZ, and there is nothing in this movie to make me feel worse for having done so. If David continues this downward trend of his, I soon won't be bothering to watch his direct to video movies either.
1 Shriek.


This review copyright 2000 E.C.McMullen Jr.




Return to Movies
DVD
Before David got old he did make some excellent Horror movies and you should see them:

THEY CAME FROM WITHIN,
THE BROOD,
RABID,
SCANNERS,
VIDEODROME,
THE DEAD ZONE
THE FLY,
DEAD RINGERS

Even writing this review made me sad. I can't tell you just how much I miss the David Cronenberg of the 70s and 80s. At that time he was one of the best Horror directors alive.