Review by
E.C.McMullen Jr.

THE HUMAN MONSTER

aka

Dark Eyes Of London

- 1939
USA Release: March 24, 1940
John Argyle Productions, Associated British-Pathé
Ratings: N/A
A dead body floats in the Thames river of London, England, the fifth mysterious death in eight months.
Catching heat from the public and the newspapers, the chief of Scotland Yard's CID (Criminal Investigation Department) Police Sgt. Walsh (Bryan Herbert: THE SECRET FOUR, NIGHT TRAIN TO MUNICH), sternly - but without anger - reprimands the men in his department for not bringing in one single scrap of evidence this whole time. Three of the deaths were in Detective Inspector Larry Holt's (Hugh Williams: ONE NIGHT IN PARIS, DEAD MEN TELL NO TALES) area. Walsh wants to know if these deaths are all the mere coincidental murders of different culprits, or committed by a single murderer. All they have to go on, is that all of the men were heavily insured by various companies.
Before Holt begins his case, he is told that the extradition of the criminal, Fred Grogan (Alexander Field: DANTES MYSTERIER, THE TORSO MURDER MYSTERY, THE NEXT OF KIN, THE WOMAN EATER), will be coming in two days. What's more, Chicago Lieutenant Patrick O'Reilly (Edmon Ryan: MYSTERY STREET, TOPAZ) who is bringing Grogan over, will stay to study the Brit's antiquated methods. Walsh is assigning O'Reilly to Holt "That way he won't learn anything."
Holt takes the news with aplomb, but as he makes his way back to his office, grows increasingly (in subdued British terms) furious. Once in his office, he picks up the phone and testily requests a cup of tea.
Elsewhere, Dr. Orloff (Bela Lugosi: DRACULA, WHITE ZOMBIE, THE DEVIL BAT, THE CORPSE VANISHES) makes a loan to an inventor, Mr. Stuart. It's a great amount, and with the warmest of jovial tones, Dr. Orloff gives Stuart the loan and sells him a life insurance policy.
"I know you for an honest man, Stuart. I can read it in your eyes."
When told in turn that he is a kind and generous man, Dr. Orloff smiles and says he always wanted to be.
Orloff holds a grudge. He believes a conspiracy of others, in positions of power, shattered his dreams. They kept him from becoming a practicing doctor: Called him brilliant but unbalanced.
"And so, I serve the blind."
Orloff helps to support a Greenwich Home for Blind vagrants, run by Mr. Deerborn, who is himself, blind. Orloff encourages his client to visit the house, as perhaps the client will decide to be charitable towards it, once his inventions make money. Orloff loses his kindly composure and nearly demands it, but regains his mask again.
I've watched this one scene many times, marveling at it and wishing I could find a better quality copy (so far, Alpha Video has the best I can find). It's not just because I'm watching Bela Lugosi in this role, the man really knew how to bring the charm as well as the threat.
Once Stuart is gone, the mask falls and Orloff becomes cruel and angered. The extradited Grogan is familiar to Orloff and the Doctor wants his bail paid as soon as he reaches jail.
Orloff uses a Braille typewriter to punch old a message in a strip of paper, balls it up, and throws it out the window where it hits a blind street musician.
Orloff's charitable donations to the blind aren't charity at all. He pays them, runs them, uses them to make goods that he sells and they travel the streets as his personal couriers. They do his bidding though they have no idea of his reasons. All they know is that Orloff is a kind man giving Mr. Deerborn the means for them to support themselves.
Detective Holt makes the rounds of insurance brokers and his investigations take him to Dr. Orloff. By the sound of one of his blind workers outside, Orloff is alerted to his approaching visitor.
An interaction of a different kind is played out, and now Orloff, who is indeed behind the murders, knows that he is being pursued. In a silent moment, he ponders, and then smiles, nodding. This will be a test of his intellect.
Actor Wilfred Walter was a war hero of WWI and was awarded the Military Cross. After the war, he had to have one of his legs amputated and continued acting with the use of a prosthetic. He also worked as a set designer in the theater.
That evening, the blind musician arrives at a door and rings the bell. Mr. Deerborn says, "Answer it, Jake." and here we meet the blind giant, Jake (Wilfrid Walter: LADY IN DISTRESS, NIGHT TRAIN TO MUNICH).
Using little more than a mouthpiece of fake teeth, Walter's performance as Jake, with his forced expression to deform his features, produces a terrifying and powerful figure. Even blind, he's not the kind of guy you want to meet in a dark alley.
The day comes when Grogan and O'Rielly arrive to be met by Holt. O'Rielly turns out to be a wisecracking, prankster - the kind of stereotypical American, typical of pre-Monty Python British assumptions. After all, aren't all Americans like 17 through 25 year old G.I. males? By both coincidence and accident, Holt steps on the foot of a pretty young woman getting off of the train.
Later the body of Mr. Stuart turns up and a relative shows up to identify the body. It's none other than the girl from the train, Diana Stuart (Greta Gynt: SEXTON BLAKE AND THE HOODED TERROR, THE ARSENAL STADIUM MYSTERY, BULLDOG SEES IT THROUGH, THE RINGER), daughter of the late Mr. Stuart.

Brand new in 1939, was the template cop buddy movie. Holt doesn't like O'Reilly and O'Rielly doesn't like Holt, but they need to work together as a team if they are going to crack this case! This formula worked so damn well in 1939 that it continues to this day.
Dr. Orloff's sinister swings from false generosity to brutal cruelty steps up as his paranoia and fear of capture heightens his murderous thuggery. I guess those folks who kept him from the operating table were spot on about the "unbalanced" bit.
THE HUMAN MONSTER is one of Bela Lugosi's best movies. It was so horrific for its time that it was the first movie in England to get an "H" rating for Horror.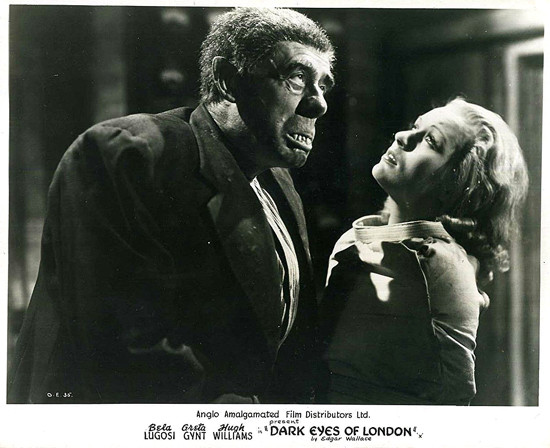 Jake is at turns, both terrifyingly murderous, while sincerely kind and considerate to his fellow blind brethren. He is especially protective of Lou, who is blind and mute.
Orloff is unrepentant cruel and devious. He delights in secretly tormenting and torturing Lou who cannot communicate even to his fellow blind men, the depths of Orloff's evil.
Co-writer and director Walter Summers, working off the best selling novel DARK EYES OF LONDON, by Edgar Wallace (KING KONG), and with script writers Patrick Kirwan and J.F. Argyle (also producer), created a brilliant film of intricate, intelligent Horror. And did it all in 75 minutes!
Four Shriek Girls.





This review copyright 2012 E.C.McMullen Jr.