Review by
E.C.McMullen Jr.

INNOCENT BLOOD

- 1992
Warner Bros.
Rating: USA: R
These days, director John Landis is being called a "Master of Horror" and even he doesn't understand why. Oh sure, he directed the wildly popular AN AMERICAN WEREWOLF IN LONDON, as well as an episode in TWILIGHT ZONE: THE MOVIE, which ended in infamous tragedy. He also directed the most expensive music video - so far - to date, that being Michael Jackson's THRILLER. The last Horror Thriller he directed, as of this writing, is DEER WOMAN, in Mick Garris' Masters Of Horror cable series. But for every Horror Thriller, Landis has directed more comedy. Even when he is directing Horror Thriller, there is an overriding comedic theme. The reason for this, according to Landis, is that the whole idea of vampires, werewolves, and other changelings / monsters, is absurd. So the only way you are going to pull it off is to play it as an impossibility, that incredibly exists, and get the audience laughing. If you can scare them while they are laughing, so much the better.
To that end, John Landis installed veteran comic, Don Rickles, who travels through this tale of mobsters and monsters.
See that movie poster above? In my overbearing opinion, that has to be the worst movie poster I've ever seen! And there have been a lot of awful movie posters as the IMPAwards can easily attest. The poster is just not going anywhere! A goth chick's face overwhelms the poster, and dropped in like some cut and paste image is a guy face down in his dinner on a checkered table cloth. The rest is all in black because black, you know, means "Oo - hoo - hoo! Scaredy, keeds!" Gosh! I can hardly wait to see THIS!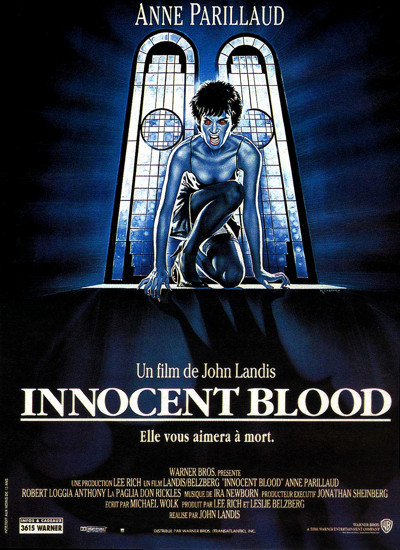 THE SUPERIOR FRENCH POSTER
A movie poster is meant to attract the audience, but that one would have kept me waiting for the video no matter how much I liked who was involved. And it did.
That's important because INNOCENT BLOOD has a pretty damn good cast! Anne Parillaud (NIKITA, PASSAGE À L'ACTE, DEAD GIRL, SHATTERED IMAGE, DEADLINES) plays Marie, a hungry French vampire who is, of course, bored with existence. Even in 1992 we'd read of this ennui innumerable times, but it helps that the then 32 year old Parrilaud walks around stark naked while she bemoans her plight. An errant newspaper in her room headlines the mob war going on in Philadelphia, where Marie finds herself living and she thinks "Why not Italian?"
Well I can think of two major reasons, both which seem pretty obvious, but before you can say lickety-split (though really, why would you?), Marie runs through and dispenses of a few choices, finally settling on a goombah she can't stand, name of Tony.
Ha! An Italian mobster named Tony! What are the odds I ask you?

Yeah, I'm talking to YOU!

Tony (Chazz Palminteri: DIABOLIQUE, MULHOLLAND FALLS), an unstable sort, nearly runs Marie down in his car, gets out and roars at her like its her fault, then, noticing her physical charms, trades his junkyard dog personna for a smooth wolf. Marie shyly accepts Tony's mercurial change of behavior with cooing words of encouragement.
One dead Tony later we find his good friend, Joe Gennaro (Anthony LaPaglia: SO I MARRIED AN AXE MURDERER, THE SALTON SEA) identifying the body. The body being the key word since there is nothing left of the head. Marie didn't want to leave Tony with the ability to turn into a vampire himself so she took care of his head in no uncertain terms. Think NIGHT OF THE LIVING DEAD and then some.
But Joe is not just any mobster's friend. He's a cop deep undercover who is starting to worry his Chief (Angela Bassett: F/X, CRITTERS 4, VAMPIRE IN BROOKLYN, STRANGE DAYS, SUPERNOVA). Seems Joe's loyalties are being questioned. In short order, Joe is exposed and loses all of his mobster "friends". But that's nothing compared to what else has happened. Joe was snooping on mob boss, Sallie "The Shark" Macelli (Robert Loggia: THE NINTH CONFIGURATION, PSYCHO II, THE BELIEVERS, INDEPENDENCE DAY, LOST HIGHWAY, SMILLA'S SENSE OF SNOW). At first, the fact that Sallie started a mob war in Philly was their biggest problem, but no more. Marie was sloppy in throwing her leftovers away and now Sallie is a vampire. Worse, he understands he has supernormal powers,
"I can hear an angel fart."
- Sallie
and is using them to build an army of the undead. Joe has no idea what is going on until he comes face to face with Marie, who needs his help.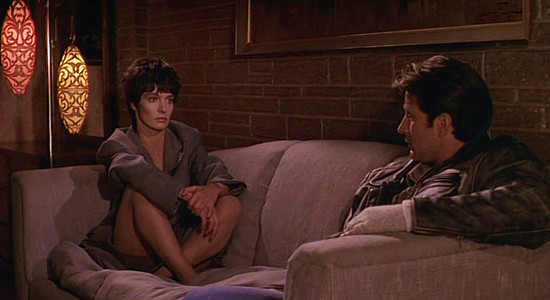 DESPITE HIS SELF-CONFIDENCE, WORLD-WEARY MARIE KNOWS BETTER THAN JOE WHAT BECOMES OF INNOCENT COPS SURROUNDED BY CORRUPTION
And so plays out this tale of predators vs predator, as written by Michael Wolk. There is a certain fun to the whole sh-bang, which helps the story go down easier. The actors know how to act and the director knows how to direct. What doesn't work is that INNOCENT BLOOD feels like a paint by numbers picture. It almost religiously follows the tropes of vampire movies and crime drama flicks. While the combination is seamless, it's also uninteresting. We've seen all of this before - so many times before - and the fact that we get a combo plate doesn't make it tastier. If INNOCENT BLOOD didn't have vampires, it would be a tiresome crime drama. If it didn't have mobsters, it would be a mediocre vampire movie. Banal + banal = ...
Good performances, despite the script, belong to Don Rickles (THE MAN WITH THE X-RAY EYES) as Sallie's lawyer, Emmanuel "Manny" Bergman, who adds the kind of snap you'd expect from Don. Rickles version of a vampire alone is worth the price of admission. Parrilaud adds her own saucy blend of sensuous allure, I know I'd be damned hard pressed to resist her, even knowing she was a vampire. Robert Loggia's performance as the unhinged Sallie is memorable, but he's played this role so many times in so many movies and TV shows before. Everyone else, including the usually intriguing Kim Coates (XCHANGE, BATTLEFIELD EARTH, THE ISLAND, SILENT HILL) is pretty much just there and Angela Bassett is sadly under used.
Not one of Landis' better efforts and certainly not the work of a "Master of Horror".
Two Shriek Girls.



This review copyright 2006 E.C.McMullen Jr.
E.C. McMullen Jr. is a participant in the Amazon Services LLC Associates Program, an affiliate advertising program designed to provide a means for sites to earn advertising fees by advertising and linking to amazon.com.