THE ISLAND
- 2005
Dreamworks/ Warner Bros.
Rated: Australia:M / Canada, Singapore: PG / South Korea: 12 / Hong Kong: IIA / Finland: K-15 / Philippines: PG-13 / Germany: 16 / UK: 12A / USA: PG-13
There are no spoilers in this review. Spoilers are bad because they give away the surprises in a movie. If you know what's going to happen, why bother seeing it, right? Everyone knows that.
THE ISLAND was directed by Michael Bay (lots of action movies) and written by Caspian Tredwell-Owen, Alex Kurtzman (ALIAS [TV]) and Roberto Orci (ALIAS [TV]). The story opens in a vaguely futuristic sealed city. Lincoln Echo Six (Ewan McGregor: BLACK HAWK DOWN, EYE OF THE BEHOLDER) wakes from a bad dream involving a very expensive looking boat and his friend Jordan Two Delta (Scarlett Johansson: EIGHT LEGGED FREAKS). His bad dream was apparently detected by some central computer and he's told to report to the "Tranquility Center."
We learn that this very tightly controlled city (every aspect of daily life is closely monitored) is supposedly the last remnants of humanity after some kind of world-wide contamination by a deadly pathogen. All that's left is this city (sealed against further contamination) and the "Island", the last uncontaminated bit of nature left. This island is slowly being settled by people from the city. Since everyone is eager to go the way people are chosen is by lottery. A recent winner (Michael Clarke Duncan: THE GREEN MILE, PLANET OF THE APES [2001], DAREDEVIL, SIN CITY) appears on citywide video screens and is beside himself with happiness at the notion of going to the Island.
Most of the residents, all dressed in identical white uniforms, seem content with their lives. Jordan is happy. But Lincoln is not. He wonders about all kinds of things, like who cleans his clothes and what is it really like outside? The administrator of the facility, Dr. Merrick (Sean Bean: DON'T SAY A WORD, THE LORD OF THE RINGS: THE FELLOWSHIP OF THE RING, EQUILIBRIUM), takes an interest in Lincoln and doesn't seem happy with his inquisitive nature.
Lincoln's curiosity has led him to become friends with a technician named "Mac" McCord (Steve Buscemi: FARGO, FINAL FANTASY). Mac is not a resident - he works behind the scenes and really isn't supposed to talk to people like Lincoln.
All this curiosity eventually, of course, leads Lincoln to discover the sinister truth about the Island, his city and his true purpose. And normally, for me to tell you any more would be a spoiler. That's not really the case with this movie, however, because for some reason known only to the marketing department, the trailer for THE ISLAND tells you exactly what the mysterious secret is! In fact if you've seen the trailer there's really not much point in seeing the movie.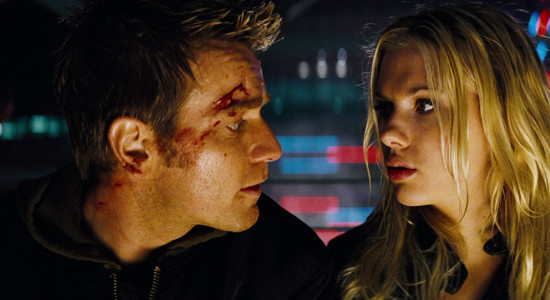 That's a shame because this isn't a bad movie. It's not doing well at the box office and, although I'm just guessing, I think the reason for that is the give-away-everything trailer. If the trailer had just had scenes from the beginning of the film and had only hinted at the answer, then its revelation while you watch the movie would have been far more impressive.
But who knows? Maybe you're reading this years after THE ISLAND's theatrical run and have never seen the trailer. Maybe you're reading this review to see if the DVD (or whatever has replaced DVD's in your future world) is worth renting. That's why I'm not going to give into the peer pressure and discuss the rest of the movie.
But I will very tangentially touch on it in my
!!!SCIENCE MOMENT!!!:
The central theme is out of date. Research into adult stem cells will very shortly make the whole plot here obsolete and that's all I'll say about that.
The only other thing I want to mention is that the reason Lincoln turns out to know more than he should know under the circumstances is never explained and could only happen by magic, not science.
THE ISLAND borrows heavily from a variety of sources, including LOGAN'S RUN and especially THX1138. There's also a moment where the background music is taken from the dayroom in ONE FLEW OVER THE CUCKOO'S NEST. I don't hold any of that against this movie because it's a big budget B sci-fi action flick and it knows it. I give it three shriek girls.




This review copyright 2005 E.C.McMullen Jr.