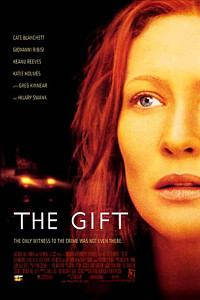 THE GIFT
- 2000
New Line Cinema
Rated: Australia: M / UK: 18 / USA: R
The previous collaboration between director Sam Raimi (EVIL DEAD, ARMY OF DARKNESS, DARK MAN, SPIDER-MAN [all]) and actor Billy Bob Thornton was A SIMPLE PLAN. Based on the novel by Scott B. Smith, this dark examination of human greed is one of the most disturbing movies I've ever seen. Now Thornton steps into the role as screenwriter with his frequent writing partner Tom Epperson (the duo cowrote ONE FALSE MOVE and A FAMILY THING) to create THE GIFT for Raimi's atmospheric and masterful direction.
In the southern town of Brixton (no state is ever given) Annie Wilson (Cate Blanchett: THE TALENTED MR. RIPLEY, THE LORD OF THE RINGS) possesses a unique gift that runs in her family - she is psychic. Widowed with three young boys to look after, Annie's family survives on social security and "donations" she receives from the people she psychically reads. Instead of Tarot cards, she uses a deck covered in circles, squares, crosses, wavy lines, and other symbols.
Among her clients are an emotionally disturbed grease jockey named Buddy Cole (Giovanni Ribisi), who wears his heart out on his sleeve for Annie, and the long suffering Valerie Barksdale (Hilary Swank), whose abusive husband Donnie (Keanu Reeves: THE MATRIX, WATCHER) tends to use her as a punching bag. Despite all of Annie's efforts to help them, Buddy refuses to admit he has a problem and Valerie refuses to do anything to solve hers.
All is not well in Annie's home either. Her oldest son Mike (Lynnsee Provence) is becoming more withdrawn and troublesome since his father's death - something Annie refuses to discuss. A school brawl between Mike and another kid ends with Principal Wayne Collins (Greg Kinnear) calling Annie in for a conference. While there she encounters Wayne's fiancée Jessica King (Katie Holmes: PHONE BOOTH, BATMAN BEGINS), and has a vision of the future she'd rather not have had.
Aware that Valerie is seeing Annie - and afraid she may listen to her and leave him - Donnie threatens Annie to mind her own business or something may happen to her children. While doing her best to continue to advise Valerie and avoid Donnie, the skeptical police ask her help on a different matter to find a missing person. Her subsequent vision of the missing person - dead, tied in chains, and in the bottom of a pond on some fenced-in area - leave police to believe that it's the Barksdale's property.
Sure enough the body is dragged up from the water, and Donnie protests his innocence, feeling persecuted by the "witch" due to their mutual animosity. In time, Annie's power reveals that although he's a violent tempered man, Donnie may not be the killer, leaving Annie with a mystery to solve and a murderer to catch.
As much as she transformed herself into the Queen of England, Cate Blanchett turns in an exceptional performance as a psychic awed by her power and as a mother still grieving over the loss of her husband. Even without the supernatural for Blanchett to react to (which for a lesser actor could come across as humorous), her character runs an intense emotional gauntlet throughout the film: fear of Donnie, concern for Buddy and Valerie, physical attraction to Wayne, and a mother lion's protective instinct for her children. Giovanni Ribisi, Greg Kinnear, and Keanu Reeves must also be commended for their work. It's rare to see such honest male vulnerability in any film as each of them confronts a truth about themselves they'd rather not see. From Reeves, this is especially surprising. Whether you love his acting, hate it, or feel indifferent towards it, one thing I've always given him credit for is not restricting himself to certain roles or genres. He's always trying something different, even if the results are mixed. But here in THE GIFT, when Reeves' Donnie holds a plastic doll with a devil's head and tells Annie that it's a voodoo doll he's going to use against her, you believe his combination of rage and fear - and you worry for Annie's safety (I'm sure there are audiences who will laugh when this scene occurs, but the crowd I saw it with watched it in silence). Under the right director and with the right script, Reeves proves his acting chops.
Sam Raimi's films never cease to surprise and entertain me. Whether set in a cabin in the woods, medieval Britain, the Old West, or on a baseball field, he pulls the viewer into the atmosphere and lets them live with the characters. The three Georgia towns he filmed THE GIFT in are both beautiful and creepy in their geography, and his use of light and shadows are so effective, this film could've been shot in black and white and work just as well. Raimi treats Billy Bob Thornton's and Tom Epperson's screenplay with dignity and turns out an effective supernatural thriller in a year that was for the most part disappointing in horror flicks.
The special and visual effects team handling Annie's visions include Vern Hyde (EVIL DEAD II: DEAD BY DAWN, ARMY OF DARKNESS), Scott Mobley, Lisa Reynolds, Syd Dutton (PSYCHO [1998]) and Bill Taylor. With the exception of one or two scenes, the presence of these effects are subtle and flows with the tone of the film. Certain scenes involving ghosts however, may cause some viewers to compare THE GIFT to Robert Zemeckis' WHAT LIES BENEATH. But in my mind, there's no question which is the superior film.
Five shriek girls






This review copyright 2001 E.C.McMullen Jr.