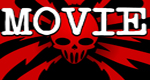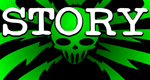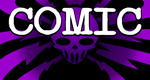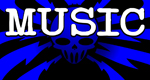 You Support This Site
When You Buy My Books
E.C. McMullen Jr.
PERPETUAL
BULLET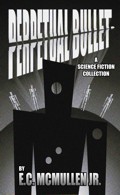 "'Some People' ... may be the standout story in the book."
-

John Grant

, Infinityplus

E.C. McMullen Jr.
WILLOW BLUE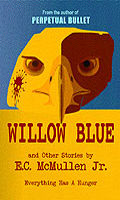 "'Willow Blue' will burrow under your skin and stay there long after you've put the book down."
- Jeffrey Reddick, Creator of
FINAL DESTINATION

IN OTHER BOOKS
E.C. McMullen Jr.'s
short story
CEDO LOOKED LIKE PEOPLE
in the anthology
FEAR THE REAPER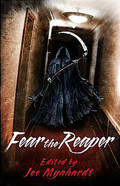 "This Ray Bradbury-esque is one of the most memorable and one of the more original stories I've read in a long time."
- Steve Isaak,
Goodreads

HORROR 201:
The Silver Scream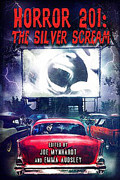 Filmmaker's Guidebook
featuring
RAY BRADBURY,
JOHN CARPENTER,
WES CRAVEN,
TOM HOLLAND,
E.C. McMULLEN Jr.,
GEORGE A. ROMERO,
and many more.

And In
CINEMA


E.C. McMullen Jr.


Head Production Designer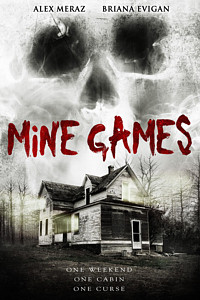 MINE GAMES


(Starring:
JOSEPH CROSS, BRIANA EVIGAN,
ALEX MERAZ)

Dept. head
Special Effects Make-Up
(SFX MUA)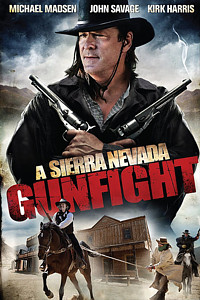 A SIERRA NEVADA
GUNFIGHT
(MICHAEL MADSEN & JOHN SAVAGE).

Production Designer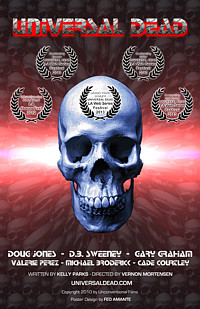 UNIVERSAL DEAD
(DOUG JONES,
D.B. SWEENEY,
GARY GRAHAM)
Review by
Mike Bracken

RAVENOUS

- 1999
USA Release: March 19, 1999
20th Century Fox
RATINGS: Australia: M / Finland: K-18 / France: -12 / Ireland, Spain, UK: 18 / Portugal: M18 / Sweden: 15 / USA: R
I'll admit that I wasn't all that interested in seeing RAVENOUS before it was released. I couldn't tell you why, exactly, but looking back, I think the reasons were two-fold.
First, and most importantly, I didn't believe a Hollywood studio picture dealing with cannibalism would ever be able to rival the classic Italian cannibal movies (CANNIBAL HOLOCAUST, CANNIBAL FEROX, etc.) I couldn't see the MPAA letting anything too graphic or disturbing reach the big screen.It seemed to be a safe bet that we'd see a film robbed of its power and neutered to the point where it was safe for mass public consumption.
Second, the commercials for the film, culminating with that whiny voiced guy screaming "He was licking me!" seemed super cheesy. But, after having a few friends mention that they liked it, I decided to check it out for myself . . . and was pleasantly surprised with the results.
RAVENOUS is one of those "hybrid" kind of films - it's one part horror, one part black comedy, and one part study of human nature. It takes these three disparate elements, mixes them together, and the end result is an uneven film that still manages to work because the whole is greater than the sum of its parts. It's an odd movie full of scenes where you're unsure whether you're supposed to be laughing or screaming, but it works either way, and apparently by design.
Captain John Boyd (Guy Pearce: LA CONFIDENTIAL, MEMENTO) is sent to a remote military outpost in the Sierra Nevada mountains. There, he meets a ragtag assortment of fellow soldiers: Cleaves (David Arquette: BUFFY THE VAMPIRE SLAYER, THE KILLING BOX, SCREAM, SCREAM II) and Toffler (Jeremy Davies: SAVING PRIVATE RYAN), led by Commander Hart (Jeffrey Jones: BEETLEJUICE). Shortly after his arrival, a mysterious stranger named Colqhoun (Robert Carlyle: SILENT SCREAM) wanders into camp telling a tale of travelers stranded in a mountain pass and the lengths they'd gone to in order to survive. Hart and company set out to rescue them, getting more than they bargained for in the process.
Unlike its European counterparts, RAVENOUS chooses to center its cannibalism around the Wendigo myth. Here, man eats man in order to gain his strength, and the effect is like a narcotic - the more one eats, the more he must consume. It plays as an interesting parable about the nature of addiction, but unfortunately, it's not developed as fully as it could have been.
Antonia Bird's direction of the film is competent, with a nice sense of pacing and some beautiful cinematography. Michael Nyman's (BRIMSTONE & TREACLE) score is odd, yet entertaining, managing to add to the overall mood of the film.
The cast is a good one, especially Jones and Carlyle, who manage to steal the movie from star Pearce. Pearce does a fine job as the reluctant hero, yet his character never develops much in the film's second half. To be fair, this is probably more of a problem with first time screenwriter Ted Griffin's script than with Pearce's performance.
All in all, RAVENOUS is an enjoyable little film. Sure, it's not the greatest horror film ever made, but it's far better than the vast majority of genre dreck Hollywood has foisted on us over the past decade. I give it 4 shriek girls.





This review copyright 1999 E.C.McMullen Jr.