Review by
Kelly Parks

ROBOCOP

- 1987
USA Release: July 17, 1987
Orion Pictures Corporation
USA Release: July 17
Rated: USA: R
I'd buy that for a dollar!
It's amazing how a dumb catch phrase can do more for your suspension of disbelief than a multi-million dollar special effects budget.
Robocop was written by Michael Miner (DEADLY WEAPON) and Edward Neumeier (STARSHIP TROOPERS) and directed by Paul "pile-on-the-gore" Verhoeven (TOTAL RECALL, STARSHIP TROOPERS). It opens with a local news show that immediately gives us that near future feel, with mention of news items like a possible nuclear conflict in South Africa followed by a TV commercial for the Jarvik brand artificial heart.
Did they have to go to this kind of trouble? They could have just had text appear on the screen (e.g. "A.D. 2025" or "The Near Future"). But I HATE when movies do that. That's almost as bad as narration. Don't tell me, show me! The futuristic news items and TV spots are sprinkled through out the film and add tremendously to your suspension of disbelief. Nice touch!
And the catch phrase, "I'll buy that for a dollar!" is their decade's "Wassup!" It makes people laugh and everybody says it even though it doesn't really mean anything. This is a very nice touch because of course in every era (in fact in every year) there are fads and things that go in and out of style and TV catch phrases that are funny for about five minutes. This throw away line is so great.
One of the news items concerns the high crime rate in Old Detroit (and the corresponding high fatality rate among the local police). We are told that the Omni Products Corporation (OCP) has recently taken over administration of the police force (not entirely outlandish - there are privately run prisons) and there is friction between OCP and the cops on the street.
Cut to a corporate high rise where three very 80's style yuppies are on their way to an important board meeting. Bob Morton (Miguel Ferrer: DEEPSTAR SIX, NIGHT FLIER) is clearly the alpha male. Conversation makes it clear that Morton and his colleagues are part of the security concepts division of OCP and their boss is Dick Jones (Ronny Cox: THE CAR, TOTAL RECALL, DEEP BLUE SEA). The board meeting concerns the announcement of the readiness of the ED 209. ED (Enforcement Droid) is a combat robot meant for both the military and for "urban pacification". In other words, it will do the job the police haven't been able to. This is important to OCP because they've apparently just received a lucrative contract to rebuild Old Detroit into something called Delta City.
Dick Jones provides the board with an actual demonstration of an ED 209 unit. The formidable droid walks into the room, nearly causing a panic by its appearance alone. Things quickly go wrong, however, when a demonstration of the ED 209's abilities results in the messy death of a young executive. The Chairman of the OCP board tells Dick Jones how disappointed he is and young turk Bob Morton spots an opportunity and goes for it. He tells the old man (Dan O'Herlihy: HALLOWEEN III) that he has an alternate plan ready to go. Dick is furious at being upstaged but there's nothing he can do about it just yet.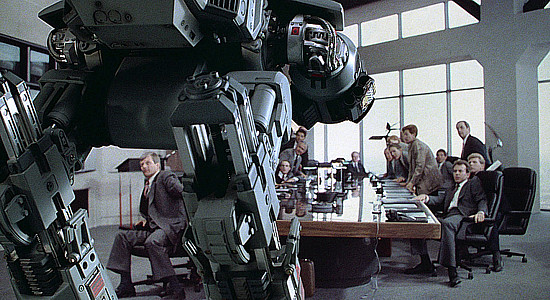 ED 209 is a prototype demonstration model.
Did you HAVE to load it up with live ammunition rounds for an indoor boardroom demo?
You did? Well, Okay then ... I guess.
The alternate plan involves Detroit police officer Alex Murphy (Peter Weller: LEVIATHAN, NAKED LUNCH, SCREAMERS), a new arrival at the city's worst precinct. He and his partner Anne Lewis (Nancy Allen: CARRIE, BLOW OUT) happen to spot a vehicle carrying Detroit's most wanted criminal, Clarence Boddicker (Kurtwood Smith: BOXING HELENA), and his gang. Right away we see part of the problem faced by the local cops, because in spite of finding the most wanted man in town, no back up is available for Murphy and Lewis. The police department is undermanned to say the least.
Having more guts than brains, the two cops follow Boddicker and his gang to his lair and attempt to arrest him. Lewis ends up hurt and Murphy is tortured and murdered.
Well, not quite murdered. He's pronounced dead at the hospital but wakes up an indeterminate time later as Robocop, a heavily armored, heavily armed super-tough cyborg (although I bet the Terminator could take him). His memory has been wiped so he doesn't know he used to be Alex Murphy. What he does know is that he is the property of OCP's security concepts division and has been programmed to fight crime.
And fight crime he does. Criminals are helpless against him and are dispatched mercilessly and methodically. All's well that ends well, right? Of course not! That'd be boring. The situation is complicated by the fact that Dick Jones isn't just a tough executive - he's a murderous criminal and close associate of Clarence Boddicker. He wants revenge on Bob Morton and on Morton's Robocop project. Plus, Murphy / Robocop is beginning to regain bits and pieces of his former identity, allowing him to break free of his programming and think for himself.
Time for a
!!!SCIENCE MOMENT!!!:
It's both interesting and frustrating to compare and contrast this movie, where Verhoeven did an excellent job with all the science leaving me no room for complaints, and his later film, STARSHIP TROOPERS, where everything that could be wrong was wrong. Was ROBOCOP a fluke? I don't know, but I do know that even the implications of the advancements shown are considered, like the fact that if this kind of prosthetic tech existed its use would be widespread, but we already saw evidence for that in the TV commercial for the artificial heart.
And I just have to give kudos one more time for showing social change as well as technological change. So many future based movies are all glittery with high tech but show people listening to the same music, wearing the same styles and having the same attitudes as today. After seeing it done right in this movie, that mistake stands out like a sore thumb everywhere else.
This is an excellent film. The action is non-stop, the story makes sense and the setting is believable and fascinating. I get annoyed by the formula greedy corporation bad guys you see in so many movies but here it works. And the fight scene between Robo and ED 209 is first rate.
I give ROBOCOP a definite five Shriek Girls.






This review copyright 2000 E.C.McMullen Jr.