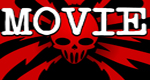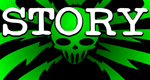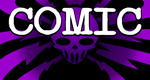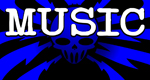 You Support This Site
When You Buy My Books
E.C. McMullen Jr.
PERPETUAL
BULLET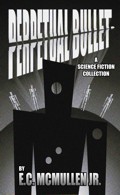 "'Some People' ... may be the standout story in the book."
-

John Grant

, Infinityplus

E.C. McMullen Jr.
WILLOW BLUE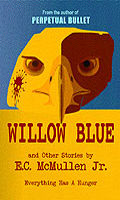 "'Willow Blue' will burrow under your skin and stay there long after you've put the book down."
- Jeffrey Reddick, Creator of
FINAL DESTINATION

IN OTHER BOOKS
E.C. McMullen Jr.'s
short story
CEDO LOOKED LIKE PEOPLE
in the anthology
FEAR THE REAPER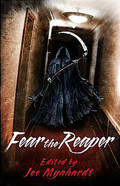 "This Ray Bradbury-esque is one of the most memorable and one of the more original stories I've read in a long time."
- Steve Isaak,
Goodreads

HORROR 201:
The Silver Scream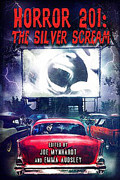 Filmmaker's Guidebook
featuring
RAY BRADBURY,
JOHN CARPENTER,
WES CRAVEN,
TOM HOLLAND,
E.C. McMULLEN Jr.,
GEORGE A. ROMERO,
and many more.



Extensively quoted in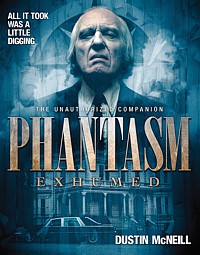 PHANTASM
EXHUMED
The Unauthorized Companion

Robert S. Rhine's
SATAN'S 3-RING
CIRCUS OF HELL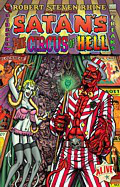 Forward by
GAHAN WILSON &
FEO AMANTE.
Featuring comics by
ALEX PARDEE,
WILLIAM STOUT,
STEVE BISSETTE,
FRANK DIETZ,
JIM SMITH,
FRANK FORTE,
ERIC PIGORS,
MIKE SOSNOWSKI,
OMAHA PEREZ,
DAVID HARTMAN,
STEVEN MANNION,
and more!

And
IN CINEMA


E.C. McMullen Jr.


Head Production Designer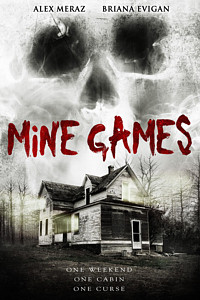 MINE GAMES


(Starring:
JOSEPH CROSS, BRIANA EVIGAN,
ALEX MERAZ)

Dept. head
Special Effects Make-Up
(SFX MUA)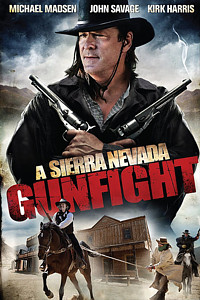 A SIERRA NEVADA
GUNFIGHT
(MICHAEL MADSEN & JOHN SAVAGE).

Production Designer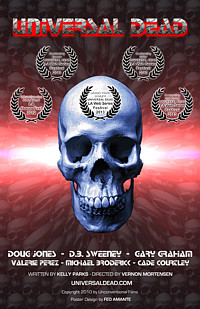 UNIVERSAL DEAD
(DOUG JONES,
D.B. SWEENEY,
GARY GRAHAM)

ART DIRECTOR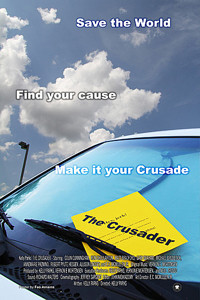 THE CRUSADER
(COLIN CUNNINGHAM,
GARY GRAHAM)
Review by
Ken King

SANTA'S SLAY

- 2005
USA Release: Dec. 20, 2005
Media 8 Entertainment, Rat Entertainment, M8 Production 1, VIP 1 Medienfonds, VIP 2 Medienfonds
Rating: USA: N/A
"I'm Santa Claus, not fuckin' Dracula!"
- Santa Claus
This little holiday gem is worth your time and effort to seek out and add it to your Christmas viewing list from here on out. I did. This movie is just as funny now as the first time I watched it.
If you like your Christmas unconventional, your humor on the dark side, and aren't the easily offended sort where it comes to certain holiday tropes and religious matters, you should have loads and loads of fun with SANTA'S SLAY, written and directed by David Steiman. It's sort of like what you might get if you blended Airplane! with Miracle On 34th Street and mixed it all up with a generous splash of Mel Brooks and the television series, TALES FROM THE CRYPT. It's an absolute hoot and will have you laughing through much of its over-the-top antics and juvenile humor.
You have to a have weird sense of humor to buy a lot of what happens in the movie. If you take things way too seriously when it comes to your entertainment, stop reading now. This isn't the movie for you. This is a gift bag full of non-stop gags and guffaws. So, saddle up, boys and girls, and get ready for a damn good time!
A kid named Nicholas Yuleson (Douglas Smith: HANGMAN'S CURSE, STATE'S EVIDENCE, ANTIVIRAL, PERCY JACKSON: SEA OF MONSTERS, STAGE FRIGHT, OUIJA, THE BYE BYE MAN, TERMINATOR GENISYS, THE BOTTOM OF THE WORLD, THE ALIENIST: ANGEL OF DARKNESS [TV]) works at a local deli with a girl that he is interested in, but doesn't have the guts to ask out, named Mary "Mac" Mackenzie (Emilie de Ravin: BEASTMASTER [TV], ROSWELL [TV], CARRIE [TV], LOST [TV], BRICK, THE HILLS HAVE EYES [2006], HIGH NOON [2009], ONCE UPON A TIME [TV]). It's Christmas Eve and she presents him with various hints that she is as interested as he is at pursuing a serious relationship. Alas, Nick ain't the sharpest tool in the shed, and makes a wallflower like pre-bite Peter Parker, look like Giovanni Casanova by way of comparison.
After their shift ends, Mary takes Nicholas home and I mean home. No parking and topping off the evening with a nightcap and the figurative Yule Log stoking the fireplace for Nicholas, just more of nonsensical survivalist BS, courtesy of his grandfather (Robert Culp: THE OUTER LIMITS [TV - 1963], A COLD NIGHT'S DEATH, A NAME FOR EVIL, OUTRAGE, KILLJOY [1981], SILENT NIGHT DEADLY NIGHT 3, VOYAGE OF TERROR, TIMEBOMB, INNOCENTS, XTRO 3, HALF-LIFE 2 [VG]). Nicholas finally gets the answer he has been seeking all his life: Why does his grandfather not celebrate Christmas?

This point of the movie/story is illustrated much like a stop motion/puppetry Christmas specials of Rankin & Bass Christmas Specials. There were TWO immaculate conceptions, apparently: Jesus being born to the virgin, Mary, by God, Himself, and another, by Satan and another virgin and thus, Santa Claus (Bill Goldberg: AMERICAN SATAN) was born. Santa wasn't the right, jolly old elf of legend that we know and love today, but a demonic force for chaos. One day, an angel makes a bet with Santa dealing with a seemingly easy task that if Santa loses, he must be the Santa that everyone knows and loves. If the angel loses, he has no more powers and remains an earthbound mortal.

Santa loses.

While this is all being explained to Nicholas, Santa has been a busy, busy man. The bet has run its course, and he is out to kick some ass and take some names. What better place to do it than a place called "Hell Township?"
Destruction, murder and lots of bloodshed are left in his wake. Some of this is also accomplished by Santa's "reindeer" a gigantic white buffalo. Santa has more in common with a berserker Viking raiding an unsuspecting village than the Santa we're used to seeing as created by Coca-Cola. He "slays" many a townsfolk in the most ironic of ways. But he has come to Hell Township for more than just finally being let off the hook and allowed to throw down most violently. He has a specific target(s) in mind. Nicholas, his grandfather and Mary, in are in this Christmas Devil's sights. He is there to set some things to rights, and they are the key to doing so.

The three mortals do not make it easy for the evil creature. Grandpa has been preparing for this day and has a bunker that would keep out most things, but for Santa, it is a mere inconvenience.
As with all monsters, be it vampires, aliens, zombies, or madmen, they do eventually get in. Santa is no exception. He confronts his ancient enemy, whose bloodline has been a thorn in his side for long and long. Terrifying though he is, the ones he seeks don't stand idly by and make it easy on the Menace from the North Pole. Snowmobiles are fun things, but they can save your life, as well. A merry chase ensues on treacherous roads and over the snowy landscape outside of Hell Township. At several points, it is uncertain who is going to make it out alive when the pursuit hits a few snags here and there, one of them being a gun club out shooting clay pigeons.

The climax of the chase finds its culmination at an abandoned hockey rink in the high school.
Besides focusing on four specific principle characters, SANTA'S SLAY contains a bunch of cameo's from known stars like,
James Caan (ALIEN NATION, MISERY),
Fran Drescher (SUMMER OF FEAR, DOUBLE NEGATIVE, COLD SWEAT, HOTEL TRANSYLVANIA [all]),
Rebecca Gayheart (SCREAM 2, URBAN LEGEND, FROM DUSK TILL DAWN 3: THE HANGMAN'S DAUGHTER, SHADOW HOURS, DEAD LIKE ME [TV], VANISHED [TV], GREY LADY),
Chris Kattan (HOUSE ON HAUNTED HILL [1999], UNDEAD OR ALIVE: A ZOMBEDY, HOTEL TRANSYLVANIA 2, SHARKNADO 5, AMERICAN NIGHTMARES, THE SOVIET SLEEP EXPERIMENT),
Saul Rubinek (SANCTUARY OF FEAR, AGENCY, DEATH SHIP, THE ANDROID AFFAIR, SYNAPSE, PALE SAINTS, Masters of Horror: THE WASHINGTONIANS, WAREHOUSE 13 [TV]),
Tommy "Tiny" Lister (BARB WIRE, THE FIFTH ELEMENT, WISHMASTER 2, SOULKEEPER, HELLBORN, DRACULA 3000, THE DARK KNIGHT, MONSTER ARK, THE HUMAN CENTIPEDE III, HAUNTSVILLE, 2016, SLASHER PARTY),
and Dave Thomas.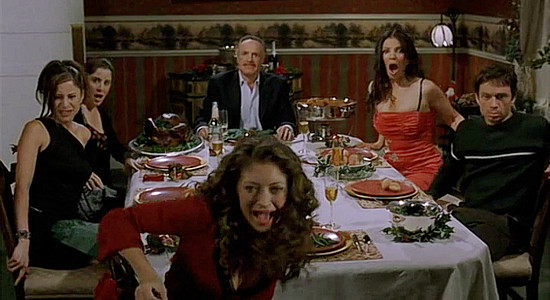 These actors really do nothing to move the plot along, with the possible exception of Thomas's character of Pastor Timmons and to a lesser extent, Saul Rubinek, as Mr. Green, the owner of the deli, but their parts are very memorable. Especially, in the case of Thomas. He is a riot in every scene he is in.
I said in an earlier review that I was sort of over wrestlers and rock stars being cast in parts made for actual actors who had honed their craft to do this very thing, that is, to ACT, in movies, or television. As with everything in life, there are exceptions to every rule. Gene Simmons (RUNAWAY, TRICK OR TREAT), of the band, KISS, immediately comes to mind.

And that brings us around to Bill Goldberg. He plays the best murderous Santa Claus I have ever seen to grace my flat screen. If you want to go for a tamer, Mr. Claus, he most certainly could hold his own against a fair number of them. No doubt about it.
I would recommend watching this as a double feature with another Horror / Comedy film that calls up the Christmas holidays, A CADAVER CHRISTMAS. Though not shot quite the same way, and has no major actors, it is just as insane and whacked-out as SANTA'S SLAY. Your belly will be like Santa's and shaking like a bowl full of jelly. You may experience pain and discomfort and shortness of breath, as well.

FINAL THOUGHTS
I can't think of one instance where I didn't enjoy this movie. There are a couple of places that were a bit on the silly side, but that's to be expected.

Just turn off your brain and watch the craziness unfold. You guys should have a lot of fun with this one.
Four Shriek Girls.





This review copyright 2020 E.C.McMullen Jr.