Interview by
E.C.McMullen Jr.

CSOULD YOU?


TIP JAR




SAW


MOVIE REVIEW

SAW interview with
JAMES WAN &
LEIGH WHANNELL


| | |
| --- | --- |
| | Continued from Page 1 |
| 1 | 2 |
Even if there is another one, it's not going to come out every year anymore. It's kind of melancholy for me.
- Leigh Whannell
James: When SAW went huge in its first wide-release week, we met with Darren and got to talking to him. Evolution agreed to make his movie if he could fold it into the SAW franchise. I always said to Darren that they were willing to give to him the kind of deal they gave us. We believed in our picture. But in the end, while we went for the back end, Darren went for the money up-front. So I'm pretty sure he came onboard just after.
Leigh: So Darren and I worked on the second SAW script.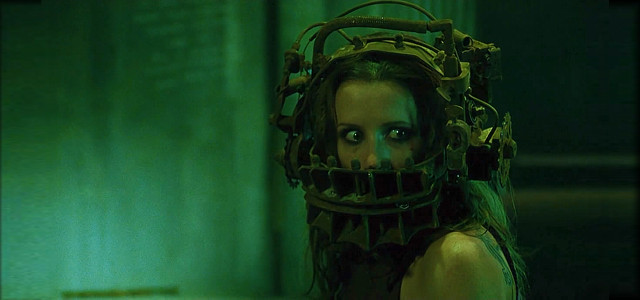 Shawnee Smith
ECM: And you've created or at least reignited the careers of character actors like Tobin Bell, Shawnee Smith...
Leigh: -and Dina Meyer!
James: -and Darren with Costas Mandylor.
Leigh: And our producers. It wasn't just us. A lot of people behind the scenes have nurtured this through the years.
ECM: But you created it. So SAW began this thing that became a cinematic Horror legend. Movies like HALLOWEEN started in the 1970s, but it was in the 80s that a new wave of Horror icons were born or grew. Michael Meyers, Jason of FRIDAY the 13th, A NIGHTMARE ON ELM STREET Freddy. All of those became theater experience icons. HELLRAISER Pinhead became a second tier character because HELLRAISER eventually went direct to video like WISHMASTER. But Jigsaw remains in the forefront.
Leigh: I think you forgot SCREAM there.
ECM: But Ghostface is never the same person. It isn't even carrying on any previous tradition. In SAW, even when Jigsaw is too weak...
James: -or dead!
ECM: ...to carry out his plans, it is still HIS plan that his acolytes are following to the letter, and they'd better! You don't get that with SCREAM.
Leigh: What about CHILD'S PLAY?
ECM: He became a joke with Chuckie.
James: Yeah. That's true.
ECM: So bring us up to 2010. As an iconic Horror figure, SAW stands alone in the new decade. Cinematically, SAW defined the first ten years of the new millennium. How does it feel knowing you created that?
James: The decade started off badly with 9/11. That crushed a lot of people inside. It may have set the stage for Jigsaw. Maybe Jigsaw and what he does connects in some way: Forcing people to appreciate how precious their gift of life is.
Leigh: Realizing the icon that SAW has become with fans, it's kind of hard to get used to. I'll be in LA and see Jigsaw on a billboard and it hits me like a bag of wet sand. It astounds me just how far it's gone.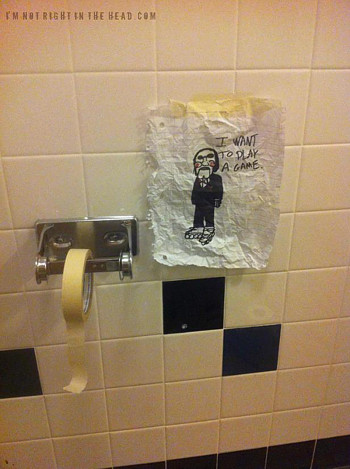 James: Every now and then you kind of forget about it. Then you'll have these moments where someone will make a comment that is SAW related and you realize that you've created a pop culture event that's world-wide. It's great! It's given Leigh and I the chance at film making. I think the big part that made us make SAW the way we made it, was listening to critics deride Horror movies for not having a story and not actually being scary.
ECM: It's the fact that a solid story is actually there, Jigsaw is not another silent killing machine.
Leigh: Jigsaw's mythology brings people back. And I think its going to bring a lot of people back this time because people know this will be the last time. Even if there is another one, its not going to come out every year anymore. It's kind of melancholy for me.
This is practically an entire decade we're talking about here, leaving behind.
James: I think SAW works for people because he's the darker side of human, but he's still human. He's not immortal, monstrous in the physical sense.
Leigh: And there's no easy answers for him in the classical sense. It's something beyond the simple idea of torture porn.
James: It's not all black and white. Unlike Michael Meyers, Jigsaw isn't like a shark, eats and has babies, eats and has babies. Jigsaw sees people as not appreciating their lives. He doesn't have their health, they aren't dying, and they aren't doing anything with their lives.
Leigh: So he takes it upon himself to fix that.
James: It sucks to be around Leigh when he puts himself in the mind of serial killer.
Leigh: Right around the time we were writing SAW, I was getting migraines every day. I had to go to the hospital - I was only 24 at the time. It was weird for me to be so young and start getting worried about what the problem might be. I couldn't believe it. I started wondering if I was going to make it. Here I was, this young with my whole life ahead of me. And with going to the hospital, getting MRIs, that's what got me going with John. I started incorporating my experience into the character of John. Fortunately I had friends and family.
So what if, instead of somebody returning to their family with their problem, some lonely person just snapped? The terminal illness pushed them over the edge? They were already 80% there, and this cancer pushed them over.
James: Leigh found the element, the drive that gave John what he needed to breathe like a believable person.
Leigh: Thanks.
James: So now this is the last SAW film. It's been a big profit maker for Lionsgate.
Leigh: What is Lionsgate going to do now? (laughing) It's been us and Tyler Perry keeping them up. Now that SAW is over, it's all Tyler. What are they going to do?
James: My only problem, and its not a problem really, just something that bugs me, is the whole torture porn label. Jigsaw is too solid and well thought out a character to be labeled like that.
ECM: Some people see something successful and they want to destroy it. Others see something successful and they just don't get it. I'll admit that I don't get the popularity of AVATAR. It's amazing to look at, incredible, but after the special effects, I don't get how people are attaching themselves to the story.
James: But you wouldn't call AVATAR torture porn. There are some influential people out there who use that label as if they want to rewrite the history of what we did.
ECM: Okay, so let's address the Torture Porn bugaboo. Leigh also touched on it a bit.
James: I hate that label, that because a movie is necessarily violent to the story, that makes it torture porn. As if that's all our fans are about.
Leigh: You get the same gore in TV shows with forensics, CSI.
James: But put it on the big screen and it's torture porn.
ECM: I've justifiably used the torture porn label myself.
James & Leigh: Why?
ECM: Not where SAW is concerned. But SAW is so influential that, as movies like ALIEN, TERMINATOR, HALLOWEEN and SCREAM, had their ton of rip-off movies after them, so untalented hacks watch SAW and say, "I can do that!" And they make a worthless piece of crap. THEY have a bad guy who is imprisoning people so he or she can play a game with them or experiment on them. But all the whole movie is about is "Eek! Eek! Let me go!" and "Muh! Ha! Ha! I'm going to play a game with you!" All of the characters are pathetic jokes, the motivations are witless, and the whole movie is a tedious shot of Nyquil.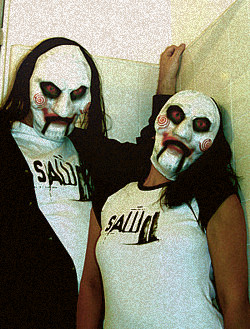 At home with the Amantes
James: Yeah.
Leigh: Yeah. I can understand that.
ECM: And every year they send me screeners by the hundreds.
Leigh and James laugh.
REP: Guys. I have to cut in here. You've gone about 20 minutes over your slot.
James: Really?
ECM: Awww!!!
Leigh: Ah well.
ECM: It was great talking to you guys. Have fun!
James: Have fun, Feo!
Leigh: Thanks!


END
This review copyright 2010 E.C.McMullen Jr.