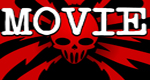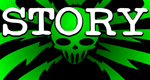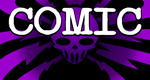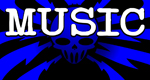 You Support This Site
When You Buy My Books
E.C. McMullen Jr.
PERPETUAL
BULLET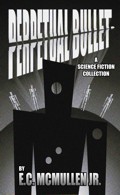 "'Some People' ... may be the standout story in the book."
-

John Grant

, Infinityplus

E.C. McMullen Jr.
WILLOW BLUE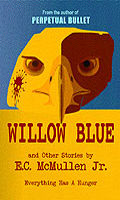 "'Willow Blue' will burrow under your skin and stay there long after you've put the book down."
- Jeffrey Reddick, Creator of
FINAL DESTINATION

IN OTHER BOOKS
E.C. McMullen Jr.'s
short story
CEDO LOOKED LIKE PEOPLE
in the anthology
FEAR THE REAPER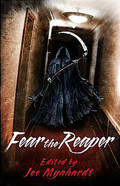 "This Ray Bradbury-esque is one of the most memorable and one of the more original stories I've read in a long time."
- Steve Isaak,
Goodreads

HORROR 201:
The Silver Scream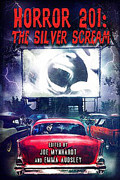 Filmmaker's Guidebook
featuring
RAY BRADBURY,
JOHN CARPENTER,
WES CRAVEN,
TOM HOLLAND,
E.C. McMULLEN Jr.,
GEORGE A. ROMERO,
and many more.



Extensively quoted in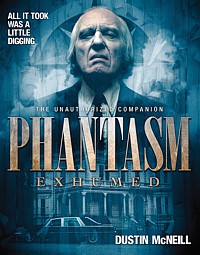 PHANTASM
EXHUMED
The Unauthorized Companion

And In
CINEMA


E.C. McMullen Jr.


Head Production Designer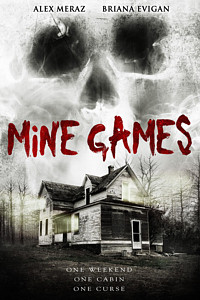 MINE GAMES


(Starring:
JOSEPH CROSS, BRIANA EVIGAN,
ALEX MERAZ)

Production Designer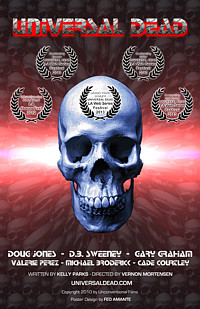 UNIVERSAL DEAD
(DOUG JONES,
D.B. SWEENEY,
GARY GRAHAM)

Art Director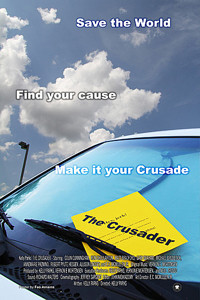 THE CRUSADER
(COLIN CUNNINGHAM,
GARY GRAHAM)
Review by
E.C. McMullen Jr.

DR. PHIBES RISES AGAIN!

- 1972
USA Release: July 1972
American International Pictures / MGM
Rated: Australia: M / Finland: K-18 / Germany: 16 / Sweden: 15 / U.K.: 18 / USA : PG-13 (Re-rated)
A narrator gets us up to speed from THE ABOMINABLE DR. PHIBES to this one. Though only an actual year passed between the surprise hit of 1971 and its sequel, many years have passed in story time.
Now Dr. Anton Phibes (Vincent Price: THE FLY, THE HOUSE ON HAUNTED HILL, THE TOMB OF LIGEIA, THE ABOMINABLE DR. PHIBES, EDWARD SCISSORHANDS) clockwork machinery brings him out of his chemically induced slumber.
Why now? The stars are right, a cosmic event is coming, and when it does, the secret of restored health and immortality await in Egypt.
Dr. Phibes has spent loads of money having an underground fortress created to assist him in his travel from this world to the next along a secret river of life.
Speaking of assist, Dr. Phibes has but to utter her name and his loyal servant, the silent and mysterious Vulnavia (Valli Kemp*), appears as if a summoned demon.
All Dr. Phibes needs now is the secret papyrus he kept in his safe upstairs. But when he and Vulnavia ascend, Phibes discovers to his outrage that his home has long been destroyed and his safe empty.
Only one person on earth would have known the value of that papyrus! Only one person would have taken it: Beiderbeck!
Actually Darius Beiderbeck (Robert Quarry: A KISS BEFORE DYING, COUNT YORGA: VAMPIRE, THE RETURN OF COUNT YORGA, DEATHMASTER, SUGAR HILL, THE MIDNIGHHT MAN, MADHOUSE, THE PHANTOM EMPIRE, SEXBOMB, HYBRID) had nothing to do with taking it. It was discovered along with some other stuff by scavengers. They sold it for junk, it exchanged hands through the trinket shops, and Biederbeck stumbled across it and understood it for what it was. So though Beiderbeck did nothing to earn Phibes wrath, he's the focus of it all the same.
Beiderbeck is away from home when Phibes murders his way through his house and obtains the papyrus.
This looks like a case for Scotland Yard!
Detective Trout (Peter Jeffrey: THE ABOMINABLE DR. PHIBES, THE ODESSA FILE, DEADLY STRANGERS) is on the case and as usual, a day late and a dollar short.
Beiderbeck is uncooperative. He cares nothing for the wasted lives of his dead staff, he only wants the papyrus. Find the papyrus and you'll find the culprit. But find the papyrus first!
Dr. Phibes books a ship voyage to Egypt. Beiderbeck, who spent enough time translating the papyrus, books passage on the same boat and brings his mostly silent fiance Diana Trowbridge (Fiona Lewis: Dan Curtis' DRACULA, TINTORERRA: KILLER SHARK, THE FURY, STRANGE BEHAVIOR, STRANGE INVADERS) along. Dr. Phibes murders his way to Egypt and, in his inimitable way, leaves a bizarre trail that points the finger of suspicion at him and only him.
So Detective Trout and Superintendent Waverley (John Cater: CAPTAIN KRONOS: VAMPIRE HUNTER, ROOM 36, ALIEN AUTOPSY [2006]) chase Phibes to Egypt. Beiderbeck has no idea that he is a target of Phibes, but Phibes is all too aware of Beiderbeck. Phibes must spend his time hiding from Beiderbeck, and being foiled by the man stumbling over everything Phibes waited so long to put into action.
As with THE ABOMINABLE DR. PHIBES, Co-writer and Director Robert Fuest (THE ABOMINABLE DR. PHIBES) stokes the satirical humor that runs through DR. PHIBES RISES AGAIN!, and it is arid extra dry. If nearly non-stop puns, both verbal and visual are not your thing, you'll likely hate this movie. If you object to women being treated as nothing more than servants, objects, and things instead of people, you'll likely hate this movie. I can't figure out why that was a running theme through both movies but there it is. Ostentacious setups are created to reach a corny punchline. While the sets are lavishly appointed with Art Deco styling, the overall cheapnis is jarring. The opening scene with Phibes clockwork musicians clearly shows real actors wearing masks. For whatever reason, no attempt was made in the opening scenes to merely cover their eyeholes with black cloth (which happens later).
Peter Cushing (THE CURSE OF FRANKENSTEIN, THE ABOMINABLE SNOWMAN, HORROR OF DRACULA, THE REVENGE OF FRANKENSTEIN, THE MUMMY [1959], THE BRIDES OF DRACULA, NIGHT CREATURES, DALEKS INVASION EARTH, SCREAM AND SCREAM AGAIN, TALES FROM THE CRYPT, SHOCK WAVES) and Terry-Thomas (MUNSTER GO HOME!, THE ABOMINABLE DR. PHIBES, THE VAULT OF HORROR) make welcome cameos in the picture, and overall DR. PHIBES RISES AGAIN! is a good time. The series ended with the second movie and on a reasonably high note (for the expectations already created). I'm glad to know that Samuel Z. Arkoff and James H. Nicholson decided not to continue running sequels out to their bitter end.
Three Shriek Girls




This review copyright 2012 E.C.McMullen Jr.