Review by
E.C.McMullen Jr.

THE COMEDY OF TERRORS

- 1963
USA Release: Jan. 22, 1964
American International Pictures, Alta Vista, MGM
Ratings: USA: N/A
At a solemn, silent funeral the grieving family walks away. As soon as the dour procession is gone, the two undertakers, Mr. Felix Gillie (Peter Lorre: TALES OF TERROR, THE RAVEN) and Trumball (Vincent Price: THE FLY, THE RETURN OF THE FLY, THE HOUSE ON HAUNTED HILL, THE TOMB OF LIGEIA, THE LAST MAN ON EARTH, THE ABOMINABLE DR. PHIBES, DR. PHIBES RISES AGAIN!, EDWARD SCISSORHANDS), dump the body into the grave, clean the coffin off, bury the body, and go on their way.
Written by Richard Matheson and Directed by Jacques Tourneur, THE COMEDY OF TERRORS was a vehicle for a number of aging actors whose heyday was at least 20 years before. But Executive Producers James H. Nicholson and Samuel Z. Arkoff (with a lot of help from Roger Corman) had reignited Price's career, and more than a few aging actors were interested to see if the same could come to them. The 1960s was a very good time to be closely associated with Vincent.
The alcoholic Trumball fights with his wife Amarylis (Joyce Jameson: TALES OF TERROR, DEATH RACE 2000) and taunts his Father-in-Law Mr. Hinchley (Boris Karloff: FRANKENSTEIN, THE BRIDE OF FRANKENSTEIN, SON OF FRANKENSTEIN, ISLE OF THE DEAD, BEDLAM, HOUSE OF FRANKENSTEIN, TALES OF TERROR, THE RAVEN, BLACK SABBATH). The point of the fight and the problem is that the Hinchely and Trumball funeral business is failing. Only one death in the last nine months in their town. That brings up the matter of rent. Mr. Trumball is a year late and his Landlord, Mr. John F. Black (Basil Rathbone: SON OF FRANKENSTEIN, TALES OF TERROR) makes it clear that he will bring legal action in the next two days.
Trumball and Gilly are associates, not friends. Trumball, evil to everyone, holds Mr. Gilly in place (practically as a slave) because Gilly is a convicted thief. Trumball harbors the fugitive and provides him an alternate identity. But the price is Mr. Gilly having to do whatever Mr. Trumball wants, and Trumball wants to bring in more customers. There's only one way to do that in a town with such a low death rate. At night they go out to drum up business.
There's a wealthy old man, Mr. Phipps, who lives in a mansion outside of the town. If they can get to him before any other funeral home does, they get the body and the payment for services. Trumball is out to guarantee it.
During a housebreak, it becomes apparent why the bumbling Mr. Gilly was caught and convicted.
The plot against the wealthy old man goes well, but the monetary outcome from the widow Mrs. Phipps (Beverly Hills) doesn't go quite as planned.
It's time to go back out and try again.
As Mr. Black's threat draws near, Trumball is surprised that he didn't think of it sooner. Why not kill the widower Mr. Black? Two birds with one stone?
This time it's Mr. Gilly's turn to commit the crime. As Gilly soon discovers, Mr. Black is loony as a bed bug, and in an unexpected confrontation with the intrusive Gilly, Mr. Black apparently dies from a heart attack.
Now Mr. Trumball will both be free of any legal action against him, plus have the bonus of being paid to inter the body of Mr. Black.
Again, things don't go as planned.
"I've never had so much trouble from a client!"
As Mrs. Trumball trills in shrill glass shatter tones, the funeral proceeds for Mr. Black, and Mr. Hinchley dodders through the speech.
"My friends, we have gathered ourselves together within these boundary walls, to pay homage to... what's his name."
To Mr. Trumball's great sorrow, Mr. Black is to be interred in a crypt and not the ground. Which means that the coffin that they've used for only 13 years will have to stay with the body.
Still, and at long last, income makes everyone happy again. The outstanding debt is gone, there is ample coin. But of course, all is far from well. Wealth hasn't made Mr. Trumball any less toxic, only happier to spread his poison around.
Written by Richard Matheson and Directed by Jacques Tourneur, THE COMEDY OF TERRORS is the kind of droll comedy that elicits everything from smiles to outright laughter, depending on the person. THE COMEDY OF TERRORS isn't for everybody. The siren howling Joe. E. Brownt shtick is particularly aged and unfunny (was it ever funny? And why?) but the movie might be for you.
Three Shriek Girls.




This review copyright 2012 E.C.McMullen Jr.
LOVE THIS SITE?
Support it when you buy my books

E.C. McMullen Jr.
PERPETUAL
BULLET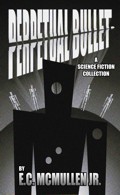 "'Some People' ... may be the standout story in the book."
-

John Grant

, Infinityplus

E.C. McMullen Jr.
WILLOW BLUE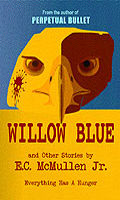 "'Willow Blue' will burrow under your skin and stay there long after you've put the book down."
- Jeffrey Reddick, Creator of
FINAL DESTINATION

IN OTHER BOOKS
E.C. McMullen Jr.'s
short story
CEDO LOOKED LIKE PEOPLE
in the anthology
FEAR THE REAPER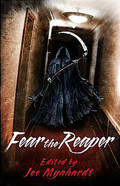 "This Ray Bradbury-esque is one of the most memorable and one of the more original stories I've read in a long time."
- Amazon Review

HORROR 201:
The Silver Scream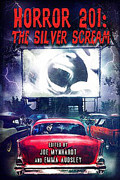 Filmmaker's Guidebook
featuring
RAY BRADBURY,
JOHN CARPENTER,
WES CRAVEN,
TOM HOLLAND,
E.C. McMULLEN Jr.,
GEORGE A. ROMERO,
and many more.



Extensively quoted in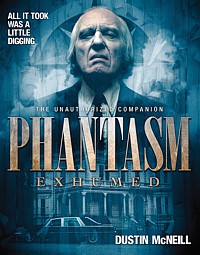 PHANTASM
EXHUMED
The Unauthorized Companion

Robert S. Rhine's
SATAN'S 3-RING
CIRCUS OF HELL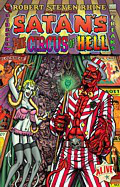 Forward by
GAHAN WILSON &
FEO AMANTE.
Featuring comics by
ALEX PARDEE,
WILLIAM STOUT,
STEVE BISSETTE,
FRANK DIETZ,
JIM SMITH,
FRANK FORTE,
ERIC PIGORS,
MIKE SOSNOWSKI,
OMAHA PEREZ,
DAVID HARTMAN,
STEVEN MANNION,
and more!

Also
IN CINEMA
E.C. McMullen Jr.
Head Production Designer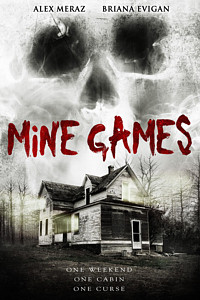 MINE GAMES


(Starring:
JOSEPH CROSS, BRIANA EVIGAN,
ALEX MERAZ)