RESIDENT EVIL: EXTINCTION
- 2007
Constantin Film Produktion GmbH [de] / Davis Films / Impact Pictures / Intermedia Films [uk] / New Legacy [us]
Rated: Finland: K-18 / France: -12 / Germany, Switzerland: 16 / Singapore: NC-16 / UK: 15 / USA: R
Let me tell you right from the start that RESIDENT EVIL: EXTINCTION is the best of the three movies! Now you can take that at face value or you can ask the obvious question, which is: "Okay, so how did you feel about the first two then?
I thought RESIDENT EVIL was "hack, uninspired, cliché ridden, a rip-off of what has gone before and BEEN done better."
I thought RESIDENT EVIL: APOCALYPSE was "A wasteful piece of shit." I may have used all caps in that one, that's how much I hated it.
So now we have context. The script for RESIDENT EVIL: EXTINCTION suffers from the same problems as the first two and for the same reason: it was written by Paul W.S. Anderson - who can't write. All Paul can do - all Paul has ever done - is cut and paste. Paul can direct though. He's a great action movie director in my opinion. But Paul didn't direct this one. Russell Mulcahy (RAZORBACK, HIGHLANDER, THE SHADOW, RESURRECTION) did and he did an amazingly good job. Mulcahy has had a spotty career, but one thing I've noticed is that there is a running thread of bizarro running through his movies regardless of who is writing them. Actor Christopher Lambert wrote RESURRECTION for crying out loud. And though it was a stark staring rip-off of SE7EN, Mulcahy made it entertaining. Oddly enough, I pretty much feel about Mulcahy as I do about Anderson. They are two really good directors just needing a good script. It doesn't even have to be a great one - just a good one. ALIEN VS. PREDATOR was pretty good, but then, Anderson had help in his writing from the original creators of ALIEN, Dan O'Bannon and Ronald Shusett (that cut-and-paste again). But for RESIDENT EVIL: EXTINCTION, Anderson took all the writing tasks to himself and hoo, does it show.
RESIDENT EVIL: EXTINCTION starts off well with one of the (cut-and-paste) beginnings in the first RESIDENT EVIL (it had about four). Alice wakes up in a shower and doesn't know why. She travels through the house only to discover that it is an underground hospital lab thing of some sort. There are various traps and the scene nearly ends well, giving me hope. Except for the obvious 'DAY OF THE DEAD' riff.
Then comes the voice of Milla Jovovich (RESIDENT EVIL [all], ULTRAVIOLET) telling us the long and drawn out shenanigans of the cartoon evil Umbrella Corporation. Seems they made this virus, see? And this virus could not only infect all living matter, it could also infect all dead matter, like good topsoil, and even infect just matter - turning the entire world into a desert. The virus even infected non-living water molecules (how did a virus infect a molecule thousands of times smaller than itself?), somehow drying up the entire earth! That is one amazingly magical virus!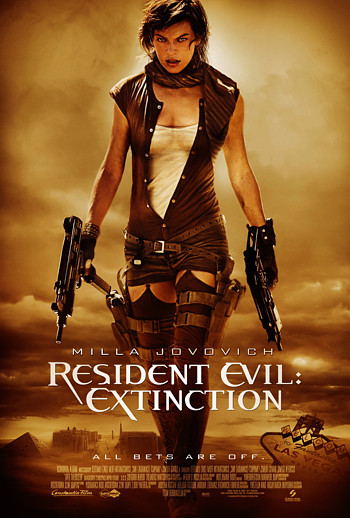 REVENGE COMES TO TOWN WEARING - I KID YOU NOT - GARTERS.
THAT'S CAMPY, BUT THE FILM MAKERS ARE SERIOUS.
MILLA ACTUALLY THINKS THESE MOVIES MAKE A STATEMENT.
There are some survivors still left in this desert world without water where people live like MAD MAX.
In fact, there is a caravan of survivors a la THE ROAD WARRIOR, who go from town to town scavenging for cans of food a la LAND OF THE DEAD.
Meanwhile, Alice is on the road, driving through the wasteland like she's heading to somewhere BEYOND THUNDERDOME. She rides a motorcycle wearing, of all things, garters! I'm sure someone must have thought this looked so cool, but seriously, GARTERS? I don't want to hear anyone complain again about how Lara Croft is dressed ever again. It makes a lot more sense to wear shorts and a tank top in the sweltering jungle than it does to wear garters as part of your desert garb.
The caravan of oddball survivors run into some trouble with Alfred Hitchcock's THE BIRDS, and Alice shows up in time to pull a telekinetic (a pyrotechnic?) FIRESTARTER. Soon they are all talking about a paradise where nothing bad is around. A paradise in Alaska that they can drive to - like in THE ROAD WARRIOR. Alice meanwhile, meets up again with Carlos Olivera (Oded Fehr: THE MUMMY (1999), THE MUMMY RETURNS, RESIDENT EVIL: APOCALYPSE). Things never really gel between the two other than a "Where ya been?" The leader of the survivor caravan, Claire (Ali Larter: HOUSE ON HAUNTED HILL [1999], FINAL DESTINATION, FINAL DESTINATION 2, HEROES [TV]) is unsure of Alice at first, wondering if she is going to take over the survivors. There is a hint that Alice just might, but this is never explored.
Meanwhile, the Evil Scientist (some might say Mad Scientist) Dr. Isaacs (Ian Glenn: PARANOID, LARA CROFT: TOMB RAIDER, DARKNESS, RESIDENT EVIL: APOCALYPSE) discovers that the original Alice is still alive. So he tells his bosses, the evil Umbrella Corporation. Why? Because he's just that evil! They've been making clones of her, you see, but they'd really like to get their hands on the original. Dr. Isaacs has been trying to make the mutagenic virus workable, including the creation of his own "Bub" and bringing in more zombies from outside than the company allows for. Gee... where HAVE I seen that before? Ahem! Anyway, the Evil Umbrella Corporation has established satellite contact with Alice's brain! In addition to being a human, Alice is also a robot - it would seem. They can see everything she sees and set up a zombie trap for her.
If you haven't noticed by now, there is nothing too hack for Paul Anderson and every Horror movie cliché is trotted out with the exception of the jumping cat and the hand on the shoulder. Because there is nothing scary in this movie it uses a relatively new cliché that is already getting old real fast: the sudden sound! This can be anything from a light switch being ridiculously loud (KA-CHUNK!), to static electricity (KA-ZAP!) to merely a very loud musical sting (TAH! DAH!) hitting the soundtrack for no apparent reason. Worn out tropes also include the
!!!UNFAIR RACIAL CLICHÉ ALERT!!!:
A friend asked me if I'd seen this movie and I told him a bit about it, mentioning the UNFAIR RACIAL CLICHÉ. My friend has never been happy with the URCA as he holds to the belief that characters who die in movies, just happen to die! It has nothing to do with their skin color - it's chance!
Read the rest of the UNFAIR RACIAL CLICHÉ ALERT/Resident Evil: Extinction. But beware! Thar be spoilers!
Still, what Paul Anderson writes and what he and his long time producer partner Jeremy Bolt produce is not the same as what Russell Mulcahy directs, and Russell has directed a winner despite the crappy unscary script. That makes this the first in the series to get Three Shriek Girls.




This review copyright 2007 E.C.McMullen Jr.
THE UMBRELLA!
(Looks just like You Know What from You Know What!)
RESIDENT EVIL 6
(PS3)
RESIDENT EVIL: REVELATIONS
(Nintendo 3DS)

THE RESIDENT EVIL COLLECTION
(Blu-Ray: all 5 movies)

RESIDENT EVIL CANDY TIN

DVD


BLU-RAY

RESOURCES
These links open separate browser windows.
See Milla go bananas on her own website! Jovovich's uneducated view of the world is hysterical! As in an over-the-edge kind of hysteria. My favorite quote:
"I wish all animals would go extinct, just so their torture here on earth - which doesn't have any place for them anymore now that humans have proliferated at such incomprehensible speeds - would be finished"
Enjoy her cry for help at
MillaJ
---
RESIDENT EVIL
"Starving"
with the
VGCATS
RESIDENT EVIL
"Stars & Sars"
with the
VGCATS
---
RESIDENT EVIL
with
MOVIE-COMICS
E.C. McMullen Jr.'s


short story
CEDO LOOKED LIKE PEOPLE
appears in the anthology


FEAR THE REAPER




ALSO FROM


E.C. McMullen Jr.


a collection of previously published short stories in


PERPETUAL BULLET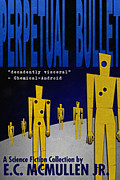 "E.C. McMullen Jr's 'Some People' ... may be the standout story in the book."
- John Grant, Infinityplus



AVAILABLE AT


Amazon,
Barnes & Noble,
Diesel,
iTunes, KoboBooks,
Smashwords,
Sony,

and


WHSmith