The
UNFAIR RACIAL CLICHÈ ALERT
by
Decade
The
RACIAL RESPONSE
UNFAIR


RACIAL
CLICHE


ALERT
!SPOILERS AHEAD!
THE UNFAIR
RACIAL CLICHÉ ALERT
Deadicated to Scatman Crothers
1900 - 1960 - 1970 - 1980 - 1990 - 2000 - 2006 - 2009
101 coincidences and counting!
For a complete explanation of what this page is about, please go to the
UNFAIR RACIAL CLICHÉ ALERT
main page.
"Along with me I'm gonna need a scientist, an engineer, and of course, a black person to sacrifice himself in case something goes wrong."
- Eric Cartman, SOUTH PARK, season 9, Cartman's Hippie Exit Strategy 2006
| | | |
| --- | --- | --- |
| HORROR/THRILLER | HOLLYWOOD THRILLER | NON-HOLLYWOOD HORROR |
BE ALERT FOR THESE TITLES OF
2000 - 2005
THE 6TH DAY
- 2000
Columbia Pictures / Tri-Star Pictures / Sony Entertainment
HORROR/THRILLER
Screenplay: Cormac Wibberley, Marianne Wibberley
Director: Roger Spottiswoode
Producers: Arnold Schwarzenegger, Jon Davison, Mike Medavoy
This movie is a grey area UNFAIR RACIAL CLICHÉ ALERT, so I'll let you make the call. There are only two black people in this picture. Both of them are men and both are bad guys. Arnold kills one, Vincent the assassin (
Terry Crews
), but merely beats the other unconscious. So he kinda survives - at least until Arnold blows up the whole building with the unconcious guy in it - which just goes to show that the new Arnold is becoming gentler in his old age.
I realize that the black man he beat unconscious might have been killed by the blow. I also realize that the potentially unconscious man might have woke up and fled the building before it exploded. The movie never shows either scenario - it didn't matter to the storyline. Like I said, a grey area.
HOLLOW MAN
- 2000
Columbia Pictures / Tri-Star Pictures / Sony Entertainment
HORROR/THRILLER
Screenplay: Gary Scott Thompson, Andrew W. Marlowe
Director: Paul Verhoeven
Producers: Alan Marshall, Douglas Wick
There are a number of survivors in this movie, but the only token black character, Janice Walton (
Actor Mary Randall
) ain't one of them.
DRACULA 2000
- 2000
Dimension Films
HORROR / THRILLER
Screenplay: Joel Soisson, Patrick Lussier
Director: Patrick Lussier
Producers: Joel Soisson, W.K. Border
There are many minorities in this movie with major roles. They are all bad people and they all die. As befitting the DRACULA legend, the Big D makes his three brides. The two blonde haired blue-eyed brides were innocent victims who were turned bad by Dracula. The third one, Solina (
played by Jennifer Esposito
) is dark-skinned and was a bad person even before she was turned.
Despite the many minorities, only white survivors at the end.
JURASSIC PARK III
- 2001
Amblin Entertainment / Universal Pictures
HORROR / THRILLER
Screenplay: Peter Buchman, Alexander Payne, Jim Taylor
Director: Joe Johnston
Producers: Larry J. Franco, Kathleen Kennedy
The only black man in the whole movie is Nash (
Bruce A. Young
), who dies right fast. There are also two Latino actors (
one of whom is long time character actor Julio Oscar Mechoso - Nicolas
) in the movie as well. They are the very FIRST characters to die. It's all in keeping with the standards set by the first Jurassic Park. Only well-to-do white characters survive, same as all the Jurassic Park movies.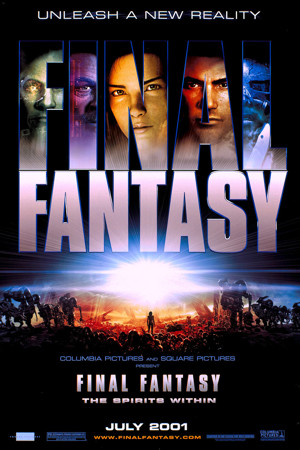 FINAL FANTASY: THE SPIRITS WITHIN
~
- 2001
Columbia Pictures
HORROR / THRILLER
Screenplay: Hironobu Sakaguchi, Al Reinert, Jeff Vintar, Jack Fletcher
Director: Hironobu Sakaguchi, Motonori Sakakibara
Producers: Jun Aida, Chris Lee, Akio Sakai
I originally didn't include FINAL FANTASY in the line-up because there is a minor 3D Computer Animated Figure who is black and lives. Many emails later, and with another viewing, I have to admit: The only surviving black character in the film would be considered a quick walk-on or minor role in a live-action movie, so here we go:
This is an animated movie, right? Made in Japan about the U.S. in the future, right? And they STILL kill off the only major black character! (
He dies nobly though, saving the light skinned couple
) They kill off the cgi animated characters and leave only white survivors! Was this done because the Japanese film makers presumed that, "Since this movie is about the USA, when in Rome...?"

Who knows? Not just white survivors this time though - there is a white "character" but she has an Asian sounding name who also survives. Hey, I don't want this to be a total spoiler!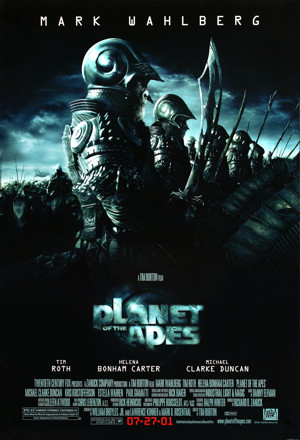 PLANET OF THE APES
- 2001
20th Century Fox
HORROR/THRILLER
Screenplay: William Broyles Jr., Lawrence Konner, Mark Rosenthal
Director: Tim Burton
Producer: Richard D. Zanuck
Tim Burton continues the fine tradition of the first Planet Of The Apes by killing off every black actor who has any appreciable camera time.

"But wait," you say. "Actor Michael Clarke Duncan is in the movie and he doesn't get killed!"
Yes, but Duncan isn't playing a black man, he's playing a black gorilla! And unlike the first Ape movies, he isn't in charge either, but led around by the smaller and light skinned chimpanzee, Tim Roth.
THE FORSAKEN - 2001
Redline Studios
HORROR
The only black person, Cym (Phina Oruche) is also an evil vampire, so guess what happens to her? She gets a shotgun shoved in her face and her head blown off in glorious slow motion, brain splattering, blood spraying, flesh flapping color! The white blonde vampire girl is an innocent and thus saved!
QUEEN OF THE DAMNED
- 2002
Warner Brothers
HORROR
Screenplay: Scott Abbott, Michael Petroni
Director: Michael Rymer
Producers: Jorge Saralegui
Like in the first movie of this series, INTERVIEW WITH THE VAMPIRE, all the black people or even swarthy people are killed off. Only the whitest of the white vampires survive. Only white survivors.
RESIDENT EVIL
- 2002
Constantin Film Produktion, Davis-Films, Impact Pictures, New Legacy
HORROR
Screenplay: Paul W.S. Anderson
Director: Paul W.S. Anderson, Chris 'Flimsy' Howes
Producers: Paul W.S. Anderson, Jeremy Bolt, Bernd Eichinger, Samuel Hadida
First, mullatto actress Indra Ové's (
also dies in INTERVIEW WITH THE VAMPIRE
) character of Ms. Black gets decapitated. Then this movie cuts the only black guy (
Colin Salmon
) in the entire flick up into bite-sized pieces. They save the Hispanic woman (
Michelle Rodriguez
) for last, but at least she DOESN'T die while trying to nobly save the white couple. She dies while trying to KILL them! Only white survivors at the end: one mutating.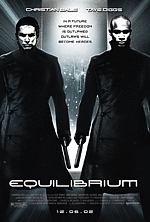 THE NEW FACE OF CLUB BOUNCERS
EQUILIBRIUM
(2002)

THRILLER
Dimension Films
Screenplay: Kurt Wimmer
Director: Kurt Wimmer
Producers: Jan De Bont, Lucas Foster
Yet again, not including background people or brief walk-ons, there is only one racial minority character and he gets killed! Brandt (Taye Diggs) is the only black guy in the movie who speaks. He wants the white guy's job, and he is the lap dog of the evil white guy.

Will he "Join the revolution?"
Will he "See the light?"
Only the light he goes towards after his face is cut off.
DREAMCATCHER
- 2003
Warner Brothers
HORROR
Screenplay: William Goldman, Lawrence Kasdan
Director: Lawrence Kasdan
Producers: Lawrence Kasdan, Charles Oku
As always, not including background people or brief walk-ons, there is only one racial minority character and he gets killed! Colonel Kurtz (
Morgan Freeman
) has a shootout showdown with a white guy and dies. Granted, he's the bad guy and I've got no problem with that. But again, why does the ONLY non-white guy in the movie ALSO have to be the bad guy AND get killed? I mean, we got lots of survivors. Tons of survivors, it's just that they are all white!
GHOST SHIP
- 2003
Warner Brothers
HORROR
Screenplay: Mark Hanlon, John Pogue
Director: Steve Beck
Producers: Gilbert Adler, Joel Silver, Robert Zemeckis
Some people write to tell me that the UNFAIR RACIAL CLICHÉ ALERT shouldn't apply if there is only one survivor and that person just "happens" to be white.
JUST HAPPENS TO BE WHITE?
Do you think scripts, casting, production, and the tons of meetings that accompany every movie all occur by CHANCE? Do you think that screenplays are merely BORN with a random twining of DNA so that, however they end JUST HAPPENS TO BE how they end? I have to ask these people: Are you that freakin' thick skulled? Or are you just utterly incapable of paying attention here? If your story/film calls for X amount of non-whites and you've only written one survivor in there and you've decided that the survivor will be white then you just wrote, cast, and directed the non-whites in BODY COUNT ROLES! It DIDN'T happen by chance! You and your decision making people decided that white people and ONLY white people are able to survive the odds. That all non-whites, however noble you make them out to be, are better off dead! And you want your audience to SEE that.
It wasn't just a FREAK ACCIDENT, it was intentionally written, cast, and directed that way! How many times does this have to be repeated before folks get it? Well, 54 times and counting so far! And by the way, GHOST SHIP gets the UNFAIR RACIAL CLICHÉ ALERT because actor Isaiah Washington's character of Greer and Alex Dimitriades character of Santos DIE! They were specifically cast in GHOST SHIP to DIE! This is not to say that white people didn't die, but by the time the credits roll, only the white race, the Caucasians, are represented as people CAPABLE of surviving the odds! This is not to say I didn't like the movie (which, in fact, I do. A pretty scary story - worth checking out.). Some of my "favorite films" have the UNFAIR RACIAL CLICHÉ ALERT.
To be fair, this is the first film from Dark Castle Entertainment to get the UNFAIR RACIAL CLICHÉ ALERT. THE HOUSE ON HAUNTED HILL and THIR13EN GHOSTS did not. If GHOST SHIP was part of a trilogy or connected series of movies and the RACIAL CLICHÉ didn't occur in some of them, I'd remove the entire series from the list. I've got no problem if sometimes they do and sometimes they don't. Like reality, life is a chancy thing, and even though movies are in no way intended to be reality, they are intended to reflect reality, suspend disbelief, and not have the kind of sloppy storytelling template of racist overtones that the UNFAIR RACIAL CLICHÉ ALERT represents.
TERMINATOR 3: THE RISE OF THE MACHINES
- 2003
Warner Brothers
HORROR / THRILLER
Screenplay: John D. Brancato, Michael Ferris, Tedi Sarafian
Director: Jonathan Mostow
Producers: Matthias Deyle, Mario Kassar, Hal Lieberman, Joel B. Michaels, Andrew G. Vajna, Colin Wilson
No surprise here. In keeping with the tradition established with the previous TERMINATOR films, and like every Schwarzenegger Horror / Thriller movie that has come before, the black guy dies. If there is a black woman, she'll live but only after the black guy is killed. If there is no black guy, then the black woman / minority woman will die. By this point, the very second I saw the only black guy in the entire movie start talking, I knew he was toast. If you've read this far you know the drill. Some argue, "But Feo, the machines take over! They bomb the cities! Everyone dies!"

WRONG!
Everyone does NOT die or else there couldn't be a human resistance for John Conner to assemble and lead. There were lots of actors with speaking parts in this movie, who we didn't see die, who could have been any race you like. But they were white. The only black character with a speaking part in this film, was specifically cast as a victim (and he didn't get much screentime prior to his beheading either). So they could have had black people with speaking roles in this movie who were not shown getting killed. And if we didn't actually see it, then there is a chance that they could have been one of the survivors after SkyNet bombs the world and takes over. It's not asking for much, is it?
THE CORE
- 2003
Core Prods. Inc. / Horsepower Films / Paramount Pictures
THRILLER
Screenplay: Cooper Layne, John Rogers
Director: Jon Amiel
Producer: Cooper Layne, Sean Bailey, David Foster
This movie has many people in it but only one token black guy (
Delroy Lindo
). He's heroic, he's smart, but yeah, he's the only black guy. Guess who buys it first?

No seriously, go on, guess who dies first? I'll give you a hint: there are many white survivors. I'll give you another hint. There are ONLY white survivors.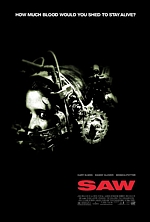 OKAY I GIVE UP. YOU TRY AND PUT THIS DAMN BICYCLE TOGETHER!
SAW
- 2003
Evolution Entertainment / Saw Productions Inc. / Lion's Gate Films
HORROR / THRILLER
Screenplay: James Wan, Leigh Whannell
Director: James Wan
Producer: Mark Burg, Gregg Hoffman, Oren Koule
Two minorities get theirs in violent fashion. Which is to be expected because this is a pretty violent movie. There are a number of survivors. But the black cop, Detective David Tapp (
Danny Glover
) and his Asian partner, Detective Steven Sing (
Ken Leung
) ain't among the white only survivors.
KING KONG
- 2005
Paramount Pictures
HORROR / THRILLER
Screenplay: Peter Jackson, Fran Walsh, Phillipa Boyens. Original Story: Merian C. Cooper, Edgar Wallace
Director: Peter Jackson
Producer: Jan Blenkin, Carolynne Cunningham, Fran Walsh, Peter Jackson
New Zealand director, Peter Jackson, never made a movie that held to the UNFAIR RACIAL CLICHÈ ALERT until he started making movies in or funded by Hollywood. Every film he has made since has done one of two things: had no minorities at all (
THE LORD OF THE RINGS: FELLOWSHIP OF THE RING, THE TWO TOWERS
), portrayed them as evil (THE LORD OF THE RINGS: RETURN OF THE KING), or killed them off every one (
THE FRIGHTENERS, THE LORD OF THE RINGS: RETURN OF THE KING
), and now KING KONG. In Peter Jackson's KING KONG, there were a LOT of black people, most of whom were portrayed as unforgivably evil, and one as noble. The evil ones were all killed, according to the storyline, and the one noble black man died trying to rescue a white boy in a meaningless subplot that went nowhere.
Oddly enough, the original KING KONG made back in 1933, treated the humans on Skull Island with far more respect that the two "Socially Conscious" KING KONG remakes in 1976 and 2005. In 2006, the Academy and the Hollywood movie industry decided to make 2005 the year of the "Socially Conscious movie." They even insisted on having - for 2006 only - "green limousines" (not green in color, mind you) pull up to the red carpet. They never did that before, and in all award shows with the same people, they haven't since. The land of Showbiz is truly all show and no conscience. With such a blivet of hubris, small wonder that the 2006 Academy Awards show became the least watched of the Oscars to date.And if that wasn't enough, one of my favorite actors, George Clooney (who made not one but two back-to-back socially conscious bombs in 2005) decided to hammer the point home further by engaging in a vainglorious speech about the film industry's social superiority to the rest of the world. A moment that swung between being unintentionally funny and awkwardly embarrassing to watch. It was so embarassing in fact, that the show South Park, actually made fun of South Park alumni, George, and his speech.
BTW, KING KONG won loads of awards for SOUND. The Oscar for Best Achievement in Sound, Sound Editing, Visual Effects, and Art Direction: It won the BAFTA (British Oscar) for Best Achievement in Special Visual Effects, Best Sound (by golly I guess it DID sound good at that!), and Best Production Design. It won no Golden Globes. Nothing in Australia; nothing from MTV or even the Teen Choice Awards. It didn't win ANYTHING for screenplay and / or direction by any major award folks.
DANCE OF THE DEAD
- 2005
HORROR THRILLER
IDT Entertainment / Nice Guy Productions
Screenplay: R. C. Matheson
Director: Tobe Hooper
Producer: Mick Garris
In the future there are very few people who aren't white. Those who are get little screen time and mainly watch the door of the Doom Room. The one non-white man with any appreciable screen time is the bouncer (

no close-ups but played, I believe, by stunt man, Frasier Aitcheson

), who plays "Giant Door Guy" and only exists, it seems, to be shot dead by the hero. The dead black man's boss is the truly evil bad guy in the movie. He is allowed to live.
PRO-LIFE
- 2005
IDT Entertainment / Nice Guy Productions
HORROR / THRILLER
Screenplay: Drew McWeeny, Scott Swan
Director: John Carpenter
Producer: Mick Garris
Director John Carpenter has long established himself as a Hollywood renegade and his long history of movies have never appeared to follow the UNFAIR RACIAL CLICHÉ ALERT. Sometimes the minority person dies (ESCAPE FROM NEW YORK) and sometimes they don't (
THE THING, BIG TROUBLE IN LITTLE CHINA, more
). Just like in real life.

However, the Masters of Horror series as a whole does appear to follow this rule.

Everyone in this movie: the doctors, surgeons, nurses, and upscale patients, are all white. The one guy in the guard shack, and first victim, is Keirnan (
Biski Gugushe
) who is black, and gets the top of his head shot off by a white guy who felt that he "had to do it to save his daughter" but didn't really want to.
PRO-LIFE
ends with many white survivors and only white survivors.