Review by
Kelly Parks

SPECIES IV: THE AWAKENING

- 2007
USA Release: Oct. 2, 2007
MGM
Rating: N/A
How the hell does a movie that sucked as bad as SPECIES generate three sequels?
Okay, sorry, that's the wrong attitude. I need to judge this story on its own and to keep in mind that I actually kind of liked SPECIES II. I am Zen. I am calm. Somebody hit "play", please. Thanks.
SPECIES IV: THE AWAKENING was written by Ben Ripley (SPECIES III) and directed by Nick Lyon (GRENDEL [TV]). The story begins with beautiful college professor Miranda Hollander (Helena Mattsson) teaching a course in Greek mythology, much to the enjoyment of the male students.
Miranda meets up with her Uncle, Tom Hollander (Ben Cross: TALES FROM THE CRYPT [TV], EXORCIST: THE BEGINNING, WICKED LITTLE THINGS, THE UNHOLY), a paleontologist at the same university, and the two head home. Later Miranda leaves for a date.
The next morning a jogger finds her naked and unconscious in a park. She's taken to the hospital where the doctors are baffled by her weird skin, strange lab results and inhuman x-rays. Then she wakes up.
Tom shows up too late to stop her from reducing the hospital's staff. He puts her in his car and they head for Mexico. Along the way Tom reveals the truth.
He was once a part of the alien-human hybrid experiments that began in the first movie. Miranda, like her predecessors, was created by mixing human DNA with alien DNA, created from instructions radioed to Earth from space. But Tom had an attack of morality and decided he wanted no part in these experiments. He rescued Miranda from the lab when she was still an infant and raised her as his niece.
He's been keeping her human with hormone injections. But they aren't working anymore and Tom doesn't know what to do. So he decides to find another scientist from that ill-fated project and get his help. Tom's former colleague, Forbes McGuire (Dominic Keating: HEROES [TV]), lives in Mexico now.
They arrive in a small Mexican town and discover that Forbes still experiments with alien DNA, mostly for his own amusement. The town is full of hybrids and Tom has some close encounters before he locates his old lab partner. Miranda needs medical treatment and when Forbes explains the morally questionable process involved the formerly very moral Tom does some very immoral things. And then when the treatment is complete Forbes tells Tom how dangerous this has made their situation and they really shouldn't have done it, something you'd think he would have mentioned before.
And then… but that's enough plot to hold you for now. Let's pause for a
!!!SCIENCE MOMENT!!!:
I don't have a huge problem with any of the science here. It's not quite implausible. The basic idea – that an alien broadcast contained enough information on genetic engineering to allow us to create alien-human hybrids – is sound and if you accept that you can achieve enough suspension of disbelief to get through the movie. No, I have no problem with the science.
Which doesn't mean I don't have a problem.
Even though this movie is orders of magnitude better than the truly awful SPECIES III, it's still far from being a good movie. The film has a promising start but gives way too much screen time to Tom at the expense of the far more interesting Miranda and Forbes. The story often wanders and has a making it up as they went along feel. Frankly, it's often boring and not even internally consistent. The hybrids are portrayed as deadly and unstoppable one moment, but again and again Tom manages to escape them.
This movie can't escape me. It gets two shriek girls.



This review copyright 2007 E.C.McMullen Jr.
E.C. McMullen Jr. is a participant in the Amazon Services LLC Associates Program, an affiliate advertising program designed to provide a means for sites to earn advertising fees by advertising and linking to amazon.com.
BUY BOOKS FROM
E.C. McMullen Jr.
WILLOW BLUE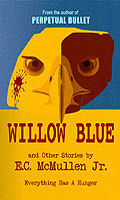 "'Willow Blue' will burrow under your skin and stay there long after you've put the book down."
- Jeffrey Reddick, Creator of
FINAL DESTINATION

PERPETUAL BULLET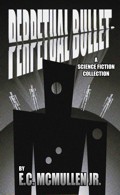 "'Some People' ... may be the standout story in the book."
- John Grant, Infinityplus

IN OTHER BOOKS
E.C. McMullen Jr.'s
short story
CEDO LOOKED LIKE PEOPLE
in the anthology
FEAR THE REAPER


"This Ray Bradbury-esque is one of the most memorable and one of the more original stories I've read in a long time."
- Amazon Review
HORROR 201: The Silver Scream
PAPERBACK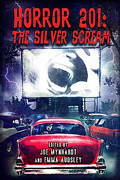 A tome of interviews with
RAY BRADBURY,
JOHN CARPENTER,
WES CRAVEN,
TOM HOLLAND,
E.C. McMULLEN Jr.,
ED NAHA,
GEORGE A. ROMERO, and many more.
Extensively quoted in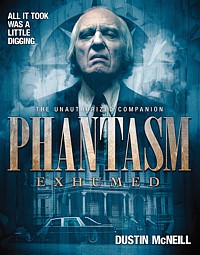 PHANTASM EXHUMED
The Unauthorized Companion

Robert S. Rhine's
SATAN'S 3-RING CIRCUS OF HELL


Forward by
GAHAN WILSON,
FEO AMANTE.
Featuring comics by
WILLIAM STOUT,
HILARY BARTA,
STEVE BISSETTE,
SPAIN RODRIGUEZ,
FRANK DIETZ,
JIM SMITH,
TONE RODRIGUEZ,
FRANK FORTE,
ERIC PIGORS,
ALEX PARDEE,
MIKE SOSNOWSKI,
OMAHA PEREZ,
DAVID HARTMAN,
D.W. FRYDENDALL,
SHANNON WHEELER,
VINCENT WALLER,
JACOB HAIR,
NENAD GUCUNJA,
STEVEN MANNION,
NORMAN CABRERA,
and more!
ALSO
IN CINEMA
E.C. McMullen Jr.
HEAD PRODUCTION DESIGNER


MINE GAMES
(Starring:
JOSEPH CROSS, ALEX MERAZ, BRIANA EVIGAN)