Review by
Kelly Parks

SPECIES III

- 2004
USA Release: Nov. 27, 2004
MGM
Rating: USA: R
Just so we're clear: SPECIES sucked. The movie that began this series was truly awful. But then came SPECIES II, which was surprisingly good. Not PREDATOR good but certainly PREDATOR II good. So now they made SPECIES III. Better, or worse?
SPECIES III was directed by Brad Turner (JEREMIAH [TV], 24 [TV]) and written by Ben Ripley. The story picks up within hours of the end of the last movie. A military ambulance containing the bloody body of Eve (Natasha Henstridge: SPECIES, SPECIES II, GHOSTS OF MARS) and the live body of the young boy fathered by the male alien is driving along an empty road in the middle of nowhere. A helicopter follows overhead but otherwise the vehicle is alone.
The driver is dressed in military fatigues but we find out later he is Professor Abbott (Robert Knepper: DEAD OF NIGHT, VOICE FROM THE GRAVE), a former researcher on Project Athena, the science project gone wrong that took instructions from an alien radio transmission and created an alien-human hybrid in the first movie. Abbot is determined that the project continue. Abbot is basically a tree-hugger extremist in the sense that he feels this alien species (and every other living thing, including deadly viruses) has an equal right to live as humanity, no matter the cost to humanity. In other words he's as crazy as all those Friends of the Earth bed bugs.
The other soldier on board begins to suspect Abbott but doesn't get much time to think about it. An alien tongue takes care of him. Abbott doesn't shed a tear for his passenger but does pull over to take a look in back. Eve (who was thought to be dead) sits up in her gurney and gives birth in a zit-popping kind of way to a new alien-human hybrid infant. The young boy apparently doesn't like this and snaps her neck with his tongue, thus ending Natasha Henstridge's cameo. It didn't seem to make much sense that Eve was tough enough to withstand all the damage she took in the last movie and yet she could be killed so easily, but whatever.
Abbott doesn't like the way the boy is looking at him so he grabs the newborn baby and runs.
We jump to a year or two later. Dean (Robin Dunne: AMERICAN PSYCHO II, THE SKULLS II, CRUEL INTENTIONS II, TEENAGE SPACE VAMPIRES) is a University graduate student in charge of a fusion research project. He gives some visitors a demonstration of a tokamak experimental fusion power generator and makes a variety of simple science mistakes in his presentation, which is why I simply must have a
!!!SCIENCE MOMENT!!!:
Dean says that his reactor uses hydrogen and deuterium and fusion occurs "when these two elements combine". In fact they are the same element. Deuterium (and tritium) are just isotopes of hydrogen. Plain hydrogen (also called protium) is a single proton orbited by a single electron. Deuterium is the same arrangement plus a neutron and tritium is the same plus two neutrons. But they're all hydrogen and are chemically identical.
Dean finishes the demo and runs to his next class, taught by none other than Professor Abbott. Abbott is annoyed by Dean's late arrival and goes off on a rant about how the CDC will soon destroy its stock of smallpox and other diseases, thus making those viruses extinct and who are we to do that? Dean looks confused, maybe because he never said anything about that or maybe just because it's a truly dumb question. Abbott stalks out and the rest of the class calls Dean a specist for preferring humans over smallpox.
In spite of the initial friction you just know these two wacky guys are going to end up working together and a plot contrivance takes care of that soon enough. Abbott needs help because back at his house he has a little alien-human hybrid girl (who looks like she's 10 because she grows really fast, just like Eve). Her name is Sara and when she reaches the adult stage she's played by the frequently naked Sunny Mabrey (SPIDER-MAN 2). Speaking of nudity, I have to wonder why the accelerated alien growth process left her with obviously fake boobs. I assume it's a genetic imperfection - not in Sara but in the director for not thinking of these details.
The most (unintentional) funny moment comes when Abbott is explaining to Dean why he's doing all this. He says he wants to help the alien species survive because, "I believe they have a purpose. They're here for a reason." Yeah, they are here for a reason: to conquer Earth and wipe out humanity, you sub-human moron! Why is that not obvious?
Have you picked up on the fact that I found this movie annoying? I did, because it's so truly bad. Dumb characters doing dumb things that don't result in disaster because everyone around them is just as dumb. Usually when movies are really bad I try and find at least one redeeming value or halfway decent performance but I can't think of any here. Natasha Henstridge was wise to die in the first five minutes. I give SPECIES III one negative shriek girl.


This review copyright 2004 E.C.McMullen Jr.
E.C. McMullen Jr. is a participant in the Amazon Services LLC Associates Program, an affiliate advertising program designed to provide a means for sites to earn advertising fees by advertising and linking to amazon.com.
BUY BOOKS FROM
E.C. McMullen Jr.
WILLOW BLUE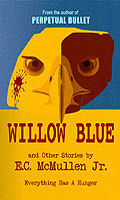 "'Willow Blue' will burrow under your skin and stay there long after you've put the book down."
- Jeffrey Reddick, Creator of
FINAL DESTINATION

PERPETUAL BULLET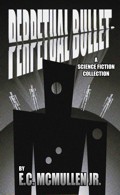 "'Some People' ... may be the standout story in the book."
- John Grant, Infinityplus

IN OTHER BOOKS
E.C. McMullen Jr.'s
short story
CEDO LOOKED LIKE PEOPLE
in the anthology
FEAR THE REAPER


"This Ray Bradbury-esque is one of the most memorable and one of the more original stories I've read in a long time."
- Amazon Review
HORROR 201: The Silver Scream
PAPERBACK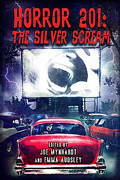 A tome of interviews with
RAY BRADBURY,
JOHN CARPENTER,
WES CRAVEN,
TOM HOLLAND,
E.C. McMULLEN Jr.,
ED NAHA,
GEORGE A. ROMERO, and many more.
Extensively quoted in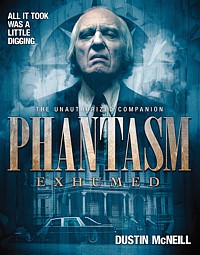 PHANTASM EXHUMED
The Unauthorized Companion

Robert S. Rhine's
SATAN'S 3-RING CIRCUS OF HELL


Forward by
GAHAN WILSON,
FEO AMANTE.
Featuring comics by
WILLIAM STOUT,
HILARY BARTA,
STEVE BISSETTE,
SPAIN RODRIGUEZ,
FRANK DIETZ,
JIM SMITH,
TONE RODRIGUEZ,
FRANK FORTE,
ERIC PIGORS,
ALEX PARDEE,
MIKE SOSNOWSKI,
OMAHA PEREZ,
DAVID HARTMAN,
D.W. FRYDENDALL,
SHANNON WHEELER,
VINCENT WALLER,
JACOB HAIR,
NENAD GUCUNJA,
STEVEN MANNION,
NORMAN CABRERA,
and more!
ALSO
IN CINEMA
E.C. McMullen Jr.
HEAD PRODUCTION DESIGNER


MINE GAMES
(Starring:
JOSEPH CROSS, ALEX MERAZ, BRIANA EVIGAN)

PRODUCTION DESIGNER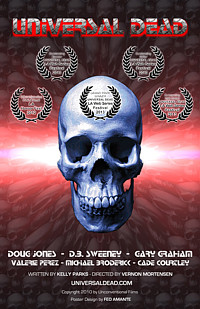 UNIVERSAL DEAD
(Starring:
DOUG JONES, D.B. SWEENEY, GARY GRAHAM)