Review by
E.C. McMullen Jr.

THE SCORPION KING

- 2002
USA Release: April 19, 2002
Universal Pictures
Rated: Argentina, Spain: 13 / Brazil, Netherlands, Switzerland: 12 / Finland: K-11 / France: U / Germany: 12 (

CENSORED

) / Germany: 16 / Hong Kong: IIA / Singapore: PG / Sweden: 11 / UK: 12 (

CENSORED

) / USA: PG-13
Though made by the same fine folks who brought you THE MUMMY (1999) and the hideously bad THE MUMMY RETURNS (2001), THE SCORPION KING lives, not so much as a sequel or prequel, but a spin-off.
Dwayne Johnson aka The Rock (come on, with a name like "Dwayne" wouldn't you change it? With a name like that, wouldn't you work out at the gym to repel all the damn bullies?) brings more meat to a role otherwise wasted in THE MUMMY RETURNS. In that flick, his part was small and so unnecessary that in the last half he was silently played by a piss bad computer generated version of himself! A claymation stop motion model would have looked better. Still, the Universal marketing machine advertised the hell out of THE MUMMY RETURNS with "The Rock as The Scorpion King!"
So pretty much we've got two movies advertised for the price of one. So how does THE SCORPION KING stand up to THE MUMMY RETURNS? Well, it's kind of like Star Wars II. When you ask an SW fan if they liked Star Wars II, they pretty much all give the same answer, "Well...it was better than Star Wars I."
High praise indeed!
Of course, Universal's THE MUMMY series will never spawn the kind of fan dedication that the original Star Wars trilogy did. It probably won't even spawn the kind of dedication that the NIGHT OF THE LIVING DEAD trilogy has inspired.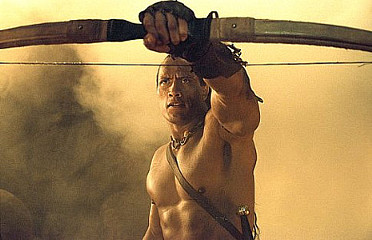 CAN YOU SMELL! THE ROCK'S! ARMPIT?
This is why.
You know how you get that smell of popcorn and you really want some?
So you buy the big bag or box or tub or toilet, or whatever your theater carries, and you share it with your friends while you watch the flick. When you get to the end of that massive container, you really don't want any more popcorn for the rest of your life. Oh sure, it was great starting out. In fact, it was good enough to see you through to the bottom of the container and all the salty little pieces and hard bits. But there is still something kind of dissatisfying about it.
What's dissatisfying about the whole MUMMY series is its utter lack of depth. When you leave the theater, there is nothing really fun to talk about. The characters were all vapid and shallow. The bad guys, under the pen of Writer/Director Stephen Sommers (directed the two Mummy movies), are the only interesting characters and this is because of two things:
One, Arnold Vosloo (BURIED ALIVE, DARKMAN II, PROGENY, THE MUMMY) and Steven Brand (BEYOND BEDLAM) were both respected actors of some talent before they took these roles (though you'd never know it by their résumés).
Two, Sommers doesn't like his bad guys to be funny because humor is endearing. Sommers only uses humor to flesh out his good characters. So the bad guys don't spend all their time spouting semi-witty one liners and actually get to ACT.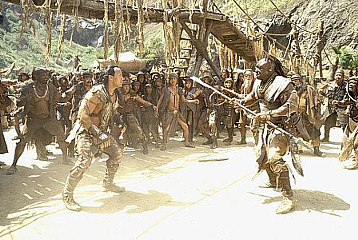 I'M GONNA KICK YOUR ASS!
NO, I'M GONNA KICK YOUR ASS!
Uh . . . I called it first.
Still, Stephen Sommers prefers to sacrifice characterization for the quick one liners and punch lines. To be truthful, these moments are funny. But when the movie is simply moving from one-liner to one-liner and that's all there is, it begins to drift. Even standup comics know that there must be moments in their act where they "give a little bit" of themselves so that the audience can relate to them as a real person instead of a cartoon. Stephen is currently in the heady glow of having several hit movies in a row, and I like the guy and his work, to a point. But each movie he writes is becoming, more and more, a parody of itself.
Thankfully, under the direction of Chuck Russell (A NIGHTMARE ON ELM STREET 3, THE BLOB [1988], THE MASK, ERASER, BLESS THE CHILD), THE SCORPION KING becomes something better than just an endless string of one liners pretending to be a story.
In a nutshell, Mathayus (Dwayne) is a wandering warrior. Possibly a mercenary, but that's never made clear and it's not really necessary to the storyline. Unlike Conan the B., there is no rich history concerning Mathayus: He just lives his life and does his thing.
During his wanderings, Mathayus meets up with a comical sidekick (played by veteran comical sidekick, Grant Heslov: DANTE'S PEAK, ENEMY OF THE STATE) named Arpid (rhymes with "stupid" and about as funny). Then Mathayus gets his nose out of joint during an altercation with some soldiers of the Evil King Memnon (Steven Brand). Memnon wants to unite all the warring kingdoms under him so that the fighting will stop.
I'm not sure why this is an evil plan. Yes Memnon wants to be top dog of the new rule - but hey - since he is the one who is going to all the trouble, why not? Still, he's evil anyway... Because!
You can tell he's evil because he has a British accent. Okay, moving on. He's also in love with a beautiful Asian Sorceress with the ethnic-leaping, no-brainer name of Cassandra (Kelly Hu: X2: X-MEN UNITED). She despises Memnon. He may or may not have killed someone or other and he's old enough to be her Dad or something and like, besides he's just..."Ew! Gross!"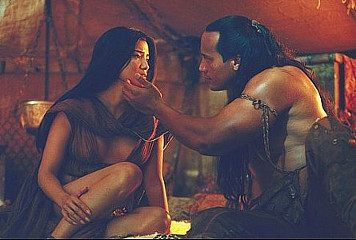 Aw honey! Don't cry! It's just a little pimple. Here, I'll push it back in.
So anyway, The Rock comes along, kicks a black guy's ass, and everyone falls in line. Except Memnon, who has his own agenda.
Memnon also kicked the ass of said black guy, Balthazar (played by veteran, "led around by white people" sidekick Michael Clarke Duncan: THE GREEN MILE, PLANET OF THE APES [2001]), but Mem' didn't win any loyalty for his trouble. So since Mathayus (name sounds ancient enough), with Balthazar (sounds ancient enough) by his side, with the traitorous Cassandra (ancient enough) on the side and working from the inside to overthrow the evil Memnon (enough!), the outcome of the battle is a given.
Still, Merry Mishaps occur anyway just to fill up the rest of the movie.
Wasn't there a kid in here somewhere? Possibly: but all the other roles were forgettable.
For actors who are hoping to have a career, this is probably a good thing.
In RETURN OF THE MUMMY, Malthayus was The Scorpion King and evil to boot. In this flick he's a good guy fighting an evil guy who is far less evil than The Scorpion King who was a... ah... aw forget it! It was brief fun, good for a rent, I paid too much for the theater version, I'd never buy it, you can be my guest. Am I done with this review yet? I think so.
Two Shriek Girls.



This review copyright 2002 E.C.McMullen Jr.