SHOULD YOU?


TIP JAR



THE SUM OF ALL FEARS
- 2002
Paramount Pictures
Rating: USA: R
Technoporn
It's a word, trust me. Fans of Tom Clancy (like me, of course) know exactly what I'm talking about. Clancy is a great writer and there's plenty of action but what we really like is that these 1000 page paperbacks should, by strict definition, mostly be in the science fiction section because they are loaded with and heavily based on technology. And, miracle of Hollywood miracles, these very cool books have an unbroken track record of translating into great technoporn movies. Unbroken…
THE SUM OF ALL FEARS was directed by Phil Alden Robinson (SNEAKERS) and written by Paul Attanasio (SPHERE) and Daniel Pyne. It stars Ben Affleck (PHANTOMS, DOGMA) as a young Jack Ryan. This is the role previously played by Alec Baldwin (THE HUNT FOR RED OCTOBER) and then Harrison Ford (PATRIOT GAMES, CLEAR AND PRESENT DANGER), which doesn't mean a thing before you see the movie. Affleck is a decent actor and it's perfectly within reason for the studio to want to reinvigorate the role by showing Jack Ryan early in his career when he was just a CIA analyst / desk jockey. I mean, look at the success of "Young Indiana Jones."
The story begins during the 1973 Arab-Israeli war, at a time when it looked bad for the Israelis. The Syrians were making serious inroads into Jewish territory and Israel prepared a last ditch defense: nukes. Israel has long denied possessing nuclear weapons just like the mafia has denied knowing where Jimmy Hoffa is buried.
An Israeli jet carrying a single fission bomb is shot down and, apparently amid the chaos of the war, never searched for. The bomb sits buried in the sand for almost thirty years when it is found and salvaged by Arabs. It's not at all unusual in this part of the world for people to make a living digging military scrap out of the desert, and it's also not unusual for the explosives from unexploded shells and bombs to eventually end up strapped to Islamic suicide bombers. So when this bomb is discovered no one thinks, "Whoa, an A-bomb!" It's just another piece of scrap to sell on the gray market.
Olson (Colm Feore: STORM OF THE CENTURY [TV]), the arms dealer who buys this nuke does, however, recognize it for what it is. It's no longer functional, of course, but the precious nuclear material inside can be salvaged to make a new bomb. Faster than you can say "eBay", Olson has a buyer.
Meanwhile, in Washington, D.C., Young Jack Ryan is analyzing the meaning behind every word of the statements coming out of Moscow. The cold war may be over and Russia may be, for all intents and purposes, a huge 3rd world country, but they do still have several thousand nuclear missiles pointed at us so it's reasonable to keep an eye on them. The big worry, both in this movie and here in the real world, is that the Russian government doesn't have full control of their military. This worry is made worse by a deteriorating situation in Chechnya, which Russia regards as a purely internal matter and none of your damn business. Russian military atrocities and Chechnyan demand for recognition as a sovereign state bring the matter to the world's attention, however.
You can't blame Affleck, Clancy, or the director for the wretchedly ridiculous turn that Clancy's airtight storyline took.

The villains in the book are an Arab group and some extremist American Indians and the details were down to a science. But Harrison Ford, who was originally slated to play Jack Ryan, didn't like it at all and insisted that there be no American Indian, or Arab bad guys. And no nuclear explosion either.

Uber liberal Ford, no fan of ultra conservative Clancy in the first place, had Paramount jump through hoops to satisfy his whims, insisting on major script changes that rendered the story stupid, and then, after the money was spent, walked off to play a heroic Communist in K-19.

Trailers for the film are interesting, with a testosterone fueled Harrison swaggering around the sub, swimming in machismo and saying:

"I will do what I must for my men."
"My men are all that matters."
"I must do this for my men."

Obviously this is a manly ship with a manly crew.

Harry? We don't need ya!

*
Spoiler? WRONG! I've been told twice now that Kelly "gave away" the movie's ending and thus, SPOILED the flick! How did he accomplish this? By saying, "And the final scene of the movie involves Jack having an ultra-top secret conversation..." Thus, I've been told, the reader knows that Jack Ryan will live through the movie.

Now pay attention: That is NOT a spoiler! It is OBVIOUS that when you go to see this movie, Jack Ryan will come through okay. Why? Because this is a prequel and Jack Ryan appears in all the previous films from Baldwin to Ford. DUH!
All of these weighty world matters shouldn't be of much concern to Jack, who at this point in his career is a mere CIA analyst (actually, his job title would be "Intelligence Officer / Physical Scientist." How do I know that? Maybe I read it somewhere). Jack is far more interested in the equally young Dr. Cathy Muller (Bridget Moynahan), his girlfriend and, as all Tom Clancy fans know, his future wife. Her main role in this film is to experience beeperus and telephonus interruptus with Jack again and again, a standard movie formula meant to demonstrate that Jack is dedicated, since his job is a higher priority than getting laid.
Jack takes the first step on the road to his later career when the president of Russia drops dead and his successor, Alexander Nemerov (Ciaran Hinds: MARY REILLY), takes over. Nemerov is perceived by the administration of President Fowler (James Cromwell: STAR TREK: First Contact, SPECIES II, THE GREEN MILE) as a hard liner but Jack has written a report suggesting that may not be the case. This is why his boss's boss, CIA deputy director Bill Cabot (Morgan Freeman: SE7EN), invites Jack to "breathe air way above his pay grade" and come along on a presidential briefing. Here Jack takes quite a chance given his very junior status and speaks up in defense of Nemerov.
Cabot takes a liking to Jack and brings him along on a START treaty inspection tour of decommissioned Russian nuclear missiles. There's a very cool moment as Cabot enters the Russian missile complex. He tells Jack that several agents under his command were killed trying to get in this place, and here he is being given a tour. How the world has changed.
Subplots A and B finally begin to come together as Jack notices that several Russian nuclear scientists are missing. He's told they are dead and/or on vacation now mind your own business and begins to put two and two together. Several missions performed by another favorite Tom Clancy character, ex-Navy SEAL and current CIA spook John Clark (Liev Schreiber: SCREAM 3, SPHERE, PHANTOMS), reveal the Russian scientists are assembling a nuke in a Ukrainian warehouse. Everyone assumes they're doing it for Russian intelligence rather than freelancing for what turns out to be a neo-Nazi terrorist group.
Yeah, that's right, I said neo-Nazis. I know you thought they were a bunch of red neck hicks who live in the woods and occasionally manage to muster enough organizational skills to print some pamphlets and put together White Power marches, but it turns out them European neo-Nazi's is smart sumbitches. They're also the only politically correct movie Bad Guys available (although if I was German I'd be a little annoyed. "Gott in Himmel, it vas 60 years ago! Gif it a rest, vy don't you?") In Clancy's book the bad guys were Arab Muslim extremists, which was perfectly believable then and of course is more believable than ever today.
The bad guys weren't changed because of 9/11. The movie was made before that fateful day, so it's just an example of political reality being sacrificed on the altar of political correctness (more like political ignorance and sheer stupidity - feo). Too bad, because the original storyline in the book would really ring true today, and sadly may yet prove to be prophetic. I know Osama bin Laden didn't have an A-bomb because if he'd had one he'd have used it. He and his deluded followers hate us that much.
Another story point that deserves mention is that in this movie John Clark and Jack go on a mission together. In other words, they meet. In the Clancy Universe these characters didn't meet until "Clear and Present Danger" (where, in the movie, John Clark was played by the excellent Willem Dafoe: eXistenZ, AMERICAN PSYCHO, SPIDERMAN). So what does this mean? When they meet later they didn't remember meeting before? When C3PO and R2D2 arrive on Tatooine they don't remember having been there before? I hate when directors screw up the universe!
And now it's time for a
!!!SCIENCE MOMENT!!!:
I'm not giving anything away when I tell you that the terrorist nuke is detonated in Baltimore, while the president is attending the Superbowl. That's in the TV commercial. Did you see the TV commercial? Well, then you pretty much saw the whole nuclear explosion. If you're going to make a movie about such a devastating event you should show how truly devastating it would be, but they decided not to go that way. Even the aftermath is severely downplayed, seen only in glimpses as Jack runs around the ruins of Baltimore, trying to catch a key bad guy. The science part is this: that ain't snow, Jack. That's fallout. Heroic Jack ignores warning after warning that he's in danger from the radiation but like a true hero he ignores the danger, not even donning a surgical mask to keep the very deadly dust out of his lungs. I hope his doctor girlfriend still likes him when all his hair falls out and he starts puking blood.
From start to nuke this is a good movie. The storyline moves along nicely and is fleshed out and believable. Unfortunately at this point we're only half done. The rest of the story is a mess, with people doing unbelievable things and the subplot of the United States trying to decide if the Russians were behind the nuke, which doesn't involve Jack, being far more interesting than the subplot that does involve Jack. And the final scene of the movie* involves Jack having an ultra-top secret conversation with an ultra-top secret double agent in front of his uncleared civilian girlfriend!
Wrong!
I give THE SUM OF ALL FEARS two shriek girls.



This review copyright 2002 E.C.McMullen Jr.

DVD


BLU-RAY


SOUNDTRACK


BOOK
E.C. McMullen Jr.'s


short story
CEDO LOOKED LIKE PEOPLE
appears in the anthology


FEAR THE REAPER




ALSO FROM


E.C. McMullen Jr.


a collection of previously published short stories in


PERPETUAL BULLET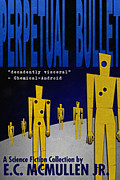 "E.C. McMullen Jr's 'Some People' ... may be the standout story in the book."
- John Grant, Infinityplus



AVAILABLE AT


Amazon,
Barnes & Noble,
Diesel,
iTunes, KoboBooks,
Smashwords,

and


WHSmith