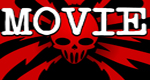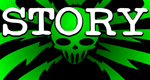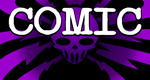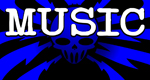 Support This Site

When You Buy My Books
E.C. McMullen Jr.
PERPETUAL
BULLET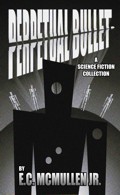 "'Some People' ... may be the standout story in the book."
-

John Grant

, Infinityplus

E.C. McMullen Jr.
WILLOW BLUE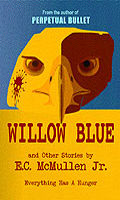 "'Willow Blue' will burrow under your skin and stay there long after you've put the book down."
- Jeffrey Reddick, Creator of
FINAL DESTINATION

IN OTHER BOOKS
E.C. McMullen Jr.'s
short story
CEDO LOOKED LIKE PEOPLE
in the anthology
FEAR THE REAPER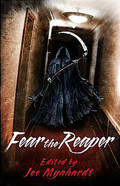 "This Ray Bradbury-esque is one of the most memorable and one of the more original stories I've read in a long time."
- Amazon Review

HORROR 201:
The Silver Scream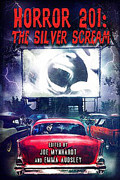 Filmmaker's Guidebook
featuring
RAY BRADBURY,
JOHN CARPENTER,
WES CRAVEN,
TOM HOLLAND,
E.C. McMULLEN Jr.,
GEORGE A. ROMERO,
and many more.



Extensively quoted in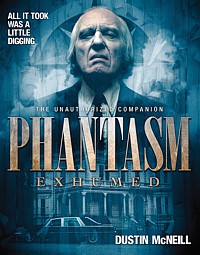 PHANTASM
EXHUMED
The Unauthorized Companion

Robert S. Rhine's
SATAN'S 3-RING
CIRCUS OF HELL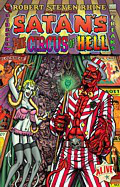 Forward by
GAHAN WILSON &
FEO AMANTE.
Featuring comics by
ALEX PARDEE,
WILLIAM STOUT,
STEVE BISSETTE,
FRANK DIETZ,
JIM SMITH,
FRANK FORTE,
ERIC PIGORS,
MIKE SOSNOWSKI,
OMAHA PEREZ,
DAVID HARTMAN,
STEVEN MANNION,
and more!

Also
IN CINEMA
E.C. McMullen Jr.
Head Production Designer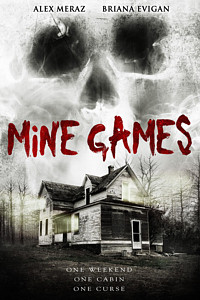 MINE GAMES


(Starring:
JOSEPH CROSS, BRIANA EVIGAN,
ALEX MERAZ)

Dept. head
Special Effects Make-Up
(SFX MUA)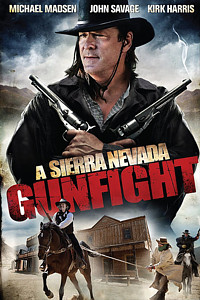 A SIERRA NEVADA
GUNFIGHT
(MICHAEL MADSEN & JOHN SAVAGE).

Production Designer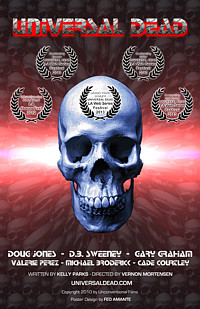 UNIVERSAL DEAD
(DOUG JONES,
D.B. SWEENEY,
GARY GRAHAM)

ART DIRECTOR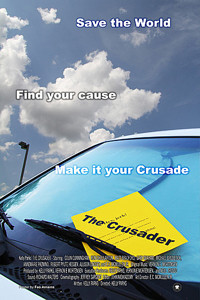 THE CRUSADER
(COLIN CUNNINGHAM,
GARY GRAHAM)
MOVIES THAT SUCK TOO MUCH
TO REVIEW ALONE
Some movies are so bad they don't deserve their own page. We've given a few of them their own page here anyway.
2006
Anchor Bay Entertainment is garnering more than its share of Crap movies these days. Now Anchor Bay has always strived to give the best quality to many a cult movie, and I truly appreciate that - as they've saved many an unknown flick from total obscurity. But their direct to DVD catalog of new movies is growing stale, as evidenced by one of the klunkers here.
VOODOO MOON - ROOM 6 - LETHAL TARGET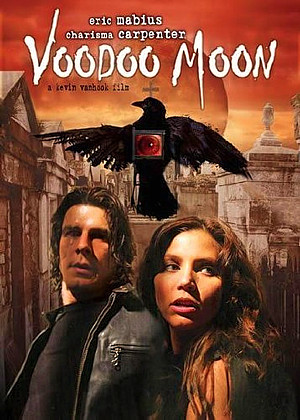 VOODOO MOON
- 2005
IDT Entertainment
Rated: USA: TV 14
A year ago in Haiti, a troubled guy named Cole (Eric Mabius: RESIDENT EVIL) wandered around, and set a CGI fire that would have looked a whole lot better if he had just set an actual fire (really, did you know that you can make a fire - on the cheap - WITHOUT CGI special effects? I wish more z-movie directors knew this!).
Fire set, nothing much happens except for an ashen-faced guy who walks up, stares balefully over Cole's shoulder, and gets blasted into flames for no apparent reason. The roasting makes an old man laugh and Cole collapses in a burning ring of fire.
Ho hum. A year later Cole goes to Louisiana to visit his sister (Charisma Carpenter: BUFFY THE VAMPIRE SLAYER [TV], ANGEL [TV], CHARMED [TV], VERONICA MARS [TV]) at an art gallery.
They go to a cemetery where Cole wanders off to follow a little white girl, in a pretty dress, in a spooky place. This is like bringing your cat with you to a haunted house, along with a mute friend who can only get your attention by putting his hand on your shoulder at inopportune times. I guess the little girl was a left over from better movies like GHOST SHIP, FEAR DOTCOM, MEN IN BLACK, RESIDENT EVIL, or SILENT HILL.
After a while, more CGI effects occur but nothing scary happens and Horror Thriller actors like Jeffrey Combs (RE-ANIMATOR [all], FROM BEYOND, THE FRIGHTENERS, HOUSE ON HAUNTED HILL, ABOMINABLE) and Dee Wallace (CRITTERS, THE FRIGHTENERS, ABOMINABLE, THE LOST, THE PLAGUE) are totally wasted here.
Kevin VanHook (FROST: PORTRAIT OF A VAMPIRE, SLAYER, DEATH ROW, SANDS OF OBLIVION) wrote and directed this pathetic mess.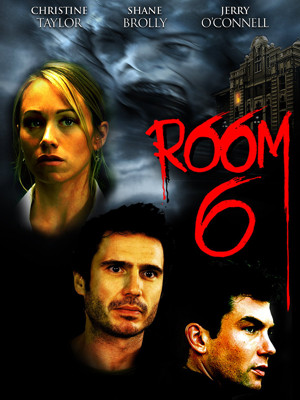 ROOM 6
- 2006
IDT Entertainment
Rated: USA: R
Writer and director, Michael Hurst (MANSQUITO, HOUSE OF THE DEAD 2, THE DARKROOM), had this cool concept for a hospital scene. The producer and soon to be co-writer, Mark Altman (HOUSE OF THE DEAD, HOUSE OF THE DEAD 2, THE DARKROOM, THE THIRST) loved the concept so much that he gave it the greenlight... and that was pretty much it. The scene became the trailer as well as the opening scene in the movie so once you've seen that you've seen it all.
Still, the ball kept rolling. The SFX guy knew Christine Taylor (NIGHT OF THE DEMONS 2, THE CRAFT) and could get her in the flick.
With Christine Taylor in, getting nice guy Jerry O'Connell (SCREAM 2), was a piece of cake. Shane Brolly (IMPOSTOR, UNDERWORLD, UNDERWORLD: EVOLUTION) was thrown in there because he needed work and the part didn't require him to actually act - yeah, I know; typecasting. But the person director Hurst was most excited about getting was Kane Hodder (HOUSE, HOUSE II, FRIDAY THE 13th PART VII - JASON X, DEEPSTAR SIX, SE7EN, 2001 MANIACS), who plays the very minor part - extra really - of a homeless demon (and is there anything sadder than a homeless demon?) in a scene that went on for far too long because, after all, "We've got Kane Hodder! OH! MY! GHOD!"
To be honest, I can identify with such fanboy enthusiasm - I wouldn't wreck my movie over it though. What could have been a decent story got totally derailed by the writer and director trying to make a movie that was out of their budget. Instead of being creative and working within it, we get treated to DVD commentary like, "Look at that special effect! Wouldn't it have looked really cool if we had the money to do it right?" And that's the kind of thing that you keep hearing over and again on the commentary.
Sheesh!
Worse, so many clichés get thrown in there that, Holy Shit, they even have a wandering little white girl in a pretty dress (Chloë Grace Moretz: THE AMITYVILLE HORROR [2005]) - which is never a good thing in a Horror movie.
Christine Taylor's character of Amy goes to the well about twenty times with screaming directly at the camera. Truly a lovely scream. But god damn, staring right at the camera and screaming every five or so minutes doesn't heighten the Horror, fright, or entertainment value. What the hell did the camera ever do to her?
Oh, and I never understood the deal with the flying midget in the church. Then again, as in life, the flying midgets are never adequately explained.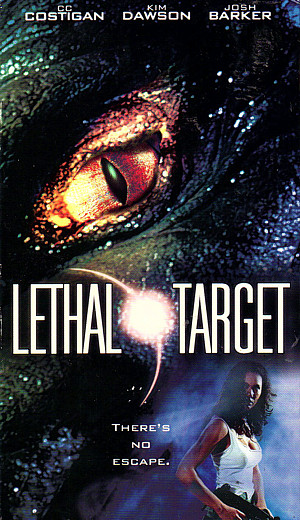 LETHAL TARGET
- 1999
Mougins Productions / North American Pictures / D.E.J. Productions, Inc. / City Heat Productions
Rated: USA: N/A
LETHAL TARGET starts with the moon Titan, in the year, 2268. Titan has been terraformed into a prison colony where they mine the moon for magnesium. The prisoners aren't happy and the mining goes excruciatingly slow. Nice upskirt shots though!
It seems that by 2268 humans have lost the ability to rapidly mine with machines. We can terraform a freakin' moon of Jupiter, but we've lost the ability to mine the surface of said moon (actually, Titan is a moon of Saturn, yet they got Jupiter in the sky. So I guess in 2268 we also have the tech to move moons from one planet to another, we just can't mine them). In the next moment, we are treated to lovely young white women: nothing but lovely young white women, all clad in short loose dresses and white thong underwear. They are mining this chalky white rock and the work is going slow. Believe me when I say this is as good as it gets.
Then we see a different set where an obese man with an odd and evil accent is speaking to a well dressed man. The corpulent gent is the warden (Radomil Uhlir: HOSTEL) and tells the suit (Radek Hadrovsky) that he is on the moon Titan.
I guess not everyone got the memo about Titan's move to Jupiter.
Warden tells suit that the moon is a maximum security prison colony for (young beautiful white mostly blonde) women and is mined for magnesium and controlled by an evil corporation (we've already been told this, but I guess the suit didn't know. We know something suit don't know! Neener!). So the suit came here without any idea of where "here" is?
Say!
Maybe he was just released from some kind of cryogenic freezing and... nope. It's just some really stupid exposition.
Then the suit tells the Warden why he is there and the big boy endures it. I wish the Warden had laughed. With that goofy accent he sounded like he could really let go with a good Muh! Huh! Ha! Ha! Ha!
So Nikki comes in and the suit tells her that he knows things even she doesn't know: Like the fact that she is on a prison planet (*facepalm* - and - it's already established that it's the Moon, Titan.)!
She Mines the "planet" for magnesium (*freaking facepalm*)!
She is also still alive (*HeadDesk!*).
Actor C.C. Costigan (CAPE FEAR [1991], BEACH BABES FROM BEYOND, THE REGINA PIERCE AFFAIR) plays Nikki: a once upon a time badass who is now too weak to fight off her captors or even the suit (Oh! aka The Man! - in the credits), who easily overpowers her to deliver an injection in her neck.
The Man refers to a notebook computer that looks like its running Windows 3.0 (in 1999!) and this laptop, to regular rubes from the 23rd Century, looks like some kind of magic! Nikki is ordered to sit in a special chair and press a flatscreen computer monitor Right Up against her nose (I am not kidding) to learn what she must do.
The hell?
Is she extremely near-sighted?
Say!
Maybe there was a ferocious war and our technology was destroyed and people ... nope. It's just hideous writing (Christopher Hyde: TIME RUNNER, KILLER LOVE), direction (Lloyd A. Simandl: ESCAPE VELOCITY, KILLER LOVE, XTRO 2), production (Simandl again), props, and everything else. Except for sets: Nice, poorly lit sets.
The evil company wants Nikki to go to a spaceship that looks like it was made out of a clump of boiled and dried spaghetti spray painted grey. Said spaceship has a killer alien onboard that wiped out the entire crew - well, almost. The varmint is just a knee-jerk rip-off of the creature in ALIEN (looks like Simandl's XTRO 2 monster - another ALIEN rip-off), but it still wiped out everyone they've sent in. Nikki is their last hope and even the Suit can kick her ass.
Why not just blast the stupid grey spaghetti ship out of the sky? Don't ask or there won't be a movie - which would have been a good thing.
There is gratuitous nudity here, but not near enough to keep this lead balloon afloat. Simandl should have chucked his half-assed SciFi aspirations out the window and made porn. It probably would have made more money.
Now don't get me wrong, I LOVE schlock! Troma is king! Lloyd Kaufmann and Michael Herz are two of my personal cinematic heroes! Even when their movies are tripe, they are also fun!
In fact, here at Feo Amante's Horror Thriller we love really bad movies from HELL COMES TO FROGTOWN to WHEN THE SCREAMING STOPS to FROM BEYOND! But the worst thing a Horror movie can do is be BORING! There is just no fun to be had in VOODOO MOON, ROOM 6, or LETHAL TARGET so
KILL THESE MOVIES BEFORE THEY BREED!



This review copyright 2006 E.C.McMullen Jr.