Review by
E.C.McMullen Jr.

SHOULD YOU?


TIP JAR




SUPER 8

- 2011
Paramount Pictures, Amblin Entertainment, Bad Robot
Rated: USA: PG-13
Caveat: I don't know about you, but I was the age of the kids who are in a lot of Steven Spielberg's early movies. I was the same age as the kids I saw on the screen from JAWS to CLOSE ENCOUNTERS OF THE THIRD KIND to GREMLINS. Then I started getting older than the kids in Spielberg directed or produced movies like E.T. and THE GOONIES (which wasn't great, but it was good enough). I sat in the theater and watched in true fun filled wonder at the places Steve took me in movies like RAIDERS OF THE LOST ARK and POLTERGIEST. I was blissed, I was blessed, and it was Steve who took me there.

Thing is, I can watch those movies now and they don't age. There are plenty of movies I saw as a kid that thrilled me or scared me and I watch them now and they are poorly shot relics. Some time frozen thing that cannot possibly entertain anyone past the age of 10. But not most of Spielberg's movies. While E.T. and POLTERGIEST show their age, there remains enough there to make me remember what I liked. With everything else Spielberg directed or produced in the 1970s and 1980s, it's all still there, haunting and enchanting me as well as my nieces and nephews.
There is something about the SUPER 8 poster that promises so much. As if Steven was saying, "Psst! Hey! We're going to do it again! Old School!"

Storm clouds are in the distance. Something Wicked This Way Comes. There are silhouettes of kids in the foreground looking off to the forbidding future, and somehow, despite danger and possible death, over-all they will prevail. Fear is coming, but there is no fear in their stance.
The story begins in the summer of 1979 (Spielberg's heyday) at a wake. Joe Lamb's mother died in an accident at the plant. As Joe (Joel Courtney) stays to himself outside, a man drives up, clearly under the influence, goes inside, and is physically hustled right back out again by Joe's father, Deputy Jackson Lamb (Kyle Chandler: KING KONG [2005], THE DAY THE EARTH STOOD STILL [2008]).

4 months later and Joe is with a group of friends led by a very bossy one. The bossy kid is Charles (Riley Griffiths), and he is the director of a short film he and his friends are making. Its about zombies and Charles is going to put it in a film contest and win... whatever the contest is offering, but this will be a ticket to... to dreams! None of the kids are clear on just what will become of their dreams or where they will lead to, but what's important is that they are doing something about them!
Charles orders everyone about, spouting words and phrases that he likely knows little about but has read plenty about!
One of the people he bosses around is the quiet Joe, who is the special effects make-up artist of the group. Joe is still nursing a wound that has yet to heal.
What could heal that wound isn't a what at all but a Who. Alice Dainard (Elle Fanning: THE DOOR IN THE FLOOR, DEJA VU, THE NINES) is the slightly older girl of the group who Charles convinced to star in his movie. PLUS, she can drive a car! PLUS, she actually HAS a car to drive (although it doesn't actually belong to her). Joe finds himself smitten with her, as he has seen her in school and has been developing a bit of a crush. But here she is, in real life, breathing and talking and sitting right next to him. They are actually sort of touching!

The filming gets underway at their local train station. Joe finds Alice breathtaking to the point of distraction. Then in the distance they hear the sound of an approaching locomotive and Charles shouts "Production Values!"
Yes, they are about to get a shot of the train in the movie for free!
But then they witness something horrific happen to the train and to one of their teachers. And so begins a terrifying mystery, plunked right down in the middle of people whose lives are hideously interrupted by another reality.
Deputy Lamb is leery of the train wreck, and why the military instead of rescue people are commanding operations and covert ones at that. He can't get his boss, Sheriff Pruitt (Brett Rice: EDWARD SCISSORHANDS), to listen to his concerns. Why is the military invading the town, cordoning off whole houses on street corners? What do houses sitting far away from the train wreck have to do with the accident? What is going on?

What's even worse, pets and people are suddenly evaporating out of thin air. What is happening to the town?
Now it's at this point that any other movie would suddenly ratchet up on the suspense and thrills - like we saw with J.J. Abrams CLOVERFIELD. Unfortunately, what actually happens is that the movie slides into something J.J. Abrams and the young Steven Spielberg would have never done: It becomes a self-mocking parody even as it insists on maintaining an air of serious self-rightousness.
See my 2006 article, Horror Thriller Ideas: Science 3a.

At this stage, writer and director J.J. Abrams (who knows better than this: I've seen CLOVERFIELD and FRINGE) directs his written characters to go from honest emotions to maudlin tripe. The death of Joe's mother, handled with such pitch perfect touch up to this point, is smothered in schmaltzy M. Night Shyamalan gravy. Joe has missing Mother / neglectful Father issues, and by mere happenstance (?) the one crush of his young life has the same issues. And both fathers are enemies to the other. And neither wants their child to associate with the other. And... sheesh! It goes on. And on.

And on.

Did I mention that it goes on? Well it does! At this point, the story should be about the big, honking, towering monster that is apparently spending its nights tearing through town, eating people and animals (which J.J. Abrams vividly understands, as we saw in CLOVERFIELD!)! But no, we get a Towering Inferno of freaking soap opera, melodramatic, entirely unnecessary backstory, front story, every story except the one that matters! In other words, all the greatness that was promised in the first 15 turns into a drab bouquet of hack stereotyped contrivance.

So of course, guess what happens next? SUPER 8 goes for the full bore SyFy Channel / Asylum Entertaintment treatment.
In the great tradition of such highly regarded monster movies like DREAMCATCHER, PYTHON and ALIEN 3000, the Hollywood stereotype of the Evil Colonel / General* (Noah Emmerich: CELLULAR, TRUST) - as seen in Fred Olen Ray, Syfy Channel, and Asylum Entertainment movies everywhere, makes his entrance. General Nelec stiffly struts around with such over-the-top menace that you expect him to suddenly blast forth with an evil "Muh Ha! Ha! Ha! Haaa!!!" He may have held a riding crop, centered at the crook of his arm, at some point.

And of course, his soldiers - like all U.S. soldiers to this dimbulb mindset - are witless drones willing to follow evil orders and do evil themselves. They will cause needless, pointless suffering, for no other reason than to do it. That's the actual engine of this tale, folks: A 2am Syfy Channel plot. An alien monster is involved, and the reason for all of the harm and damage happening to the town is because General Nelec wants to cruelly torture the creature until the day one of them dies.

And the U.S. government is totally onboard with funding this useless endeavor.
This isn't a spoiler by the way. Right after that opening train wreck, the teacher, Dr. Woodward (Glynn Turman: GREMLINS) - aka Exposition Guy - as he lay wounded in his pick-up truck right after the accident, gets the kids all up to speed on what just happened and why.

The U.S. government captured this alien that crashed on our planet, see?
And the U.S. government thought it would be a really great idea if we tortured the living crap out it for no reason at all, other than just to do it, see?
And we've done it ever since to this same creature, see?
And now that varmint is justifiably mad at us, see?
Oh, and though it evolved on another planet, it's right at home eating mammals... see?

Nyaah! Where's your god, now?
As you'd expect from a story of this low caliber, SUPER 8 also gets the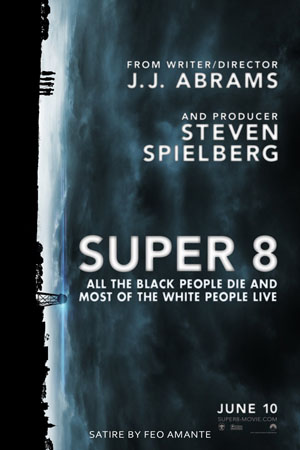 HONEST POSTER: URCA STYLE
!!!UNFAIR RACIAL CLICHE ALERT!!!:
There are only two minorities in this whole picture who have any screen time. So guess what happens to them? You can't guess? Then check out THE UNFAIR RACIAL CLICHE ALERT (URCA) and then see why this movie gets one: URCA/Super8.
But beware! There be SPOILERS at the UNFAIR RACIAL CLICHE ALERT!
The evil General Nelec wants the alien back. Why? So he can torture it some more. The government backs this up, apparently: Your tax dollars at work. Nelec even has a towering, silent, evil henchman, Overmyer (Richard T. Jones: EVENT HORIZON, PHONE BOOTH, TERMINATOR: THE SARAH CONNOR CHRONICLES).
These are not characters. These are late night, cheapo Syfy Channel caricatures.
J.J. Abrams has evil people on his show, FRINGE. He had insidious people on his show LOST. He never turned his characters into caricatures. Because it would be stupid.
Young Spielberg (pre-1989) would have never turned his characters into caricatures. Not even when he was displaying the most brutal Nazis who delight in the suffering of others. It would have been beneath him to do something so amateur-hour contrived and foolish: Even when Stephen was making something supposed to be at least semi-cartoonish like RAIDERS OF THE LOST ARK.

In the end, SUPER 8 is something a low budget, ham-fisted hack director and producer would make as an attempt to cash in on a box office blockbuster the real Spielberg had made. In actuality though, this is something that J.J. Abrams wrote, directed, and produced with his long time partner, Bryan Burk and his apparent idol, Steven Spielberg.

As the credits rolled on SUPER 8, I realized how much I miss the real Steven Spielberg, and how sorry I am that he's gone.

Two Shriek Girls.



This review copyright 2011 E.C.McMullen Jr.

*


Say what you want about James Cameron's Hollywood stereotype, batshit crazy Colonel Quaritch in AVATAR (

and I've said plenty!

). But the fact remains that James never stopped his story dead to focus on a romance or anything else but what the movie was about: which was a human being living within an alien avatar on an incredible moon surrounded by fantastic creatures and involved in extraordinary actions! Romance was a part of it, sure, because these were living, feeling creatures. But Cameron's AVATAR is proof that you don't need well-written or even original characters so long as you keep your movie about what the freaking movie is ABOUT!

What's more, I even know that J.J. Abrams is fully aware of this himself. I know because he not only said so, but he used Steven Speilberg's JAWS as an illustrative example of setting the story apart from the characters and the proper way to go about it!

Watch his TED presentation.
FROM
E.C. McMullen Jr.
WILLOW BLUE
KINDLE

"'Willow Blue' will burrow under your skin and stay there long after you've put the book down."
- Jeffrey Reddick, Creator of FINAL DESTINATION

PERPETUAL BULLET
PAPERBACK

"'Some People' ... may be the standout story in the book."
- John Grant, 2 time Hugo Winner and creator of Infinityplus

ALSO

E.C. McMullen Jr.'s
short story
CEDO LOOKED LIKE PEOPLE
in the anthology


FEAR THE REAPER




PAPERBACK


"This Ray Bradbury-esque is one of the most memorable and one of the more original stories I've read in a long time."
- Reviewer, Amazon

HORROR 201: The Silver Scream Vol. 1
A tome of interviews and essays by
RAY BRADBURY,
WES CRAVEN,
TOM HOLLAND,
E.C. McMULLEN Jr., GEORGE A. ROMERO, and many more.