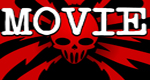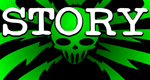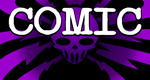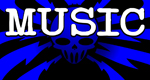 You Support This Site
When You Buy My Books
E.C. McMullen Jr.
PERPETUAL
BULLET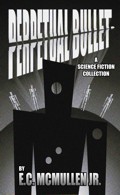 "'Some People' ... may be the standout story in the book."
-

John Grant

, Infinityplus

E.C. McMullen Jr.
WILLOW BLUE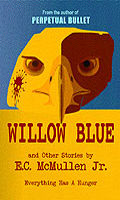 "'Willow Blue' will burrow under your skin and stay there long after you've put the book down."
- Jeffrey Reddick, Creator of
FINAL DESTINATION

IN OTHER BOOKS
E.C. McMullen Jr.'s
short story
CEDO LOOKED LIKE PEOPLE
in the anthology
FEAR THE REAPER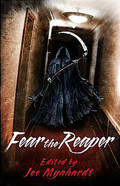 "This Ray Bradbury-esque is one of the most memorable and one of the more original stories I've read in a long time."
- Steve Isaak,
Goodreads

HORROR 201:
The Silver Scream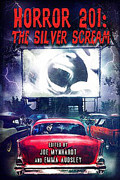 Filmmaker's Guidebook
featuring
RAY BRADBURY,
JOHN CARPENTER,
WES CRAVEN,
TOM HOLLAND,
E.C. McMULLEN Jr.,
GEORGE A. ROMERO,
and many more.



Extensively quoted in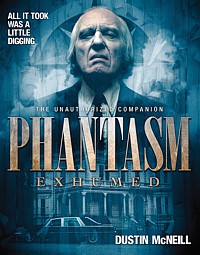 PHANTASM
EXHUMED
The Unauthorized Companion

And In
CINEMA


E.C. McMullen Jr.


Head Production Designer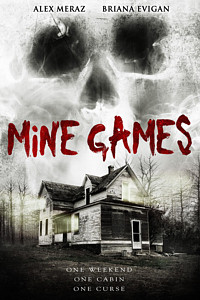 MINE GAMES


(Starring:
JOSEPH CROSS, BRIANA EVIGAN,
ALEX MERAZ)

Dept. head
Special Effects Make-Up
(SFX MUA)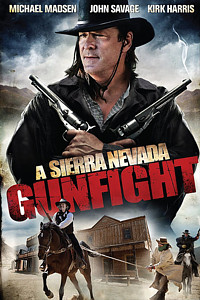 A SIERRA NEVADA
GUNFIGHT
(MICHAEL MADSEN & JOHN SAVAGE).

Production Designer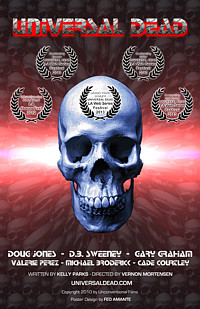 UNIVERSAL DEAD
(DOUG JONES,
D.B. SWEENEY,
GARY GRAHAM)

Art Director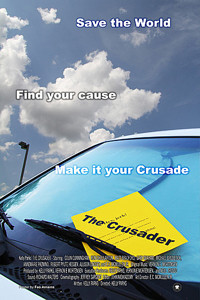 THE CRUSADER
(COLIN CUNNINGHAM,
GARY GRAHAM)
Review by
Mike Oliveri

GODZILLA'S REVENGE

aka

ALL MONSTERS ATTACK

aka

Gojira-Minira-Gabara: Oru Kaijû Daishingeki

- 1969
USA Release: Dec. 8, 1971
Toho Limited
Redistributed by Simitar Entertainment
Rated G
Wow. What an astonishingly awful piece of crap.
Based on my findings on the Internet, this movie actually features a compilation of monster fight scenes from other flicks with a wraparound storyline that is little more than a cheesy morality tale aimed at children.
That said, if you're looking for a Godzilla movie, this isn't the one you'll want to see. Young children may enjoy it, but as Feo's website isn't aimed at children, I won't be writing this review from a child's point of view.
TRIVIA
The original (phonetically spelled) title to this movie,
Gojira-Minira-Gabara: Oru Kaijû Daishingeki
translated literally in English, means
GOJIRA-MINIRA-GABARA: ALL MONSTERS ON PARADE.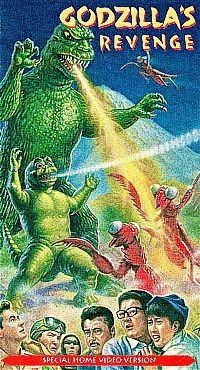 The coolest cover for the
crappiest Godzilla movie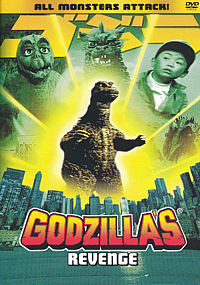 2nd coolest cover
Our hero, if one may call him that, is young Ichiro Miki, played by Tomonori Yazaki in his only film appearance (probably because he makes Jake Lloyd of STAR WARS: Episode I infamy look like a Shakespearean theater veteran). He gets bullied by other children on his way home from school, and likens his bully to the monster Gabara. And when he gets home, he dreams of visiting Monster Island to see Godzilla.
Vacuum tubes are apparently gold for little Japanese kids, because Ichiro first fights over one found in a train yard, then discovers two more (and a headset to boot! Lucky kid!) in an abandoned building. Unfortunately two bank robbers, Senbayashi (Sachio Sakai: GOJIRA, GODZILLA: KING OF THE MONSTERS, HALF HUMAN, DENSO NINGEN, KING KONG VS GODZILLA, KING KONG ESCAPES, THE SPACE AMEOBA) and Okuda (Kazuo Suzuki: TOMEI NINGEN, GHIDRAH: THE THREE-HEADED MONSTER, GODZILLA VS MONSTER ZERO, GODZILLA VS THE SEA MONSTER, KING KONG ESCAPES, SON OF GODZILLA, DESTROY ALL MONSTERS, GODZILLA VS MECHOGODZILLA) are holed up in the same building, and Ichiro also stumbles across the dropped drivers license of one robber. He takes all of his booty home to fire up his radio rig.
When Ichiro sleeps, his radio allows him to contact Monster Island (that or he's dreaming - I can't be sure what was really going on). There he meets Minira (Midori Uchiyama: DESTROY ALL MONSTERS), Godzilla's lizard baby (SON OF GODZILLA). And Minira can talk, unfortunately for the viewer. They share their bitches about getting their asses kicked by the Gabaras of the world on a daily basis, and this leads to our morality tale about finding the courage to stand up to bullies and fight our own fights. Godzilla forces Minira to take down Gabara, and Ichiro considers this his own life lesson.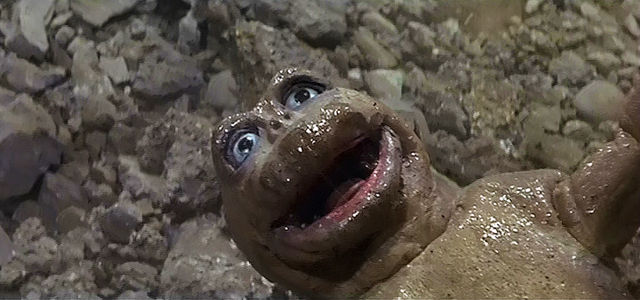 Minira: A face only a Mother Godzilla could love
His timing is fortunate, as the bank robbers have tracked him down and kidnapped him because he has the drivers license. From here some Home Alone-style antics ensue as Ichiro battles the bank robbers single-handedly. Following that comes his standoff with the bullies.
Again, what an astonishingly awful piece of crap. The monster fights are purely incidental, and Minira sounds like a dopey cartoon character lacking only a goofy "HYUK!" kind of laugh. I imagine even hard-core Godzilla fans will have trouble enduring this one, even given it's relatively short 69 minutes length.
I give GODZILLA'S REVENGE one negative shriek girl.


This review copyright 2002 E.C.McMullen Jr.