Review by
Kelly Parks

JOURNEY TO THE FAR SIDE OF THE SUN

- 1969
USA Release: November 11, 1969
Universal Pictures
Rated: USA: G
Also known as DOPPLEGÄNGER, German for ghost double, and made by Gerry Anderson, British for "Bad Science." But I digress.
Mr. Anderson and his wife Sylvia (wrote "Journey to the Far Side of the Sun" [1969]), along with Donald James. Robert Parrish (Twilight Zone [TV], The Destructors) directed.
The story opens in a 60's futuristic high security vault at EuroSec. Two men ask a guard for access and the guard scans the men for recording devices. Inside the vault they examine several documents that refer to something called Operation Sun Probe. Afterwards one of the two, a Dr. Hassler (Herbert Lom: ASYLUM, MASQUE OF THE RED DEATH, and "Inspector Dreyfus" in all the Pink Panther movies), goes to his quarters and removes a glass eye. The eye contains a camera, which he has used to photograph all the documents. But why?
Cut to Jason Webb, head of a joint European space program that anticipated today's ESA. Jason is calling a video conference of the heads of the various national programs. There in person is the American representative, David Poulson (Edward Bishop: THE SERPENT OF DEATH, TWILIGHT'S LAST GLEAMING). Jason announces that the recent sun probe mission has made an amazing discovery. There is another planet orbiting the sun exactly opposite to Earth. Since it's always on the other side of the sun we can never see it directly. Jason wants to launch an immediate manned mission and is here to ask for the money.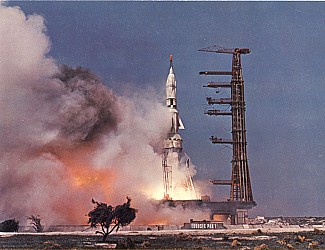 As intriguing as another Earth-like planet is, Jason's request is too big. All the member nations turn him down flat. You'd think he'd be willing to scale down his request to an unmanned probe or two but Jason is an all or nothing kind of guy. He begins some behind the scenes politicking that mostly involve hinting to the Americans that there's been a security leak and maybe the Russians will reach the new planet first. In typical cold war era movie world fashion, the American's can't allow such a thing. They chip in and the rest of Europe follows suit. The mission is on.
One American condition is that the mission be commanded by their chief astronaut: Colonel Glenn Ross (Roy Thinnes: THE INVADERS [TV], THE NORLISS TAPES). Colonel and Mrs. Ross (Lynn Loring: HORROR AT 37,000 FEET [TV]) move into a home provided for them by EuroSec.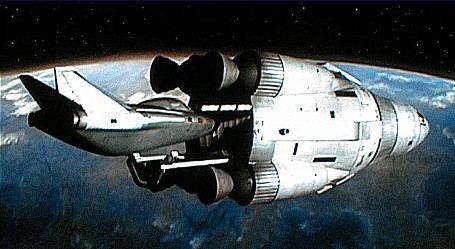 Also on the mission is Dr. John Kane (Ian Hendry: CHILDREN OF THE DAMNED, CAPTAIN KRONOS), EuroSec scientist and close friend to Jason. Dr. Kane and Col. Ross begin training for the 3-week flight. And then they train some more. Maybe they trained a bit too much. The basic idea of the movie is interesting so it would have made this a better movie if they'd hurry up and get to the new planet already. Or maybe I'm just impatient.
We do get to know the characters a bit better. Colonel Ross has the most drama because his wife blames space radiation for his inability to get her pregnant. "You went up a man and came back less than a man," she tells him.
Way to be supportive, baby.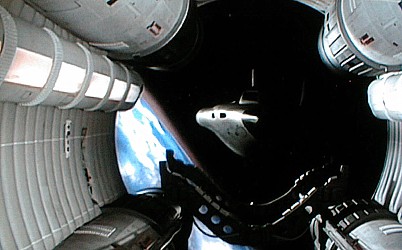 Finally the launch takes place. A three-week interplanetary journey implies a very high-energy space drive (a minimum energy Mars mission, for example, takes 9 months each way). In spite of the short trip the astronauts are put into artificial sleep and doze the whole way. When they arrive in orbit around the new world their instruments detect oxygen. Dr. Kane says, "There's vegetation but I'm not detecting any life." Guess he's not a doctor of biology.
I won't tell you what they find when they land, although I think you can figure it out. Instead, I think you'll agree it's high time for a
!!!SCIENCE MOMENT!!!:
Let's set aside the fact that if there's a planet opposite Earth, why isn't there an opposite Mars or opposite Venus? I'll do that because the whole premise, though interesting, is impossible. A planet that shares Earth's orbit 180 degrees away is in an unstable position. Perturbations from the other planets would draw it more and more out of alignment and there's a good chance it would ultimately collide with Earth. This would happen quickly on the geologic time scale, which means if it were there we'd know it by now (there are more science problems than this, but to tell you more would spoil the movie -feo)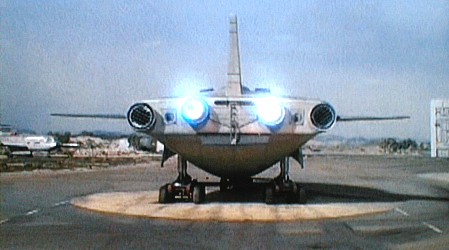 I'm torn on the shriek girl situation. If you grew up on a steady diet of U.F.O. and SPACE: 1999 (

I did

) then this will seem like familiar territory. The implausible science is forgivable in the mist of childhood memories. The music, the sound effects (

Gerry and Sylvia Anderson always used the same explosion and gun shot sound effect

), and many of the characters are recognizable. However, if none of this means anything to you, odds are you'll be less forgiving.
But who are you to judge me? I give it three shriek girls.




This review copyright 2002 E.C.McMullen Jr.